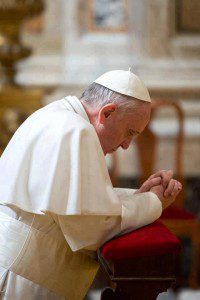 One hour ago Pope Francis launched a global prayer wave, and a year long campaign to end hunger. Each one of us has been called to lift up our voices. Christians all over the world will gathering together at noon tomorrow in prayer giving voice to the millions who still suffer from lack of proper nutrition.
In his presentation the Pope called the hunger situation in the world today an "emergency" and exhorted all people to lift up their voice as one human family in a  "roar" to "shake the world" and establish food as a "human right" which should be honored in all places.
I will be meeting with the several members of Congress at noon along with a number of other church leaders at noon to join the holy father in prayer. I encourage you all to join as well wherever you are! Find a local parish, church or group and get together at noon to lift up this crisis in our world. If you can't find a group organize one yourself!
I personally composed a prayer for this occasion which you can see as part of a collection of prayers written by church leaders across the spectrum of faith traditions here. Feel free to use any of the prayers in your own gatherings, and tell me what you're going to be doing in the comments below!
Take a look at the Pope's call to action:

Pope Francis Announces Global Campaign Against Hunger – YouTube.