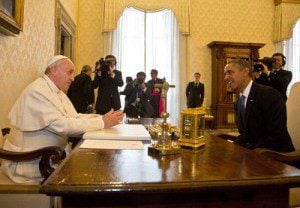 As you probably are aware, last week President Obama met with Pope Francis. Here are a few of my reflections on the event. This post was originally published at Bread for the World.
For President Obama, leader of the one of the wealthiest nations in the world, and Pope Francis, leader of the Catholic Church, to come together to discuss the need to address poverty and income inequality is historic. But what exactly does last Thursday's meeting at the Vatican mean for hungry and poor people? Will it help shift Obama's narrative on income equality from a focus on the middle class to one on the hungry and impoverished? Does the fact that the two men were able to set aside any differences in opinion and find common ground in a desire to help the poor hint at a larger sea change?
The meeting raises many questions, but it also underscores the pope's enormous potential to impact global politics, global leadership, and global priorities—including hunger and poverty. Exactly what does the so-called "Francis factor" contribute? Here are some observations to put Francis in perspective, and give some context to the life and ministry of this cleric, who is changing the world through small acts done with great love.
1. He's a leader from the developing world
This point is so key to understanding Francis. His voice has continually reminded me to look beyond my own cultural concerns and obsessions to see who the truly marginalized in this world are. As much as disparity and inequality remain significant and heart-wrenching issues in the United States, the inequality that ravages so many U.S. communities is often more acutely felt in the communities of the developing world. It is from these places that Francis emerged; it is in these places that he has spent his life of ministry. He reminds us to take our gaze away from our navels and to look into the pleading eyes of those who suffer under our indifference.
2. He brings a different narrative
Our political system often only gives us two stories to choose from: the narrative from the left, and the narrative from the right. The stories from these two sides can become all-consuming, blotting out all else and creating an environment in which one is judged solely on where they fall on the continuum of conservative to liberal. Francis emerges with a different kind of story—it is not one driven by politics, wealth, or power, but humility, grace, joy, and sacrifice. It cuts us to the heart, and brings a challenge. His message is simple: God's glory; neighbor's good. There is little room for self-aggrandizement in that equation, and I have been convicted time and time again of my own sin and of my need for the transforming Grace of God in my life.
3. He has a different kind of power
Francis wields a significant amount of power, but it is not the kind of power that we have grown accustomed to in our contemporary world. He does not have the power of the nation-state, he does not have the power of a global corporation, he does not even have the power of a radical revolutionary. His power lies in his ability to remind millions that their allegiance is to the God who demonstrates love in Christ laying down his life. Francis has been a great communicator of that message. He has been an example of what Christ looks like, and that is a power we have rarely had to contend with in this modern age.
4. He is bringing to bear a tradition
Another reason the "Francis factor" must be taken seriously is that he is more than just a prophet, he is a pope. As a pope, he brings with him a tradition that is deep and rich and beautiful. He does not bring ideas that are his alone, which will flash in the pan of world history and be forgotten, but represents a movement grounded in 2000 years of theology, philosophy, and social teaching, from which countless others have given their lives to demonstrate the radical love of God in Christ. Francis will not be pope forever, but we can be sure he will not be the last to bear this radical call. The message Francis preaches is not his own, and it will continue long after he has gone. It is the message that continues to sustain us.
It remains to be seen exactly how the "Francis factor" might influence the agenda of Obama—and vice-versa. But hopefully, at the very least, last week's meeting signaled to the world the importance of coming together to address issues of hunger and poverty in our world.