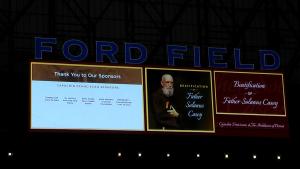 This past Saturday was the beatification of Fr. Solanus Casey.
He is now only one step away from being recognized as a Saint by the Catholic Church. Fr. Solanus has been a major inspiration in my life in so many ways. He started out as a simple door keeper at St. Bonaventure's monastery in Detroit.
As the great depression hit many began to knock at the monastery's back door desperate for food. He couldn't turn people away. At first he's share a sandwich or some soup, but soon crowds began to form. Today his simple efforts have grown into a soup kitchen that distributes millions of pounds of food. His simple love care, and spiritual support for the most vulnerable is something I look to every day. There is a picture of Solonus above our family table. I often ask him to pray that I might have wisdom in my own vocation and ministry.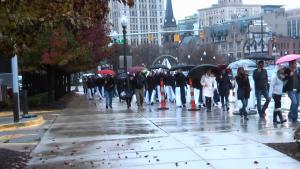 His beatification, which I was able to attend, touched the very core of my heart. I give thanks to God for such a great example of faithful love in our own community and rejoice in the opportunity to celebrate God's faithfulness in and through him yesterday.
It was a day I will not quickly forget.
Thanks for letting me share.