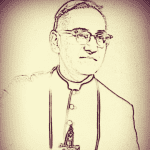 This year we welcome Holy Week with Oscar Romero. This modern-day martyr has been a reminder for me of the cost of discipleship in many ways and I for one am grateful to be reminded of his example as I prepare for the Passion Sunday and the Triduum.
Today, 38 years ago,  he preached a Sunday morning sermon, in which he called on the Salvadorian soldiers in his community to stop their government sanctioned repression of the people and to submit to God, concluding with the following words which stirred the whole assembly to a frenzied ovation:
"En nombre de Dios, pues, y en nombre de este sufrido pueblo, cuyos lamentos suben hasta el cielo cada día más tumultuosos, les suplico, les ruego, les ordeno en nombre de Dios:Cese la represión"
Translated:
"In the name of this suffering people, whose cries rise to heaven each day more tumultuous, I beseech you, I beg you, I order you, in the name of God, stop the repression."
He knew this kind of preaching was dangerous but for him, but the preaching of the Gospel meant embracing the cross of Christ over his own life. He stated in his book The Violence of Love, 
"If we are worth anything, it is not because we have more money or more talent or more human qualities. Insofar as we are worth anything, it is because we are grafted onto Christ's life, his cross, and resurrection. That is a person's measure."
(See page 124)
His stance with the vulnerable and oppressed people of his community led to the final cross in Fr. Romero's life. The day after his challenging sermon, as he celebrated the vigil mass for the feast of the Annunciation in a local hospital, he was gunned down by a sniper.
I find it somehow beautiful that he was killed while celebrating the feast that marked the composition of one of the most beautiful testimonies in all of scripture of God's preferential option for the poor, the Magnificat. In the Magnificat, the blessed virgin Mary sings:
[God] has cast down the mighty from their thrones,
and has lifted up the humble.
He has filled the hungry with good things,
and the rich he has sent away empty.
I am looking forward to his canonization which will hopefully have a confirmed date soon. The Episcopal Church has already begun to honor his feast day, and they offer us this great prayer in honor of Oscar Romero:
Almighty God, you called your servant Oscar Romero to be a voice for the voiceless poor, and to give his life as a seed of freedom and a sign of hope: Grant that, inspired by his sacrifice and the example of the martyrs of El Salvador, we may without fear or favor witness to your Word who abides, your Word who is Life, even Jesus Christ our Lord, to whom, with you and the Holy Spirit, be praise and glory now and for ever. Amen.