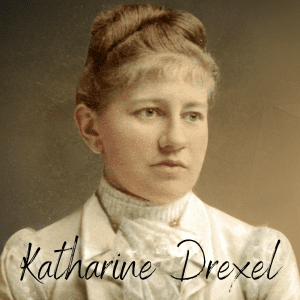 Has God ever thrown a wrench in your plans?
Katherine Drexel had one of these moments in January of 1887. It was then that she had an audience with Pope Leo XIII. She had wanted the Pope to help them identify missionaries they could support for a mission she wanted to fund in the United States – serving Native American communities. The Pope surprised her by suggesting that she herself enter religious life and become a missionary herself. At the time she was considering a marriage proposal. This suggestion was a major disruption in her plans. With a spiritual director, she discerned that God was indeed calling her into the mission field. The rest of her life was spent in mission. She was able to establish 145 missions, 50 schools for African Americans, and 12 schools for Native American children. Perhaps most notably Drexel was instrumental in the founding of the only historically black Catholic university in the United State – Xavier University of Louisiana.
Katharine inspires me to always let God lead the way rather than trying to get God to follow after me.