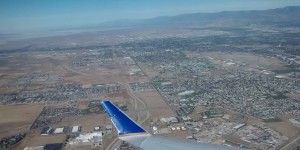 I'm sitting on a bed in Salt Lake City, surrounded by the sounds of community living, and I once again congratulate myself for booking an accommodation a year in advance. I managed to book so early because I was overcome with excitement for the 2015 Parliament before most had even heard of it. As I child I often grew overly excited about events and then felt disappointed when they didn't live up to my exaggerated expectations. The Parliament seems to be the opposite. Even though I've been looking forward to this day for over a year now, I'm already positively overwhelmed with how much I love it. And I haven't even made it to registration yet!
I started this trip by boarding a small place in San Francisco, smaller, in fact, than any plane I have ever been on, with the exception of the one I exited at 18,000 feet with my skydiving instructor. No wonder, then, that almost the entire plane is full of people going to the Parliament. The woman in front of me hails from Canada, a woman across the aisle identifies herself as a Jewish delegate, and my neighbor is a Zoroastrian leader.
During the next hour and half I learn about Zoroastrians, Yazidis, Germanic migrations, and in turn answer questions about Paganism, Witches, and inevitably, chocolate. Our discussion about sky burials, cremation, and the recycling of grave sites is only interrupted when we spot the salt lake below. Our flight attendant wonders about the chattiness of everyone on the plane, but then joins with stories of the salt palace and her childhood in Salt Lake City. As we leave the plane, it becomes clear that nearly everyone is en route to the Parliament and many have begun their interfaith explorations with their fellow passengers.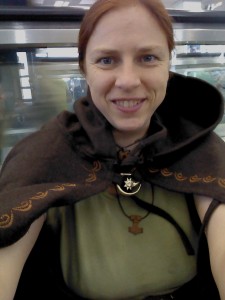 I meet more interesting people in the short walk between the plane and​ a group of Parliament greeters, who make me feel like a VIP . Another San Francisco traveler introduces herself on the Trax train and suggests that BART, Muni, and AC Transit take a road trip to learn from the cleanliness, quietness, and punctuality of Salt Lake City's public transit system.
In fact, the entire city is remarkably clean. At first it is a welcome relief from the dirtiness and noise of the Bay Area. But as I leave the train and walk past manicured lawns on squeaky clean sidewalks, I wonder if I've stumbled into a city co-designed by Mormon temple builders and Walt Disney.
My airBnB rental is easy to find. I was informed that I had booked a room in a queer community and the color of the fence provides inviting evidence. A much needed shower, a quick check for messages, and I am out the door again. A talkative homeless man at the Trax station tells me the transit cops are strict here, board a train without a ticket, and you're out $200 and a possible court date. He says he likes the place in the summer, but wants to get out before winter. Too cold, and really, a little too clean for his taste, he says.
Dinner is an unofficial meeting for Pagans who have arrived early. I finally meet people face to face with whom I have interacted online. We connect instantly, as if we already have a shared history. I suppose in some ways we do, we remember each others' blog posts, articles, online discussions. Some, we continue over Indian food, the idea of our Pagan umbrella and what it means for us in interfaith work, our shared values, common identities, the future of Paganism. What might have turned into a flame war online, remains a passionate but friendly discussion as we share food and disagree with each other face to face.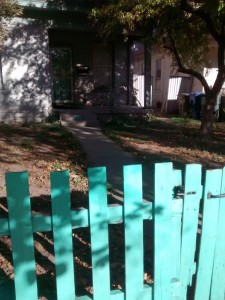 Our conversations stretch late into the evening and when we exit the restaurant, we don't want to leave. River gathers us into a circle and teaches us a chant. And then we sing on the sidewalk, out of key, quietly, laughing, loudly, hugging. Someone starts another song. And another. And when we can't think of songs, we just stand there. Eventually we return to logistics, figure out rides, and say our heartfelt goodbyes, even though some of us just met and we are going to the same event tomorrow.
My extroverted religion nerdy self couldn't have had a better day. It's only Wednesday and I haven't even been to the convention proper. Back at my airBnB, I snuggle with a new kitty friend and feel infinitely grateful. Had I stayed in my former fundamentalist mindset, I would have missed out on this wonderful day. Even worse, there was a time I would have been outside of the Parliament protesting interfaith as the work of the devil. Tomorrow, however, I will be inside, exploring other religions, sharing stories and food with people from all over the world. Now I just need to figure out the right magical technique to postpone my excitement until the sunrise ceremony so I can get a little sleep tonight.