I'm sitting on the plane with tears streaming down my face. I'm en route to San Francisco, going home from the 2015 Parliament of World Religions. I tried writing earlier while waiting for my flight, but just as I reached for my laptop, someone called my name. It was a group of Circle Sanctuary Pagans and I joined them at their gate. More Pagans found our little group and together we waited for our respective flights, ate, laughed, and shared stories of the Parliament.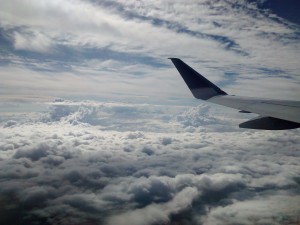 When I returned to my gate, I didn't find time to write, either. I saw a woman who I met upon my arrival in Salt Lake City and we talked about our highlights at the Parliament. When we boarded, I exchanged nods with my Zoroastrian acquaintance, and then smiles with the Buddhist monk across the isle from me.
Now seated in my own row, I finally have time to return to my own thoughts. I look out of the window as we ascend over the salt flats and ponder how to write about the Parliament. And that's when the tears come. They take me by surprise, for I am not someone who cries easily. And they keep coming. By the time the plane breaks through the clouds and I see the noonday sun gleaming on towering cloud formations, I am crying openly. I struggle for composure, but the songs from Mary Lou Prince and Patty Willis' cantata Songs for the Earth flow through my mind. Finally I give up, pull out my iPod, select the cantata, and give in to the tears.
My mind is too full of songs, of impressions, of pictures to find words. I see my own beaming face on the stage, singing in a choir of 144 people from all over the world, representing over 30 different religions. I remember the feel of each of our embraces, after our performance, but also at random times in the hallways, at workshops, and running into each other on the streets. I see faces, so many faces, smiling, laughing, praying, chanting, with their dark skin, their light skin, their headscarves and dreadlocks and feathers and turbans.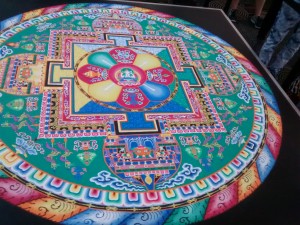 I cry, because each face that flashes before me, each encounter, is of such beauty that it breaks my heart. I cry, because the clouds are stunning and I cry, because I can see them. I cry, because I remember that exactly six years ago this week I wanted to end my life. I cry, because I now live the life I have always wanted to live. I cry, because I know how incredibly privileged I am. I cry, because I have seen the beauty humanity is capable of, and I want it to spread.
I would love to write about the Parliament systematically, to describe each event, to tell of the Sikh singing, the Muslim prayers, the Buddhist mandala, the Christian and Pagan interfaith dinner, the many plenaries and workshops, the discussions, the learning, the listening, the sharing, but I can't string the memories into a story. Not yet. They tumble through my mind and move me to tears, again and again, and I know I will need more time to let them sink in.
In my daily practice I draw a tarot card of the day. I drew only major arcana cards throughout the Parliament, and both yesterday and today I drew the tower card. Both times I was surprised that it felt like a joyful card to me, not its usual association. But as the tears flow I am laughing inside, because I can feel old ideas and fears crumble and crash all around me, paving the way for something bigger and more beautiful.