Last July my life changed dramatically. One of my housemates offered to support me financially and I quit my day job at a Christian church. The year prior I had sold my business, which I'd run for three years while juggling a full time job, writing, and building an intentional community. I was more than ready for a break.
And yet we both knew that this transition would be difficult. I am no stranger to codependent relationships and unhealthy power dynamics. I've always worked, always been a bread winner, sometimes the only one if my family. I said I'd never  be a stay-at-home-anything. Never. I was afraid I'd lose my independence, my ability to easily leave a relationship (if it were to go bad again), the freedom to spend money according to nothing but my own values and whims.
I changed my mind, but not without regularly scheduled freak outs, meltdowns, and anxiety attacks. And I wasn't the only one having a hard time. For my housemate Autumn*, our arrangement was bound to bring up memories of traumatic events. We both knew it would. Together we revisited many an old story and got intimately acquainted with each others' dysfunctions and defense mechanisms. We didn't become lovers, but this process brought us much closer to one another. As we began working through our shadows in order to realize our dreams and visions, we started calling each other partner rather than housemate. At first I used the word partner half jokingly, but over time it has felt more and more true.

As part of Autumn and my agreement, I took on the role of priestessing. Priestessing is a word we are fond of in my community. We use it not only to describe responsibilities carried out in rituals, but also spiritual or psychic support provided in a group or personal relationship. In this case, I see priestessing as something akin to midwifery. Just like a midwife helps a woman give birth, but doesn't do the birthing for her, so a priestess helps someone move through an emotional process. She supports another in bringing forth a new realization, a new stage of growth, or the integration of a part of the self.

I didn't go into it blindly, but I also couldn't fully appreciate what priestessing for this journey would look like. In retrospect, it does feel like a particularly difficult time of being in labor, for both my Autumn and myself. We've always supported each other, but in this case the weight of priestessing fell on me. So I sat with my partner as waves of pain and despair swept through her. I held her hand as she untangled defense mechanisms developed through years of abuse. And all the while, I had no appreciation for the work I was going.
My partner did. She told me all the time, but I couldn't take it in. One of the reasons we had entered into this income sharing arrangement was so that I could work on a project we were co-creating. But I was making very little progress on the project. Too often I felt like I was not getting anything done, just cleaning the house, cooking, doing some community stuff, and then hanging out and dealing with difficult emotions, hers and my own. I grew angry with myself, thinking that I had become lazy, and didn't get enough work done. I chided myself and stopped taking days off.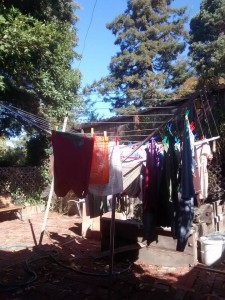 All the while Autumn kept telling me how much she appreciated the way I was spending my time. Last week I finally got it. Cleaning the house, doing laundry, cooking, working on the project – that's been easy. I enjoy doing it. Yes, even the cleaning and doing the laundry (I have a cool new laundry spider and the sound the clothes pins make in the bucket bring up happy childhood memories). My mistake has been in discounting my priestessing work. If I'm neither on the computer nor doing housework, but sitting and listening to my partner, I'm not accomplishing anything, right?
Our capitalistic society would think so. There are just a few exceptions. There are folks who are getting paid $200 an hour to sit and listen to someone's emotions. But they've studied psychology and gotten degrees. They do get paid for their emotional labor, but only in a particular predetermined context. And then there's folks who get paid for listening and offering spiritual advice, but not by the hour. We call them chaplains, pastors, clergy. Priestesses.
I've never thought of myself as a priestess, because I'm not much of a ritualist. I prefer others taking ritual roles while I organize  logistics. Need a spreadsheet for tracking all your ritual expenses? I'll take that job! I think that's why I've falsely concluded that I'm not a priestess. Autumn face-palms when I tell her that. She's been trying so hard to get me to understand that she values my priestessing.
So now I'm finally listening to her and rethinking priestessing. I'm wondering how my life would be different if Paganism were as big and established as Christianity. Would I still be doing what I am doing now? Would I get paid by my community rather than being privately supported by my partner's income? Or would I be hired by some Pagan chaplaincy organization? If so, would I value my work and time differently?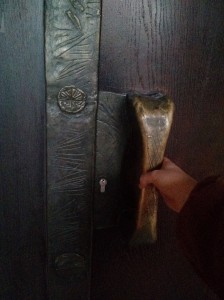 When I came out of the broom closet, a family member told me "just don't became a professional Witch on top of it all." I  laughed, because I know how unrealistic the idea is – just take a look at T. Thorn Coyle's description of her professional Pagan life. But now, through my partner, I can spend my time doing what I've always wanted to do. I am building and supporting an intentional community. I am priestessing personal growth, especially in those who are integrating experiences from previous religions. I have more time to write and stay connected to a wider network of Pagans and activists.
I often find it difficult to take credit for accomplishments, but I can't deny all of the positive changes that are taking place. Our community has become healthier and it has grown in number. We have found the space to vision, to dream, and to support others. We've provided a refuge to people in transitions, a place for folks to land, and a venue for Pagan rituals and classes. None of this would have been possible had my partner and I opted for the easier route of maintaining separate resources. It makes me wonder. How much more could we accomplish if we were willing to step into the unknown and share our resources? If we chose to face the inevitable power dynamics, if we worked through our shadows together – what kind of Pagan communities could we create?
* I was going to write this piece in a less personal and more anonymous way, but Autumn read it and encouraged me to go all out instead and gave permission to use her name. Cause she's encouraging, amazing, and awesome like that.