The Beatitudes are not a list of happy sayings, but a continuum of Christian growth. When Jesus delivered his famous aphorisms, he wasn't interested in speaking pleasant things to nice people. He was giving a roadmap to deeper spirituality. As you journey with Jesus, the Beatitudes invite you to be mindful of each stage on the way. First, let's look at Jesus' words from the NRSV: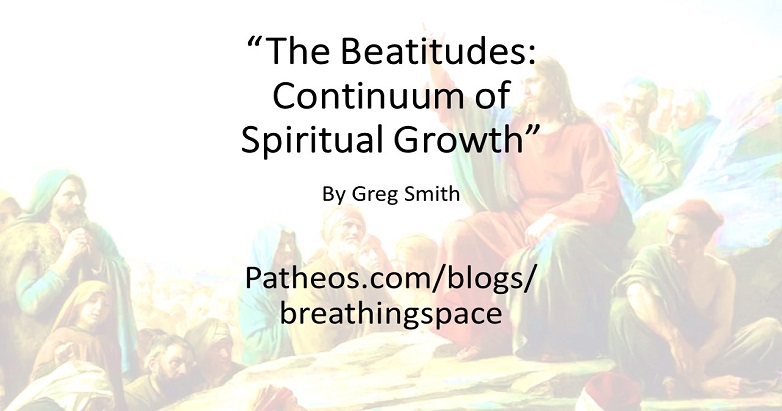 Matthew 5:1-10 – The Beatitudes

When Jesus saw the crowds, he went up the mountain; and after he sat down, his disciples came to him. 2 Then he began to speak, and taught them, saying:

3 "Blessed are the poor in spirit, for theirs is the kingdom of heaven.

4 "Blessed are those who mourn, for they will be comforted.

5 "Blessed are the meek, for they will inherit the earth.

6 "Blessed are those who hunger and thirst for righteousness, for they will be filled.

7 "Blessed are the merciful, for they will receive mercy.

8 "Blessed are the pure in heart, for they will see God.

9 "Blessed are the peacemakers, for they will be called children of God.

10 "Blessed are those who are persecuted for righteousness' sake, for theirs is the kingdom of heaven.

Spiritual Poverty
To be poor in spirit means to recognize our own spiritual poverty, and our inability to do anything without the Spirit of God in us. Nobody can begin their spiritual pilgrimage without first becoming poor in spirit. You can't enter the Kingdom of God without realizing that you can't do it on your own and that all you need is in God's hands, not yours. Salvation (spiritual wealth) can only come as a gift from the spiritually wealthy (God alone) to the spiritually poor (us).

Mourning 
Here, Jesus isn't talking about mourning the death of a loved one. He's talking about mourning your own sin. We can only get to a point of grief over our own sin once we've realized our spiritual poverty. Confronted with his own sin, Isaiah said, "Woe is me! I am ruined! For I am a man of unclean lips, and I live among a people of unclean lips, and my eyes have seen the King, the LORD Almighty (Isaiah 6:5)." Once a person has reached a point of spiritual poverty, they naturally move to repentance or change. This is, of course, followed by grace – "Your guilt is taken away and your sin atoned for (6:6)."  Unfortunately, too many Christians stop at this point, focusing on their own poverty, sin, and grief. But once we understand grace, everything changes.

Meekness
A person can only cultivate true meekness in her life when she has realized her own spiritual poverty and sin, entered a time of repentance, and received the grace of God. Without these prerequisite steps, a person tends to think of themselves more highly than they ought (Rom 12:3). Once they have walked the path of poverty and mourning, God can begin to develop within the new believer a character of meekness. Because of their past failures, meek people refrain from judging others and extend grace to one another.

Hunger and Thirst for Righteousness
Those who have not developed meekness in their lives never get to this stage of spiritual growth. The un-meek are still seeking self-fulfillment and self-gratification. They might look at righteousness as something to admire in others, but they do not hunger and thirst for it themselves. While an un-meek person thinks he has already become all that he needs to be, a meek person recognizes his own need for spiritual growth.
Mercy
Once you have a passion for personal righteousness, that will naturally extend to a desire to help restore others who are hurting. Religion that is all about personal righteousness is never enough—social justice work becomes important to you when you develop to the point of mercy. You can do good things for other people without reaching this point, but true mercy depends on a spirit that seeks God.

Purity
I can never be pure without first developing these other qualities in my life. The word pure comes from the Latin purus, which means "unmixed." Psalm 86:11 says, "Teach me your way, O LORD, and I will walk in your truth; give me an undivided heart, that I may fear your name." This level of Christian growth can only take place once we move through spiritual poverty, mourning over our own sin, into the meekness of a saved soul. A desire for righteousness leads to mercy. Until a person has practiced mercy, they cannot honestly say that they have an undivided heart. Unless he reaches out to his enemies in love, he maintains a sense of "I'm right and you're wrong, and I'm better than you are." Mercy defeats a superior attitude and allows a person to grow enough to move past the divisions in his heart, and on to purity.

Peacemaking
Having reached a point of mercy and purity, the growing believer develops a greater desire. She develops an outward orientation that seeks not only personal restoration but communal wholeness. The pure in heart become peacemakers when they see the growth God is bringing about in their own lives and desire to see that same growth in others. As the world does not want or understand peace, the peacemaker, ironically, will become the recipient of…

Persecution
This is the highest level of spiritual growth when the world ceases to honor you and wants to do away with you instead. In John 15:18-19, Jesus says, "If the world hates you, keep in mind that it hated me first. If you belonged to the world, it would love you as its own. As it is, you do not belong to the world, but I have chosen you out of the world. That is why the world hates you." Of course, the goal of our growth is not to be mistreated. The result of our growth, however, may be persecution–if we take peacemaking seriously.
The Way to Spiritual Growth
The goal of faith is never to remain at the initial stages of Christian growth but to develop maturity as we go. Jesus' early followers, who called his movement The Way, knew that the spiritual life was a journey. For them, the Sermon on the Mount encapsulated the core teachings of Jesus, and the Beatitudes provided the road map for their pilgrimage. As you walk his path, each step brings you closer to the Master, making you a little more like him.