"Pray for my wife who's on a ventilator," says a family friend. "We are standing on God's promises and believing God for a miracle. We know that God will not leave her or forsake her. No weapon formed against her shall prosper."  What do you say, when a person asks you to pray this way? What are the problems with that kind of prayer?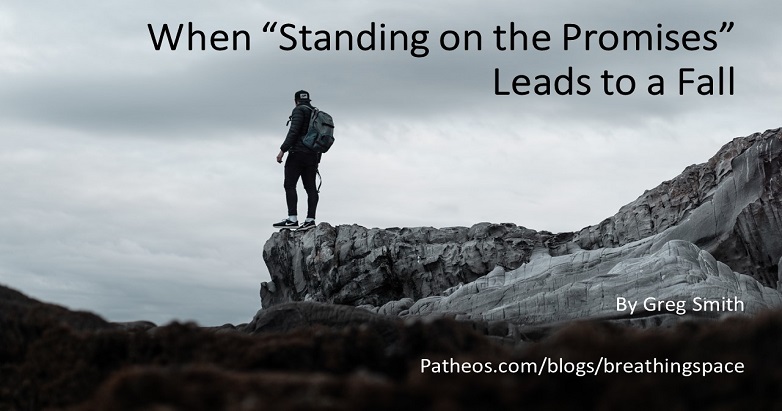 Red Flags
When I read this prayer request, four red flags stand out to me.
In this case, "standing on the promises" suggests that God promised physical healing for everyone who believes enough. The Bible never promises physical healing for all. If this were so, then nobody would ever die. If we're going to "stand on the promises," this must include, "as it is appointed for mortals to die once, and after that the judgment (Hebrews 9.27 NRSV)." But nobody wants to stand on that one.
"Believing God for a miracle" suggests that God promised a miracle, which God did not. Some Christians say, "I'm believing God for" this or that. Whatever they want, that's what they're believing God for. True, the Bible says God will give you the desires of your heart (Psalm 37.4), but this doesn't mean you get whatever you want. It means that God will place God's desires in your heart, so that you want what God desires. Realistically, you can only believe God for something that God actually promised.
This struggling husband equates death with forsakenness. God will never leave nor forsake anyone, because God is in everyone, and God "cannot deny himself (2 Timothy 2.13 NRSV)." Of course, Jesus himself felt forsaken while dying, so this feeling is natural. But death is not a sign that God has turned his back on you. In fact, it's just the opposite. I'm concerned for this husband who sets himself up for a faithquake if he doesn't get what he's praying for.
"No weapon formed against her will prosper" suggests that death is a bad thing. Countless Christians quote scriptures like John 10.10 NRSV, where Jesus says, "The thief comes only to steal and kill and destroy. I came that they may have life and have it abundantly." They claim death as the punishment for sin (Genesis 2.17) and point out the destruction of Death in the lake of fire at the end (Revelation 20.14). Paul even says that the last enemy to be destroyed is Death (1 Corinthians 15.26). The truth, however, is that while Jesus demonstrated victory over death at the resurrection, he simply took away its sting—not its bite. The hope of the Christian isn't a deathless life—it's a resurrected one. And you must go through one to get to the other.
When I read comments like these, I am concerned for the struggling husband's faith. While I don't discount the power of prayer, it's obvious that not everybody who prays for healing experiences a physical recovery. So, what will happen to his faith when/if his wife dies?
Deconstruction and Reconstruction
Loss is a powerful stimulus for deconstruction. At the time of great loss, a person asks themselves how this happened, and whether God might have prevented it. The struggling husband's faith is likely to fall apart whenever his wife passes, because that faith was built on the shifting sand of a genie-god who grants wishes if you rub the prayer bottle the right way. The question isn't whether he'll have a personal apocalypse—that's bound to happen. The question is whether he'll rebuild a New Jerusalem where the demolished one used to be.
Deconstruction that rebuilds with a better understanding is a good thing. Perhaps when he reconstructs, he will discover that "God shows no partiality (Romans 2.11 NRSV)," and that God "makes his sun rise on the evil and on the good, and sends rain on the righteous and on the unrighteous (Matthew 5.45 NRSV)." If he loses his faith to gain a better one, there's a redemptive quality to his loss. Death is swallowed up in victory.
When someone asks me to pray for a person who's gravely ill, my heart goes out to the sick person. I often pray for wholeness, not healing, because I don't presume to know the will of God. While I do still believe in miracles, I've come to understand that the divine mystery is beyond our understanding or control. No amount of begging, or standing on scripture, is going to convince God to do anything. This perspective doesn't take away the power of prayer—it recognizes prayer's remarkable ability to change our hearts and align them with the purpose of God. So my prayers are for the one on the ventilator.  But I also pray that the one requesting prayer would have the breathing space to find God's presence, regardless of the outcome.