This article's title came from a friend's social media post. I cringed when I read it because it reminded me of a relative who every year used to talk about buying Christmas for her family. Does this phrase, "buying Christmas," sound wrong to you?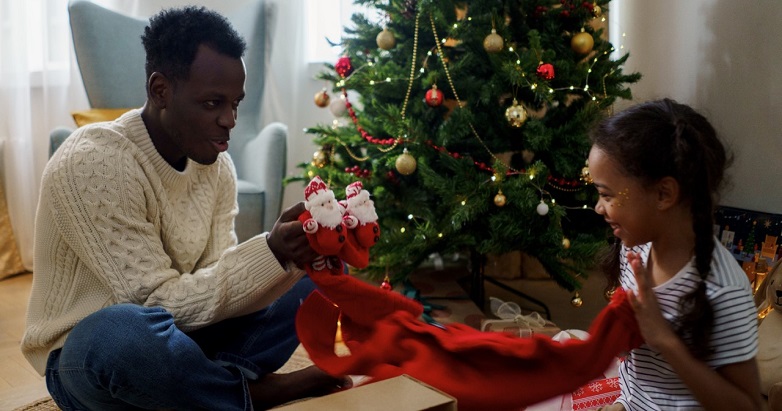 The great prophet Dr Seuss wrote:
"And the Grinch, with his Grinch-feet ice cold in the snow, stood puzzling and puzzling, how could it be so? It came without ribbons. It came without tags. It came without packages, boxes or bags. And he puzzled and puzzled 'till his puzzler was sore. Then the Grinch thought of something he hadn't before. What if Christmas, he thought, doesn't come from a store. What if Christmas, perhaps, means a little bit more."
— Dr. Seuss (How the Grinch Stole Christmas!)
Can't Buy Me Love
Dr. Seuss was right! Christmas doesn't come in wrapping paper. You can't buy Christmas. You can't give Christmas to anyone. You might be able to buy a Christmas present, and you might be able to give them a gift, but Christmas is not regulated by industry. Whether or not a person has a good Christmas should never be determined by either what they give or what they get.
This is probably why Thanksgiving is a greater holiday, in my estimation. Sure, I love the light, decorations, music, and festivities of Christmas. Thanksgiving just can't compete with those. But the lack of gift-giving at Thanksgiving allows you to place the priority on the people instead of the presents. Thanksgiving is about spending time with people, without the complications involved with whether or not they will like your gift.
Five Kinds of Gifts
But since Christmas is a gift-giving holiday, the question remains: "How are you buying Christmas presents during inflation?" Certainly, this is a difficult financial time for many. Here are a few ideas for things you can do to help your gift budget go a little farther. These ideas are based upon The Five Love Languages series, by Gary Chapman.
Try making some homemade gifts this year. This could be knitting, quilting, crafting, woodworking, baking, photography, sign making, pottery, sewing, painting, metalworking, or any other kind of home fabrication you can think up. If you are good at making things, this is a great option.
How about an act of service as a Christmas present? You can either just do the thing, or you could give a coupon book with all the things. You could include such things as grass cutting, house cleaning, gutter maintenance, garden weeding, firewood chopping, taxi service for kids, babysitting, oil changes, or anything else you might imagine.
Spending time with someone also makes a great gift. You could give a picnic, a day at the beach, an evening at the theater, an afternoon at a museum, or a home-cooked meal at your dinner table. If it's the thought that counts, nothing counts more than spending quality time with people you love.
Human touch can also be an amazing gift. You could give a back rub, a foot rub, a full body massage, or an evening of nothing but cuddling to someone you love. If you don't know how to do these things, read a book or website, or watch some videos. The fact that you took the time to learn will say a lot about how much you love the person. If you are romantically involved, you could get even more creative with giving the gift of touch. Coupon books for the gift of touch make a thoughtful present.
Words of affirmation and encouragement can really lift people up. Write someone a poem, a love letter, or a short story with your loved one as the main character. Ask a local business to put a special message for your loved one on their marquee. Make your own greeting card. Send an email. American greetings.com is a great way to pay an annual membership fee and get unlimited greeting cards. For the cost of a few paper greeting cards that you might send in the mail, you get limitless digital cards.
Gift-Giving and the Five Love Languages
In his book, the five love languages, Gary Chapman says that every way a person can be loved is summed up in one of five love languages. It's about loving someone the way they need to be loved, instead of the way that might come naturally to you. Greeting cards might not mean much to me personally, but they are very important to my wife. This is why she gets a greeting card with every birthday, anniversary, and Christmas. If I neglected to get her one, simply because they aren't significant to me, I would be missing the point. The purpose of a gift isn't to love someone in the way that comes naturally to me. It's to demonstrate love in a way that resonates with the other person. So, I've got to learn to speak her love language. Remember that giving gifts doesn't always mean buying gifts.
Party Ideas
With inflation as it is, buying people Christmas presents might be difficult. But gift-giving doesn't have to be expensive. Besides the suggestions above, you might try an agreement limiting the gift budget. One way is for everyone to agree that the gift they bring will be a stocking stuffed with small items. It's lots of fun to see the goofy things people will put in a stocking.
You might try a White Elephant party (or Dirty Santa). Each person brings one wrapped gift. The gifts go into a pile. Everyone draws a number from a hat to determine the order in which they get to pick one gift. After the first one opens their present, the second person opens theirs. Then the second person gets to decide whether to keep their present, or whether to trade it for the first. The third person opens their present and decides whether to trade it for the first or second, or whether to keep the one they opened. So, you continue around the room. After the final person has opened their present, the first one gets to decide whether or not they want to trade theirs for someone else's. It's great fun to see all the wacky gifts that people bring. It's also fun to see who wants to keep their gift and who wants to trade it. Click here for more Christmas party games.
Try a Christmas party that isn't centered on gift-giving. Go Christmas caroling. Have a party for decorating cookies, gingerbread, or ornaments. Get together with your friends for a party to wrap the gifts you are giving your family. Try a Christmas movie marathon. Use your creativity to think of ways to celebrate that don't involve spending money.
Some Cyber Monday Ideas
Black Friday is over and Cyber Monday is on the way. Here are some suggestions for online shopping that you might find helpful:
Forget Cyber Monday. Due to the rise in prices, many people are shopping online to find better deals than they could get if they shopped locally. I would be lying if I said I wasn't doing the same thing. But let me make a case for shopping locally. Even if you pay a little more, you are supporting local businesses. Especially if you live in a small town, this means you are helping your neighbor. If your local economy is struggling, you can do your part to make things better.
Consider buying from minority-owned businesses. If you are a minority, this could mean supporting your own people. If you are Caucasian, you might consider this to be voluntary reparations, to help your neighbors rise above centuries of enslavement and abuse at the hands of White oppressors.
For people who have everything, make a donation as a gift. If you are going to shop online, here's a suggestion for stretching your dollar and making a difference at the same time. For the past couple of years, we have combined the money we might have spent on gifts that our parents neither need nor want and given that money to World Vision. You can choose from different sponsorship packages to purchase things like livestock for farmers in developing countries, educational materials, advancement for women and girls, food packages to be delivered to Salmon stricken areas, and more. The Canadian government matches your donations on many of them, doubling, or even multiplying five times what you have donated. Then, you can print off a holiday card to send to your loved ones, letting them know a donation has been made in their honor. With the matching gifts of the Canadian government, this is a way you can stretch your dollar, help people during the holidays, and give to your loved ones again at the same time. My mother cried from happiness the first year we did that.
If you love this idea but don't love World Vision, there are plenty of charities that are doing similar things. Click here for a directory of charities to choose from.
The Kind of Inflation That Everybody Needs
Undoubtedly, inflation makes Christmas shopping difficult. But when you realize that you don't have to spend a lot to give a lot, it adds some needed perspective. By taking some of these ideas to heart, you can keep Christmas spending down to a manageable level. And, like the Grinch, you can remember that Christmas doesn't come from a store. When you bear this in mind, just like the Grinch, your heart will grow three sizes. And that's a kind of inflation—an inflation of heart—that everybody needs!