Long-distance romances pose a unique challenge. Here's how to make it work—and how faith can help your long-distance relationship thrive.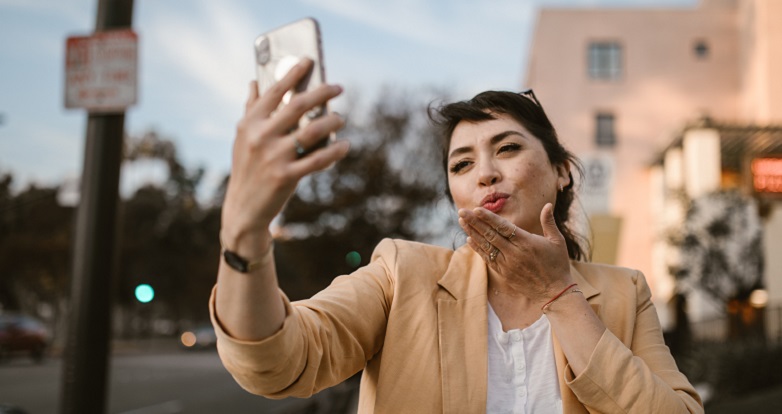 Take it from me—I know how amazing and how challenging, long-distance relationships (LDRs) can be. When we were dating, my wife and I started out with 3,000 miles and a national border between us. Even after we were legally married, we spent a year and a half with COVID restrictions and immigration issues keeping us apart for long periods of time. Eventually, this American got permanent residency in Canada, and I could finally move in with my wife! We had many tricks to keeping our romance alive—and I'll share those in this article. But ultimately, it was our faith that bound us together. Let's look at how faith can help your long-distance relationship thrive.
Thrilling and Challenging
Sure, LDRs can be thrilling. There's nothing quite like meeting each other at the airport after a long time away or the intimacy of being together after too much time apart. But LDRs can also be a challenge. Romance isn't meant to be long-distance, long-term. There must be a time when you come together to meet in person if you've never met before. To remain feasible, a romantic relationship needs to consummate with committed love and a shared promise for the future. If not, it probably won't work. Here are some romantic ideas to help keep your love alive—and some further suggestions to keep your faith flourishing as you wait for one another.
Romantic Ideas for LDRs
Here are some suggestions for keeping your LDR alive. There will come a day when the two of you can be together—but hopefully, these ideas can get you through:
Video chat. When we were apart, we practically lived on Skype. It was the only way we could do life together while living apart. When I got home from work, I got on the computer. I carried the laptop around with me, and she did the same thing. We didn't need to be in constant communication. Often, we sat together as we might if we lived in the same home. She played her solitary games, and I wrote. The point was that we were together—not that we needed to constantly entertain each other. Whether you use FaceTime, video call on Messenger, Skype, Zoom, or Teams, video chatting occasionally (or constantly) can help you feel like you're together. You can use video chat as a way to stay connected to each other's extended families, as well.
"Skype Sleeping." Lots of people have had the experience of falling asleep during a long phone or video call. But we took it to a whole different level—we did it on purpose! There was a lot to be said for blowing each other a kiss goodnight, then simply closing our eyes. Just like IRL, when we woke up in the middle of the night to turn over or go to the bathroom, we could see our spouse sleeping next to us, nestled in on a lap desk where the pillow should be. Sure, we had to dim our screens to a manageable level, but it was worth a little glare to feel more together. If you're in an LDR, and you feel comfortable, try it!

Cooking together. As we did life together in the evenings and on weekends, we each needed to prepare our meals. Discussing what we were cooking, and showing each other what we were preparing, helped us to learn what kinds of foods we mutually enjoyed. And how our tastes differ from one another. You might even try planning and preparing the same meals, at the same time. Click to read more on "cooking together virtually." My sister-in-law bakes cookies with her grandkids on FaceTime, walking them step by step as they do the same thing on the other end of the internet. You can build a lot of intimacy by preparing and sharing meals this way. If you follow the same recipe together, you'll literally be tasting the same flavors at the same time!
Playing together. There are tons of online games you can play together, to stay connected. Whether it was Words with Friends, Hangman, Scribblio, or Scattegories online, we were always playing games. Being apart is so difficult, it's important to laugh and have fun. Click to read,

"How

Video Games Are Keeping Long-Distance Relationships Alive."

Gifts at a Distance. With Amazon and other delivery services, you can give gifts that are shipped straight to your sweetheart. One Valentine's Day when we couldn't be together, I ordered a flower arrangement. Instead of having them delivered by a paid service, I enlisted help from a friend of hers, whom I knew had no romantic designs. I asked him to put on my brand of cologne for the delivery. Then, at my request, he told her, "This is from Greg," then gave her the flowers along with a huge, enfolding, long, lingering hug. Since I couldn't hold her, a proxy was the next best thing. Click here for more gift suggestions for long-distance couples.
Netflix and…well, just Netflix. We got really good at finding TV shows and movies that we could watch at the same time. This gave us more to talk about when we weren't watching TV, and it took the pressure off of us, to constantly be entertaining each other. No couple that lives together is engaged with each other 100% of the time. You sit on the couch, clip your toenails, scroll on your phone, or whatever. Watching the same shows let us have that sense of normalcy. All we had to do was say, "3-2-1-Go!" at the same time. Click here to read "10 Best Apps and Sites for Watching Movies Together Online While Long Distance."
Let's get physical. Nobody can just sit around the house on Skype all the time. So, we learned how to virtually go on walks together. I'd go for a walk in a park in the US, and she'd go for a walk in a park in Canada—and we'd talk on the phone about the things we saw. I'd tell her about the ducks and listen as she passed by a couple with an excited puppy. Taking walks together helped us not to be couch potatoes as we shared life digitally, while physically apart. If you get creative, you could probably think of other ways you and your sweetheart can get physically active virtually, while at a distance.
How Faith Can Help Your Long-Distance Relationship Thrive
If it weren't for our shared faith, it would have been difficult for our LDR to thrive. Yet, because we were sure that our relationship was in God's hands, we knew we could trust our future together. If your relationship is anything like ours, you know there are days when all you can do is hold on and trust God. Here are some things you can do to help each other grow in faith, even while you're far apart:
Read together. We read the Bible,

spirituality-related books

, devotional material, online articles, and other things while we were apart. Sometimes, we each purchased a paperback book and swapped off who read chapters aloud. We went through a few books together this way.
Pray together. We prayed together every day back then, just as we pray together daily now. Whether it's in person or virtual, praying with your special someone helps you maintain a strong bond, even at a distance.
Go to church together. Obviously, you can't physically attend the same church. But you can watch each other's church services online and get to know your sweetheart's faith community.
Talk about faith as you learn and grow. She and I did a lot of deconstructing as we examined the faith we each grew up with, raised our kids in, and thoughtfully reconsidered. We figured out what we didn't believe anymore, and what we still held onto. This applied to just about every issue of our faith. Everything was fair game for reconsideration. We deconstructed and reconstructed together, so we could be strong together.
Trust God together. Before and after we were married, our LDR went through years of occasional visits interspersed with long periods of separation. Long-distance relationships are tough—and you've got to trust that the God who put you together will see you through. But I gotta say, it's not enough to simply trust God. I know a lot of people who trust God for things that never happen because they didn't do their part. That's why you also have to…
Plan Together—and Execute That Plan
As I said earlier, romance isn't meant to be long-distance, long-term. You've got to make a plan and put it into action. Certainly, there are situations that make a long-distance relationship necessary for a time. But, if you love that person, you don't want to lead them on. And you definitely don't want to be strung along by someone with commitment issues who has no intention of ever making "forever" a reality. Long-distance relationships are meant to be a starting point, not the destination. At some point, one of you is going to have to make a committed journey. With faith to guide you, as a couple you'll be able to make tough decisions and plan your future together. Your faith will help your long-distance relationship to thrive.