During the season of Epiphany (basically from the beginning of 2012 through Ash Wednesday), I'm planning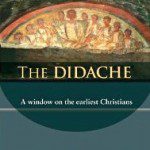 a sermon series on the Didache. I've read the primary text previously a few times as well as a pieces of secondary literature, but I still don't feel like I have a firm enough grasp on this important early document. I figure preaching through the Didache is a great opportunity to correct this gap.
As part of my sermon preparation, I plan to revisit Tony Jones' book The Teaching of the Twelve: Believing & Practicing the Primitive Christianity of the Ancient Didache Community and the related December 2009 blog tour. I also plan to watch for the first time the supplemental DVD from Paraclete Press.
Jones has written that:
If you don't know what the Didache is, it is an early Christian document, only rediscovered in 1873 in a dusty library in Nicomedia. At first, many considered it a forgery, but it was quickly

determined to be authentic and attested in other ancient documents. Some scholars date it early 2nd century, but there's a growing consensus that it's earlier than that. I date it between 50 and 70 CE, contemporaneous with Paul's letters and before the Gospels.

The Didache is not a particularly theological book. It's actually a manual for Christian communallife, and if I had to sum up its message, I'd say it's, Do your best. The Didache lays out a very pragmatic approach to Christian living.  The line that sums that up is Didache 6:2: "For if you are able to bear the entire yoke of the Lord, you will be perfect; but if you are not able, then at least do what you can."

The raw, simple, primitive Christianity described in the Didache is a great model for those of us attempting to free the church from its Western cultural captivity….
I additionally plan to revisit Aaron Milavec's groundbreaking work: both his short, accessible The Didache: Text, Translation, Analysis, and Commentary and his exceedingly longer The Didache: Faith, Hope, and Life of the Earliest Christian Communities, 50-70 C.E.
I am looking forward to reading for the first time Thomas O'Loughlin's The Didache: A Window on the Earliest Christians.
Does anyone have experience or suggestions for preaching through the Didache?
What should I be doing, reading, or keeping in mind in my sermon preparation and worship planning?
I welcome your feedback in the comments section.
For background on our approach to worship and sermon series at Broadview Church, see "Response to Tony Jones' Blog on 'Picking and Choosing Your Bible Verses (or, Why To Abandon the Lectionary).'"
The Rev. Carl Gregg is a trained spiritual director, a D.Min. candidate at San Francisco Theological Seminary, and the pastor of Broadview Church in Chesapeake Beach, Maryland. Follow him on Facebook (facebook.com/carlgregg) and Twitter (@carlgregg).