I don't understand the outcry from some quarters that, "There's nothing to watch on Netflix Instant." I couldn't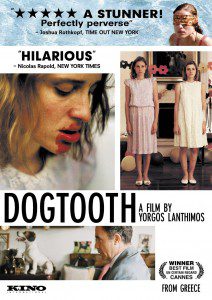 disagree more. There are currently 37 films in my "Instant" queue that — if there were but world enough and time — I would be watching immediately. To name only a few: Meek's Cutoff, Biutiful, Rabbit Hole, and Antichrist.
For anyone unsure of what to watch next, Netflix provides tons of recommendations (click on the "Watch Instantly" tab), but most additions to my queue come from one of my favorite podcasts Filmspotting. I also have no need in particular to be a shill for Netflix, but I do think that — even with their recent tone-deaf price hike — it is still one of the best deals out there, especially if you cancel cable, as we did years ago. In my view, they waited far too long to raise their rates, then fumbled an attempt to make up the difference all at once.
But on to the fun part! The following are some of the shows or films that I've enjoyed streaming some or all of at some point in the last year. My "top ten" are bolded:
Battlestar Gallactica
Breaking Bad
Brothers & Sisters
Capitalism: A Love Sotry
Carlos: Miniseries
Commander in Chief
Dogtooth
Greek
Commander in Chief
Hoop Dreams
Jack & Bobby
Limitless
Merlin: Season One
Mesrine
Millennium Trilogy (Stieg Larsson)
Moon
A Prophet
Pushing Daisies
The Red Shoes
Red State
Restrepo
The Riches
Sleeper Cell
Sons of Anarchy
The Walking Dead
Bonus
: We recently subscribed to HuluPlus and bought a
Roku
box to keep up with some shows more currently, although I lament the commercials on Hulu. Many nights we watch parts of 
The Daily Show
or 
The Colbert Report.
We also keep up with
Glee
,
Modern Family
, and
Up All Night
. My wife additionally is a big fan of
The Office
,
30 Rock
, and
Parenthood
.
What are some of your favorite streaming videos from Netflix or a similar source from this past year?
What should I add to my queue for 2012?
I welcome your feedback in the comments section.
Previous Lists
The Rev. Carl Gregg is a trained spiritual director, a D.Min. candidate at San Francisco Theological Seminary, and the pastor of Broadview Church in Chesapeake Beach, Maryland. Follow him on Facebook (facebook.com/carlgregg) and Twitter (@carlgregg).