This list is in alphabetical order (because agonizing over a precise order would take out all the fun). Also, I am limiting myself to DVDs received in the mail. I will post a follow-up list sometime this week with my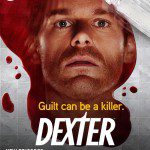 favorite Netflix Instant streamed in the past year. This list also excludes some great films I saw in the theater this past year, which could perhaps be another future list.
I also have to give credit to one of my favorite podcasts Filmspotting, which keeps my Netflix queue filled with an abundance of riches. However, the following is biased toward television. We haven't had cable in years, are content being a season behind on most shows we follow since watching on DVD means no commercials! Not having cable also focuses and limits my time spent in front of the TV. The Slate Culture Gabfest podcast also has excellent coverage of both films and television.
With no further ado:
Back in the day, I was a big fan of Six Feet Under, and I continue to be impressed with Michael Hall's metamorphosis into Dexter:
A police analyst and clandestine serial killer struggles with his crumbling personal and family life as he attempts to overcome his guilty conscience and stay a step ahead of a suspicious detective. Season 5 welcomes Julia Stiles as a woman who has a connection to Dexter's secret, and Peter Weller as a troubled Miami cop involved in an internal affairs investigation.
The sprawling 1969 miniseries that started it all! The remarkable story of the foibles of a nouveau riche English family and their rarified circle of friends. Kenneth More is Jo, the philosophical outsider; Eric Porter is Soames, the grasping man of property; and Nyree Dawn Porter is Irene, "born to be loved and to love."
This quietly intense HBO drama series brings you inside the therapy room where psychologist Paul Weston (Gabriel Byrne) treats clients, focusing on a single patient in each episode. With the action largely taking place within the therapy sessions, this Emmy-winning show also follows Weston as he sorts out his own thorny issues with another analyst. Season 2 features a new roster of clients including a CEO (John Mahoney) in crisis, a woman unwilling to battle her cancer and a boy caught between his divorcing parents
My wife and her best friend are much bigger fans of this show than I am, but I tuned in from time to time as my wife watched the full run to date, and enjoyed what I saw:
Set in 1960s New York City, this AMC series takes a peek inside an ad agency during an era when the cutthroat business had a glamorous lure. When the cigarette smoke clears and the martinis are set down, at the center of it all is ad man Don Draper (Jon Hamm). Meanwhile, his marriage suffers as his wife, Betty (January Jones), recoils from his womanizing ways.
I kept hearing about this show from friends, and it doesn't disappoint:
This Emmy-winning mockumentary sitcom follows Jay Pritchett (Ed O'Neill) and his diverse family — including his younger Colombian wife (Sofía Vergara) and her son (Rico Rodriguez) — as they deal with the challenges of contemporary life in Los Angeles. While Jay's daughter (Julie Bowen) raises three kids with her husband (Ty Burrell), Jay's son (Jesse Tyler Ferguson) and his partner (Emmy winner Eric Stonestreet) have adopted a Vietnamese baby.
We were also late to the game on this excellent show:
Grown siblings Sarah (Lauren Graham), Adam (Peter Krause), Crosby (Dax Shepard) and Julia Braverman (Erika Christensen) struggle with issues of parenthood, relationships, careers and more as they manage the ups and downs of life in this dramedy series set in Berkeley, Calif. Meanwhile, their parents (Craig T. Nelson and Bonnie Bedelia) face an unraveling marriage and their own never-ending parenting challenges.
Weeds family hits the road again in the sixth season of the Showtime dramedy. Parker continues to hold the show together.
After a family member eliminates a competitor with a croquet mallet, the
We always love when there is a shout-out to Monroe, Louisiana, where we used to live:
The conflicted vampires of rural Louisiana continue their disarming blend of eerie charm and violent bloodlust in the third season of this acclaimed HBO drama produced by Alan Ball (American Beauty). As barmaid Sookie Stackhouse (Anna Paquin) considers a relationship with vampire Eric Northman (Alexander Skarsgård), she also confronts werewolves and learns the truth about her own supernatural gift of reading minds.
In the fourth and final season of this epic costume drama, King Henry VIII (Jonathan Rhys Meyers) loses his grip on reality while trying to juggle his troubled relationships with his wives Catherine Howard (Tamzin Merchant) and Catherine Parr (Joely Richardson). Based on actual historical events, this bold Showtime series also stars Henry Cavill, Sarah Bolger, Joanne King, Max Brown and Joss Stone.
Starting with Smallville (the Superman reboot), I've found myself occasionally indulging in the guilty pleasure of various offerings from the CW:
Trapped in adolescent bodies, feuding vampire brothers Stefan (Paul Wesley) and Damon (Ian Somerhalder) vie for the affection of captivating high schooler Elena (Nina Dobrev), who attempts to unravel the many dark secrets of her hometown of Mystic Falls. Based on the book series by L.J. Smith, this supernatural teen drama grows even more intriguing with the unexpected arrival of Katherine, a treacherous vampire vixen and dead ringer for Elena.
Bonus: Some great actual feature films we rented this year:
Director David Fincher's biographical drama chronicles the meteoric rise of Facebook CEO Mark Zuckerberg (Jesse Eisenberg) from Harvard sophomore to Internet superstar, examining his relationships with co-founder Eduardo Saverin (Andrew Garfield) and Napster founder Sean Parker (Justin Timberlake). Winning Golden Globes for Best Picture and Best Director, the film also racked up Oscar nods in the same categories and for lead actor Eisenberg.
High school is the setting for this freewheeling comedic twist on Nathaniel Hawthorne's 19th-century novel The Scarlet Letter. Ambitious student Olive (Emma Stone) decides to boost her popularity by pretending to be the school slut. As the school's swirling rumor mill increases both her notoriety and her finances, Olive enjoys her newfound status but eventually must decide which is more important: popularity or self-esteem.
James Franco steps into the shoes of famed Beat poet Allen Ginsberg in this star-studded biopic centered around Ginsberg's poem "Howl" — and the widely publicized obscenity trial that followed its publication in 1957. Documentarians Rob Epstein and Jeffrey Friedman (The Times of Harvey Milk) direct, with an A-list ensemble cast that includes Jon Hamm, David Strathairn, Jeff Daniels and Mary-Louise Parker.
What are some of your favorite DVDs from this past year, whether via Netflix or another source?
What should I add to my queue for 2012?
I welcome your feedback in the comments section.
Previous Lists
The Rev. Carl Gregg is a trained spiritual director, a D.Min. candidate at San Francisco Theological Seminary, and the pastor of Broadview Church in Chesapeake Beach, Maryland. Follow him on Facebook (facebook.com/carlgregg) and Twitter (@carlgregg).