This list is not the best of new releases in 2011, but rather the best of the CDs I listened to for the first time this past year.
I also have to give credit to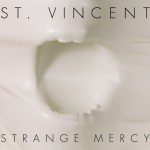 NPR's free All Song's Considered podcast, which introduced me to many of these albums, especially the ones released this year.
This list is also in alphabetical order (because agonizing over a precise order would take all the fun out of making this list):
Bob Dylan, Tell Tale Signs: the Bootleg Series Vol. 8: For the uninitiated, the Bootleg series provides one of the best introductions to Dylan. For aficionados, this latest installment does not disappoint. One of my favorite parts of this double-album (including 27 songs and a 60-page booklet) are the two versions of "Mississippi" that begin each of the disks, which highlight both the vagaries of the oral tradition in general and Dylan's protean song craft in specific.
The Book of Mormon (Original Broadway Cast): I can't wait to see this show live. I liked it on the first listen, and grew to love it. As a longtime fan of South Park as well as a fan of most things religious, I am part of the ideal audience for this no-holds-barred satire.
Peter Mayer, Heaven Below: I'm mildly obsessed with this singer-songwriter. I love the way he blends religious mysticism with scientific literacy.
Paul Simon, So Beautiful or So What: Paul Simon has been rightly called a national treasure. This disk is arguably his best since Graceland.
Eddie Vedder, Ukulele Songs: I wouldn't have believed that Pearl Jam's lead singer — or really anyone — could produce an incredible ukulele-only album until I heard it with my own ears.
St. Vincent, Strange Mercy: "St. Vincent is the nom-de-stage of Annie Clark. The record's 11 tracks showcase Clark's gift for fusing the cerebral and the visceral. She utilizes the guitar as a pointillist artist might wield a brush."
Gillian Welch, The Harrow & The Harvest: I sometimes think that every track Welch lays down is perfect. This CD is her first album in eight years.
Wicked (2003 Original Broadway Cast): I realize I'm late to the game on this one. But I had the pleasure of both listening to and seeing this musical this past year. Extraordinary.
Wilco, The Whole Love: Their eighth studio album is their best since 2002's Yankee Hotel Foxtrot.
Paul Winter, Missa Gaia / Earth Mass: Listening makes me want to hear the performance live at the Feast of St. Francis of Assisi service at the Cathedral of St. John the Divine in NYC. The mass gloriously re-imagined through an ecological lens.
Honorable mention: Lucinda Williams, Blessed, especially the title track: http://www.youtube.com/watch?v=ubs-9C1zge0.
What are some of your favorite albums or songs from this past year?
What should I be listening to in 2012?
I welcome your feedback in the comments section.
The Rev. Carl Gregg is a trained spiritual director, a D.Min. candidate at San Francisco Theological Seminary, and the pastor of Broadview Church in Chesapeake Beach, Maryland. Follow him on Facebook (facebook.com/carlgregg) and Twitter (@carlgregg).