The following are the top ten best books I've read since this time last year, not the best books published in 2015. For those keeping track, five were published in 2015, four in 2014, and one in 2007. The list is also in alphabetical order by the author's last name because agonizing over a precise order would take all the fun out of remembering these books:
1. Alison Bechdel, Fun Home: A Family Tragicomic (2007): All the adulation for the Broadway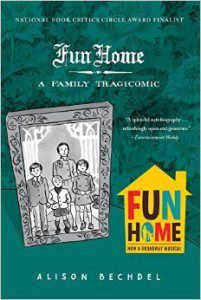 musical adaptation made me curious to read the original inspiration, and I'm glad I did:
A fresh and brilliantly told memoir from a cult favorite comic artist, marked by gothic twists, a family funeral home, sexual angst, and great books. This breakout book is a darkly funny family tale, pitch-perfectly illustrated with Bechdel's sweetly gothic drawings. 
2. Ta-Nehisi Coates, Between the World and Me (2015): Weighing in at less than 200 pages, Coates' book is a brief, but devastatingly powerful and important book. A good introduction to why saying "Black Lives Matter" is necessary and "All Lives Matter" is insufficient:
Americans have built an empire on the idea of "race," a falsehood that damages us all but falls most heavily on the bodies of black women and men—bodies exploited through slavery and segregation, and, today, threatened, locked up, and murdered out of all proportion. What is it like to inhabit a black body and find a way to live within it? And how can we all honestly reckon with this fraught history and free ourselves from its burden? Between the World and Me is Ta-Nehisi Coates's attempt to answer these questions in a letter to his adolescent son. 
For more, see my post on "What Ta-Nehisi Coates Taught Me About 'People Who Believe They Are White'"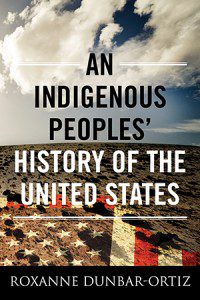 3. Roxanne Dunbar-Ortiz, An Indigenous Peoples' History of the United States (2015): The third book in Beacon Press's significant ReVisioning American History series, preceded by the also excellent A Disability History of the United States (2013) and A Queer History of the United States (2012):
The first history of the United States told from the perspective of indigenous peoples. Today in the United States, there are more than five hundred federally recognized Indigenous nations comprising nearly three million people, descendants of the fifteen million Native people who once inhabited this land. The centuries-long genocidal program of the U.S. settler-colonial regimen has largely been omitted from history.
For more, see my post on Why "Columbus Day" Should Be "Indigenous People's Day."
4. Benjamin Hunnicutt, Free Time: The Forgotten American Dream (2014) – A vital historical account of the lost vision of the Labor Movement, and how we might reclaim our time: "Hunnicutt examines the way that progress, once defined as more of the good things in life as well as more free time to enjoy them, has come to be understood only as economic growth and more work, forevermore." For more, see my post on Why a 40-Hour Work Week? (It's Decreased Before. It Could Again.)
5. Maggie Nelson, The Argonauts (2015):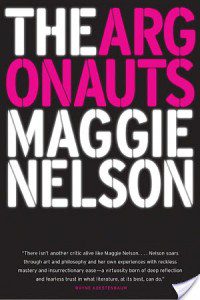 a genre-bending memoir…offering fresh, fierce, and timely thinking about desire, identity, and the limitations and possibilities of love and language. At its center is a romance: the story of the author's relationship with the artist Harry Dodge. This story, which includes Nelson's account of falling in love with Dodge, who is fluidly gendered, as well as her journey to and through a pregnancy, offers a firsthand account of the complexities and joys of (queer) family-making. Writing in the spirit of public intellectuals such as Susan Sontag and Roland Barthes, Nelson binds her personal experience to a rigorous exploration of what iconic theorists have said about sexuality, gender, and the vexed institutions of marriage and child-rearing. Nelson's insistence on radical individual freedom and the value of caretaking becomes the rallying cry of this thoughtful, unabashed, uncompromising book.
6. Peter Singer, The Most Good You Can Do: How Effective Altruism Is Changing Ideas About Living Ethically (2015): Agree or disagree, Singer is always worth reading for his willingness to fully explore the implications of how rationality can lead us to live more moral lives:
Peter Singer's books and ideas have been disturbing our complacency ever since the appearance of Animal Liberation…. Effective altruism is built upon the simple but profound idea that living a fully ethical life involves doing the "most good you can do." Such a life requires an unsentimental view of charitable giving: to be a worthy recipient of our support, an organization must be able to demonstrate that it will do more good with our money or our time than other options open to us.
For more, see my post on Why Peter Singer Hates on Guide Dogs & the "Make-a-Wish" Foundation: Reflections on "The Most Good You Can Do."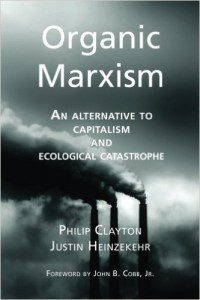 7. Philip Clayton and Justin Heinzekehr, Organic Marxism: An Alternative to Capitalism and Ecological Catastrophe 
(2014)
–
I've followed Clayton's books on process theology for many years, and I was excited to find his latest work on politics and ethics: "This revolutionary book fuses the enduring legacy of socialism—government for the common good—with the best of the environmental movement and the newest insights from sustainability studies." For more, see my post on 
"Do You Really Want to Know?" From Pope Francis & Kim Davis to Copernicus, Darwin, & Marx
.
8. Paul Sabin, The Bet: Paul Ehrlich, Julian Simon, and Our Gamble over Earth's Future (2014):
Using a highly publicized thousand-dollar wager made between two scholars as a narrative framework, this gem of a book elucidates the extreme polarity between those who believe human ingenuity can solve the world's problems and those who foresee imminent doom. Sabin cleverly traces the ideological extremes through the careers of Paul Ehrlich, known for his warnings about explosive population growth, and his lesser known adversary Julian Simon, who advocated that technological advancement and market flexible would resolve threats of overpopulation. Sabin shows the evolution of both arguments through various presidencies.
For more, see my post on "Betting on Earth's Future."
9. Nell Zink, Mislaid: A Novel (2015): "A sharply observed, mordantly funny, and startlingly original novel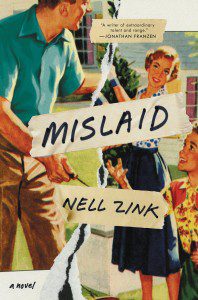 from an exciting, unconventional new voice about the making and unmaking of the American family that lays bare all of our assumptions about race and racism, sexuality and desire."
10. Paul Bogard, The End of Night: Searching for Natural Darkness in an Age of Artificial Light (2014) – This book is an inspiring call to action for reclaiming starry nights through practical steps for reducing light pollution:
A brilliantly starry night is one of nature's most thrilling wonders. Yet in our world of nights as bright as day, most of us no longer experience true darkness. Eight out of ten Americans born today won't ever live where they can see the Milky Way. And exposure to artificial light at night has been cited as a factor in health concerns ranging from poor sleep to cancer. Bogard travels the globe to find the night, blending personal narrative, natural history, health, science, and folklore to shed light on darkness. Showing exactly what we've lost, what we have left, and what we might hope to regain, he attempts nothing less than a restoration of how we see the spectacularly primal, wildly dark night sky.
For more, see my post on Why You Should See 2,700 (Not 12) Stars at Night: Reclaiming a Spirituality of Dark Skies.
Bonus
I've also recently been dipping my toes back into the world of comic books, and I've enjoyed in particular the work of Brian K. Vaughn in Y: The Last Man (a limited series now complete) and Saga (ongoing). I have also appreciated being able to catch up so easily with The Walking Dead through the Compendium editions. Of note, TWD comics are way ahead of the television series.
Feel free to share your favorite books of the past year in the comments section.
Previous Lists
The Rev. Dr. Carl Gregg is a trained spiritual director, a D.Min. graduate of San Francisco Theological Seminary, and the minister of the Unitarian Universalist Congregation of Frederick, Maryland. Follow him on Facebook (facebook.com/carlgregg) and Twitter (@carlgregg).
Learn more about Unitarian Universalism:
http://www.uua.org/beliefs/principles