The following are the top ten best books I've read since this time last year. The list is in alphabetical order by the author's last name because agonizing over a precise order would take all the fun out of remembering these books: Brene Brown, The Gifts of Imperfection: Let Go of Who You Think You're Supposed to Be and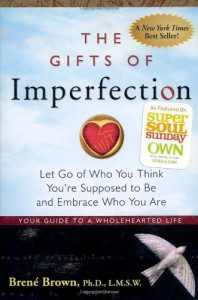 Embrace Who You Are: All of Brown's books are short, accessible, and transformative:
In The Gifts of Imperfection, Brené Brown, a leading expert on shame, authenticity, and belonging, shares ten guideposts on the power of Wholehearted living — a way of engaging with the world from a place of worthiness. Each day we face a barrage of images and messages from society and the media telling us who, what, and how we should be. This important book is about the lifelong journey from 'What will people think?' to 'I am enough.' Brown's unique ability to blend original research with honest storytelling makes reading The Gifts of Imperfection like having a long, uplifting conversation with a very wise friend who offers compassion, wisdom, and great advice."
For my longer reflection on this book, see patheos.com/blogs/carlgregg/2014/04/brene-brown-and-the-gifts-of-imperfection. John L. Esposito, The Future of Islam:
Esposito is one of America's leading authorities on Islam. He draws on a lifetime of thought and research to sweep away the negative stereotypes and provide an accurate, richly nuanced, and revelatory account of the fastest growing religion in the world. Here Esposito explores the major questions and issues that face Islam in the 21st century and that will deeply affect global politics. Are Islam and the West locked in a deadly clash of civilizations? Is Islam compatible with democracy and human rights? Will religious fundamentalism block the development of modern societies in the Islamic world? Will Islam overwhelm the Western societies in which so many Muslim immigrants now reside? Will Europe become Eurabia or will the Muslims assimilate? Which Muslim thinkers will be most influential in the years to come? To answer this last question he introduces the reader to a new generation of Muslim thinkers–Tariq Ramadan, Timothy Winter, Mustafa Ceric, Amina Wadud, and others–a diverse collection of Muslim men and women, both the "Martin Luthers" and the "Billy Grahams" of Islam. We meet religious leaders who condemn suicide bombing and who see the killing of unarmed men, women, and children as "worse than murder," who preach toleration and pluralism, who advocate for women's rights. The book often underscores the unexpected similarities between the Islamic world and the West and at times turns the mirror on the us, revealing how we appear to Muslims, all to highlight the crucial point that there is nothing exceptional about the Muslim faith. Recent decades have brought extraordinary changes in the Muslim world, and in addressing all of these issues, Esposito paints a complex picture of Islam in all its diversity–a picture of urgent importance as we face the challenges of the coming century.
For my longer reflection on this book, see patheos.com/blogs/carlgregg/2014/10/the-future-of-islam. Michael Gecan,  Going Public: An Organizer's Guide to Citizen Action: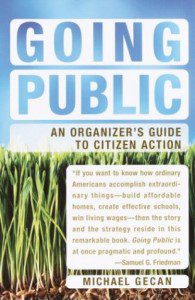 For more than twenty-five years, Michael Gecan has been a professional organizer with Industrial Areas Foundation, which has trained thousands of little-known community groups from Brownsville, Texas, to Brownsville, Brooklyn. Having grown up witnessing at close range the destructive effects of political patronage on powerless, disenfranchised Chicago communities, Gecan knows from experience that strong relationships in the public sphere and sustained and disciplined organizing can spark the public and private alchemy necessary to achieve sidewalks, parks, schools, housing–and the collective renewal that results. Full of good advice and entertaining accounts of success, Going Public is the story of those who, says Gecan, "succeed in unexpected ways and in unexpected places."
If you are interested in community organizing, this book is a great place to start.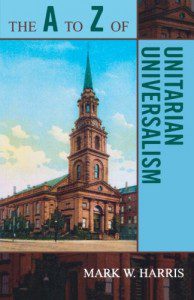 Mark W. Harris, The A to Z of Unitarian Universalism: Weighing in at more than 600 pages, this book is not short. But it is the most helpful study guide I found to prepare to see the Unitarian Universalist Association's Ministerial Fellowship Committee this past fall. Although Harris has also co-written an excellent one-volume survey of UU history, I particularly appreciated this A-Z Guide which organizes UU history in a reference format:
The book provides a complete overview of Unitarian and Universalist history all over the world. While the emphasis is on North America, many listings provide an adequate background for the development of the Unitarian faith in Europe as far back as the 16th century. Other parts of the world are included as well with biograpihcal, theological and geographical listings. Most of the book consists of alphabetical listings of all major leaders of the movements, many famous person associated with the movement, important events, and histories of institutions.
Jeffrey J. Kripal, The Serpent's Gift: Gnostic Reflections on the Study of Religion: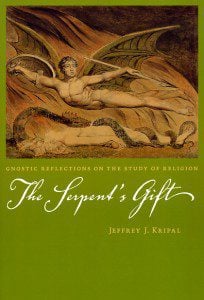 As many of my friends know, I have a slight obsession with Kripal. I think he is producing some of the most significant and fascinating religious scholarship today. And having read all his books over the course of the past few years, I would say that this book is arguably the best starting point:
Rejecting both of these conservative and liberal modes of knowing as insufficient to the radical subject that is religion, Kripal offers in this book another possibility, that of the serpent's gift. Such a gift hisses a form of gnosis, that is, a deeply critical approach to religion that is at the same time profoundly engaged with the altered states of consciousness and energy that are naively literalized by the proponents of faith and too quickly dismissed by the proponents of pure reason. Kripal does not simply describe such a gnosis. He performs and transmits it through four meditations on the sexualities of Jesus, the mystical humanism of Ludwig Feuerbach, the gnostic potentials of the comparative method, and the American mythologies of the comic book. From the erotics of the gospels to the mutant powers of the superhero, The Serpent's Gift promises its readers both an intellectual exile from our present religious and sexual ignorance and a transfigured hope in the spiritual potentials of the human species.
For my longer reflections on this book see patheos.com/blogs/carlgregg/2014/08/eve-was-framed-the-serpent-was-right.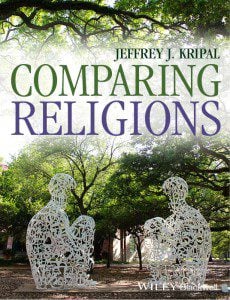 Jeffrey J. Kripal, Comparing Religions: Coming to Terms: Kripal's latest book came out just this year, so of course it made my list as well. Instead of just one more survey of the world's religions,
Comparing Religions is a next-generation textbook which expertly guides, inspires, and challenges those who wish to think seriously about religious pluralism in the modern world. A unique book teaching the art and practice of comparing religions."
For my longer reflections, see patheos.com/blogs/carlgregg/2014/03/religious-mystic-rational-humanist-the-mystical-humanism-of-jeffrey-kripal.     Yuval Levin, The Great Debate: Edmund Burke, Thomas Paine, and the Birth of Right and Left: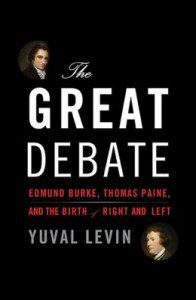 For more than two centuries, our political life has been divided between a party of progress and a party of conservation. In The Great Debate, Yuval Levin explores the origins of the left/right divide by examining the views of the men who best represented each side of that debate at its outset: Edmund Burke and Thomas Paine. In a groundbreaking exploration of the roots of our political order, Levin shows that American partisanship originated in the debates over the French Revolution, fueled by the fiery rhetoric of these ideological titans. Levin masterfully shows how Burke's and Paine's differing views, a reforming conservatism and a restoring progressivism, continue to shape our current political discourse—on issues ranging from abortion to welfare, education, economics, and beyond. Essential reading for anyone seeking to understand Washington's often acrimonious rifts, The Great Debate offers a profound examination of what conservatism, liberalism, and the debate between them truly amount to.
For more longer reflections, see patheos.com/blogs/carlgregg/2014/11/can-you-be-both-a-religious-liberal-and-a-political-conservative.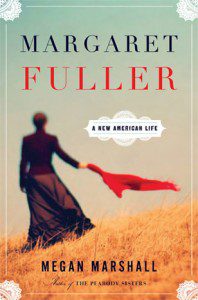 Megan Marshall, Margaret Fuller: A New American Life:
Pulitzer Prize finalist Megan Marshall recounts the trailblazing life of Margaret Fuller: Thoreau's first editor, Emerson's close friend, daring war correspondent, tragic heroine. After her untimely death in a shipwreck off Fire Island, the sense and passion of her life's work were eclipsed by scandal. Marshall's inspired narrative brings her back to indelible life. Whether detailing her front-page New-York Tribune editorials against poor conditions in the city's prisons and mental hospitals, or illuminating her late-in-life hunger for passionate experience—including a secret affair with a young officer in the Roman Guard—Marshall's biography gives the most thorough and compassionate view of an extraordinary woman. No biography of Fuller has made her ideas so alive or her life so moving.
For my longer reflections, see patheos.com/blogs/carlgregg/2014/06/margaret-fuller-the-stories-we-tell-matter.
Jay Michaelson, Evolving Dharma: Meditation, Buddhism, and the Next Generation of Enlightenment: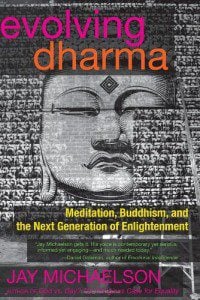 Fearless, unorthodox, and irreverent scholar and activist Jay Michaelson shows how meditation and mindfulness have moved from ashrams and self-help groups to classrooms and hospitals, and offers unusually straight talk about the "Big E"— enlightenment. Michaelson introduces us to maverick brainhackers, postmodern Buddhist monks, and cutting-edge neuroscientists and shares his own stories of months-long silent retreats, powerful mystical experiences, and many pitfalls along the way. Evolving Dharma is a must-read for the next-generation meditator, the spiritually cynical, and the curious adventurer in all of us.
For my longer reflections, see patheos.com/blogs/carlgregg/2014/03/becoming-a-buddha-not-a-buddhist.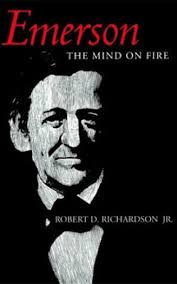 Robert D. Richardson Jr., Emerson: The Mind on Fire: Richardson brings to life an Emerson very different from the old stereotype of the passionless Sage of Concord. Drawing on a vast amount of new material, including correspondence among the Emerson brothers, Richardson gives us a rewarding intellectual biography that is also a portrait of the whole man. These pages present a young suitor, a grief-stricken widower, an affectionate father, and a man with an abiding genius for friendship. The great spokesman for individualism and self-reliance turns out to have been a good neighbor, an activist citizen, a loyal brother. Here is an Emerson who knew how to laugh, who was self-doubting as well as self-reliant, and who became the greatest intellectual adventurer of his age.     Bonus: What's missing from my list this year is fiction! I've been incredibly absorbed — and continue to be — in reading UU history in preparation for a class I'm co-teach in spring 2015, so that's been taking any spare reading time. But the novel I hope to find time to read over the holidays is Stephen King's Revival:
In a small New England town, over half a century ago, a shadow falls over a small boy playing with his toy soldiers. Jamie Morton looks up to see a striking man, the new minister. Charles Jacobs, along with his beautiful wife, will transform the local church. With Jamie, the Reverend shares a deeper bond based on a secret obsession. When tragedy strikes the Jacobs family, this charismatic preacher curses God, mocks all religious belief, and is banished from the shocked town. Jamie has demons of his own. Wed to his guitar from the age of thirteen, he plays in bands across the country, living the nomadic lifestyle of bar-band rock and roll while fleeing from his family's horrific loss. In his mid-thirties—addicted to heroin, stranded, desperate—Jamie meets Charles Jacobs again, with profound consequences for both men. Their bond becomes a pact beyond even the Devil's devising, and Jamie discovers that revival has many meanings.
Thanks for reading along, and feel free to share your favorite books of the past year in the comments section.
Previous Lists
The Rev. Dr. Carl Gregg is a trained spiritual director, a D.Min. graduate of San Francisco Theological Seminary, and the minister of the Unitarian Universalist Congregation of Frederick, Maryland. Follow him on Facebook (facebook.com/carlgregg) and Twitter (@carlgregg).
Learn more about Unitarian Universalism:
http://www.uua.org/beliefs/principles