(Paula Huston, Simplifying the Soul: Lenten Practices to Renew Your Spirit, Ave Maria Press, 2011, 170 pages.)
I have had the opport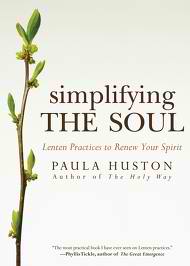 unity to go on a few five-day contemplative retreats in recent years: to the Abbey of Gethsemane in Kentucky (where Thomas Merton was cloistered), the hard-to-reach Monastery of Christ in the Desert in New Mexico, and the saguaro-cacti-surrounded Desert House of Prayer in Arizona. Unfortunately, the last of these retreats was more than five years ago.
In recent years my continuing education time has been filled with more active pursuits: earning a Diploma in the Art of Spiritual Direction, completing Doctor of Ministry coursework, and writing my dissertation. If there were but world enough and time, I would schedule a ten-day silent retreat for 2012, but my calendar is filling up with conferences of various sorts.
The author, Paula Huston, is an oblate, a "lay associate of a monastic community," meaning that, in contrast to my spiritual tourism, she has committed to a longterm relationship with one particular monastery. As a result, she reports that "each visit feels like a homecoming" (ix). More significantly, she writes that each visit is like a "recalibration" of her soul:
For the space of a few days, I am released from the bondage of complexity. Amazingly, those few days are enough to help me find my way back to the image of Jesus trudging before me in his dusty sandals, the man with no place to lay his head….. And as usual, until I arrive at the hermitage, I have no idea of how far I have once again strayed off the path. (x)
For those of us who have not (yet) felt called to a longterm relationship with a particular retreat center or monastery, Huston has written this book as a way of tasting some of the life-giving wisdom she has experienced during her regular retreats. And she invites us to experience Lent as a forty-day "at home" retreat in which we carve out the time and space to allow God to recalibrate our soul. The goal, in her words, is a "simplification of soul" (xi). For those of us who have a tendency to become busy, Meister Eckhart (1260-1327) similarly reminds us that often "The spiritual journey is about subtraction, not addition."
Huston accordingly describes her book as,
Structured as an individual retreat, it presents daily readings that begin on Ash Wednesday and end on Holy Thursday…. Each reading from Jesus and the Desert Fathers and Mothers is in some way tied to the development of humility. Since we learn (and change) by doing, each day of the retreat is also devoted to a different action you might take to help you along the path…. Each activity is designed to be completed in a single day…. (xiii-xiv)
Given that the point is simplification, reading straight through this book partially defeats the purpose, which is both to slow down and savor the words, as well as to be transformed in the actual doing of the practices. As Richard Rohr is fond of saying, "We do not think ourselves into new ways of living, we live ourselves into new ways of thinking."
However, even reading the whole book relatively quickly (which is necessitated by the book review process timetable), the value of this resource was readily apparent. For me, the theme of the third week of Lent was particularly resonant: "Simplifying the Mind." Suggested practices such as "Spend a Day without the Internet" (64) and "Turn off Your Cell Phone for a Day" (69) are encouragements that I need help giving myself permission to do.
Perhaps the highest praise I can give this book is that I have not filed it away. Instead, I have set it aside to re-read during Lent. It will join Ruth Burrows' Love Unknown (The Archbishop of Canterbury's Lent Book 2012) as my Lenten reading. I invite you to read along with me.
If you find this book helpful, I invite you to share about your experience in the comments section.
If you are looking for a spiritual retreat center of your own, I recommend the book Sanctuaries, The Complete United States: A Guide to Lodgings in Monasteries, Abbeys, and Retreats.
This book review is a part of the Roundtable at the Patheos Book Club.
Visit the Book Club website for more free resources related to this book.
The Rev. Carl Gregg is a trained spiritual director, a D.Min. candidate at San Francisco Theological Seminary, and the pastor of Broadview Church in Chesapeake Beach, Maryland. Follow him on Facebook (facebook.com/carlgregg) and Twitter (@carlgregg).