(Arthur Boers, Living Into Focus: Choosing What Matters in an Age of Distractions, Brazos Press, 2012, 226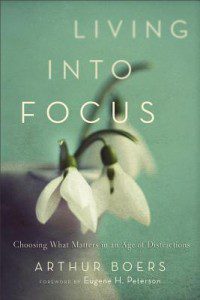 pages)
"I'm sorry it's taken us so long to get in touch. I've just been so busy recently." I hear myself and my friends make apologies along these lines far too frequently. But "busyness" is rarely an idle excuse. Most of us are overwhelmed with responsibilities much of the time. And it can be easy to slip into the trap of wearing our busyness as a badge of honor or of trying to prove that we are the busiest in a perverse game of one-upmanship. (Remember that, "Whoever wins the rat race is still a rat!") In contrast, we desperately need to name busyness for what it often is: a cry for help.
Boers' book Living into Focus both helps us diagnose the problem ("The first step is admitting you have a problem!") and offers many stories and concrete examples of how we can live into a more meaningful and sustainable way of life. Scattered throughout are delightful illustrations from the Dutch cartoonist Margreet de Heer that hilariously underscore the text. The book also impressively begins with a foreword from Eugene Peterson, who, like Boers, is an pastor-turned-professor-and-author.
The book's driving metaphor of "focus" and finding the "focal point" in an age of technological distractions reminds me of my iPhone with its ironically lower-cased "i." I used to never take pictures, but now I take multiple pictures most days since my iPhone is also a fairly impressive camera. However, I have found that if I point-and-click too quickly, the picture is often blurry. But if I linger, and take a few pictures, the second or third photo is usually superior to the first attempt. It takes time to focus.
Boers is right that technology is a two-edged sword. My iPhone frequently makes me feel like the "future is now." Some of its astonishing functionality makes me feel like I could easily be living inside an episode of Star Trek. But there is also the accompanying temptation to constantly check Facebook, tweet every passing insight, and respond immediately to every email. Indeed, I dropped my cell phone down a stairwell during my final semester in seminary, and enjoyed a few weeks of uninterrupted studying outside in nature that spring before getting around to replacing my phone.
Similarly, allow me to give you a taste of the related practices that are included throughout Boer's book. This one is called "Slow Down Email":
The more emails I respond to the more I get, and those also need a response, making life busier. So I usually do not answer email correspondence the same day. By putting off replies, I stem the incoming tide. If I write quickly I often realize later in the day that there was a better way to respond or that I needed to include additional information or that I did not want to say what I wrote in the first email. Then I have to send yet another. (118)
Also, taking the ubiquitous call to "Silence your cell phones!" to another level, Boers invites worship leaders to remove their wristwatches before entering the sanctuary to be fully present to the worship event: God's kairos time supersedes clock preoccupations" (152).
To offer one final example among many others, he recommends the following Sabbath Manifesto, which importantly has far more suggestions of life-giving practices than prohibitions (154):
Avoid technology.
Connect with loved ones.
Nurture your health.
Get outside.
Avoid commerce.
Light candles.
Drink wine.
Eat bread.
Find silence.
Give back.
As a teaser, if you buy this book, be sure to read the conclusion, which includes a fascinating survival guide for "Living into Focus" even in the midst of all that can go awry at the airport.
This book review is a sponsored post that is part of the Roundtable at the Patheos Book Club. Visit the Book Club website for more free resources related to this book.
The Rev. Carl Gregg is a trained spiritual director, a D.Min. candidate at San Francisco Theological Seminary, and the pastor of Broadview Church in Chesapeake Beach, Maryland. Follow him on Facebook (facebook.com/carlgregg) and Twitter (@carlgregg).