(Jon Sweeney, The Pope Who Quit: A True Medieval Tale of Mystery, Death, and Salvation, Image Books,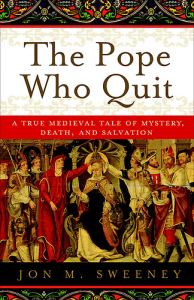 2012, 288 pages)
Jon Sweeney has written a relatively breezy history of an obscure chapter in church history: the story of Peter Morrone (1215-1296), a saintly monk, revered sage, and confirmed hermit, who stumbled backward into becoming Pope Celestine V.
His immediate predecessor to St. Peter's throne, Pope Nicholas IV died on April 4, 1292. The normal procedure called for a new pope to be elected ten days hence, but the cardinals could not come to a consensus. Twenty-seven months passed as various combinations of the cardinals lobbied on behalf of their preferred candidate.
Morrone, who was 85-years-old at the time, wrote a brief jeremiad to the sequestered cardinals lamenting their dereliction of duty, chastising their misplaced priorities, and charging them to make a decision quickly (24-26). Their reaction, rather than indignation, was surprisingly to elect Morrone to the papacy by acclamation.
Peter tried to refuse the call, but was coerced into accepting. He lasted five months as pontiff before the machinations of power, manipulation, and intrigue surrounding the high office caused him to resign. He never even made it to Rome, serving his entire papacy within the kingdom of Naples at the behest of Charles II.
Although Peter was a natural, gifted, and inspiring monk, he was, by the standard measures, a terrible pope: "Peter ruled for fifteen disastrous weeks from August 29 to December 13, 1294. Not a day went by when he wasn't unduly influenced — often without his knowledge — by the Neapolitan monarchs who convinced him to live among them" (161).
Many popes have been deposed of by murder or other nefarious means, but Celestine V is the only person in the last two millennia to willingly abdicate papal power and authority (208-210). For his trouble, Peter was quickly succeeded by Benedetto Gaetani (Pope Boniface VII), Peter's supposed friend, who helped facilitate Peter's abdication only to turn around and have Peter placed under house arrest for the rest of his life, lest Peter change his mind and challenge the new pope's authority. Indeed, it is possible that Peter was murdered by his erstwhile friend (214-221).
The above details are only the faint outline of the story. Sweeney has woven an accessible account of this fascinating episode in church history, including the larger historical context: "Chartres was rising like a skyscraper and Aquinas was writing a hundred volumes of theological commentary on every subject imaginable…" (13). The author has succeeded in cashing the check promised in the subtitle: "A True Medieval Tale of Mystery, Death, and Salvation." Speaking of salvation, there is at least one final silver lining in this tumultuous saga: on March 5, 1313 Peter Morrone was canonized as Saint Celestine V.
Bonus: Be sure to check out the author's post on "Would a Pope Quit in 2012? Would it surprise you to know that Benedict XVI has chosen to align his papacy with the memory of the one pope in history who quit the throne?"
Update: In light of Rowan Williams announcing his upcoming resignation as Archbishop of Canterbury, there are some important parallels to the book at hand. Perhaps we need both married popes, and popes with the free option to resign. More importantly, there are strong parallels between Williams' compassionate spirit and keen intellect being no match for political machinations at the highest level of church leadership and Morrone's experience 700 years earlier. From a blog post of the Anglican solitary and author Maggie Ross:
Perhaps in Cambridge his profound spirit will be able to come to the fore in a way that was blocked while he was at Lambeth, where instead he was forced to attend to the petty spitefulness and grandiose pretensions of his fellow clergy. While he was Archbishop, he committed himself to keep the conversation going among all the factions, at considerable personal cost; few people are aware how great that cost has been. Unfortunately some clergy, including not a small number of bishops, are like petulant children and 'won't play'. Deaf to the meaning of 'ecclesia', they are interested only in their personal fiefdoms, not in making church (cf. Mt. 11:12-22). The Church of England and the Anglican Communion did not deserve him.
The same could be said, mutatis mutandis, of Saint Celestine V.
This book review is a sponsored post that is part of the Roundtable at the Patheos Book Club.Visit the Book Club website for more free resources related to this book.
The Rev. Carl Gregg is a trained spiritual director, a D.Min. candidate at San Francisco Theological Seminary, and the pastor of Broadview Church in Chesapeake Beach, Maryland. Follow him on Facebook (facebook.com/carlgregg) and Twitter (@carlgregg).