(Letters to a Future Church: Words of Encouragement and Prophetic Appeals, edited by Chris Lewis, InterVarsity Press, 176 pages.)
This book collects letters from 25 Christian leaders in response to the question, "If you had one thing to say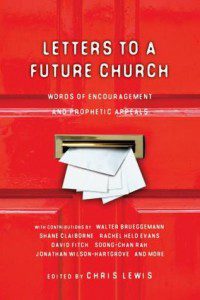 to the church, what would it be?" Respondents include Kester Brewin, Walter Brueggemann, Peter Rollins, Jonathan Wilson-Hartgrove, Ron Sider, Rachel Held Evans, and Shane Claiborne — as well as previously published "bonus letters" from Will Willimon, Gardner Taylor, and Eugene Peterson.
Despite these big names, my favorite letter was from Janell Anema with whom I was previously unfamiliar. Her letter is woven throughout the book as Interludes. Here's an excerpt from the final part:
Church, you had me at hello, and I love you, but I want more for us now. I want more life. I want more mercy. I want rivers of justice that flow from the throne whose waters quench the thirst of trees whose leaves offer healing to the nations. I want revelation. I want heaven here. I want the kingdom come.
Amen.
In response to these 25 letters, Patheos has invited me and many other bloggers to write our own letter to the Church. Whether or not you read this book, you are also invited to write your own letter and submit it to the Letter-Writing Contest InterVarsity Press is hosting for this book. The top 3 letter-writers (chosen by IVP) will receive gift packages and also be published at Patheos.
My letter would read as follows:
Dear Church,
It's time to grow up. It's time to take risks, be honest, and stop equivocating.
You often hire pastors who spend large amounts of time and money to attend seminary and immerse themselves in advanced theological education. Challenge them to teach you the hard lessons such as the dark side of church history, the messy story of how the Bible was formed, and how difficult the way of Jesus really is.
And, pastors, take the risk of trusting that the members of your congregations want to be treated like adults at church. If you can handle the truth that you leaned at seminary, trust that they can too. Partner with them in deconstructing the myths of childhood faith and in the vital work of reconstructing an adult faith worthy of the twenty-first century. The members of your congregation are highly competent citizens in their day jobs; trust that they are fully capable of bringing that same level of intelligence, tenacity, and seriousness to church.
Take risks. Be honest. Stop Equivocating.
Here at the beginning of Christianity's third millennium, we, our neighbors, the world, and God deserve nothing less.
May peace, joy, courage, and hope be yours this day and in the days to come,
Carl
This book review is a sponsored post that is part of the Roundtable at the Patheos Book Club. Visit the Book Club website for more free resources related to this book.
The Rev. Carl Gregg is a trained spiritual director, a D.Min. candidate at San Francisco Theological Seminary, and the pastor of Broadview Church in Chesapeake Beach, Maryland. Follow him on Facebook (facebook.com/carlgregg) and Twitter (@carlgregg).