(Christian Piatt, PregMANcy: A Dad, a Little Dude, and a Due Date, Chalice Press, 2012, 182 pages.)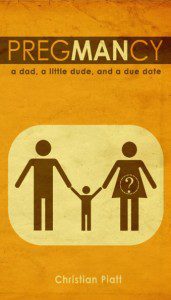 This book review is a sponsored post that is part of the Roundtable at the Patheos Book Club.
Full disclosure: Amy Piatt, Christian's wife, was my classmate in seminary. I haven't talked in person with Amy or Christian since I graduated from Divinity School in 2003, nor have I met either of their children. Christian's new fatherhood memoir hilariously and profoundly caught me up on the highlights.
This book is vintage Christian Piatt: direct, honest, and no-holds-barred. If you have children, you will likely relate strongly with Christian's experience. If, like me, your children remain only hypothetical at this point, there are many lessons to be garnered. From the hazards of Natural Family Planning (read: what can happen when your wife understandably gets tired of taking the pill) to cleaning-up ungodly amounts of pee and puke, and from negotiating a response to "Is Santa Claus make-believe?" to answering, "Well, then, is Jesus make-believe too?"
This unvarnished account is written from the trenches of parenthood. It's arguably worth the price of admission for the epilogue alone on how to procure and endure an afforable vasectomy — or, in Christians' words, "Tying up Loose Ends, Killing the Goalie."
You can't make this stuff up! For better or worse, Christian doesn't have to. For those who are parents, having friends who are parents, or are thinking about becoming parents, there is much to hard-earned learning and laughter in Piatt's latest book.
Visit Patheos' Book Club website for more free resources related to this book.
The Rev. Dr. Carl Gregg is a trained spiritual director, a D.Min. graduate of San Francisco Theological Seminary, and the pastor of Broadview Church in Chesapeake Beach, Maryland. Follow him on Facebook (facebook.com/carlgregg) and Twitter (@carlgregg).