(Ted Kluck and Dallas Jahncke, Dallas and the Spitfire: An Old Car, an Ex-Con, and an Unlikely Friendship,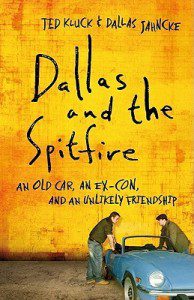 Bethany House Publishers, 2012, 184 pages.)
This book review is a sponsored post that is part of the Roundtable at the Patheos Book Club.
In this Information Age, most of us are saturated with an overabundance of raw data, but opportunities for deep, healthy formation are sometimes rare. And in this Networked Age, many of us are also constantly connected to the Internet, but opportunities for longterm, face-to-face friendships are sometimes few and far between. Moving against these cultural trends, in Dallas and the Spitfire we hear the story of a transformative friendship:
Ted is a thirty-four-year-old father of two who's been going to church his whole life. Dallas is a twenty-one-year-old former cocaine addict with a prison record. When they agree to meet regularly for 'discipleship,' they know that chatting once a week in a coffee shop just won't cut it. Restoring an old Triumph Spitfire is more their style.
Kluck and Jahncke have indeed written a book about discipleship, the practice of a novice spiritually apprenticing a mentor. And at its best this book echoes themes from Bonhoeffer's classic text The Cost of Discipleship such as that advancing in the spiritual life often requires significant discipline, focus, and commitment.
This book is also a strong example of the practice of testimony, which is sometimes neglected in progressive Christian circles. We need to hear one another's stories. And our life stories provide an opportunity to do not abstract theology, but "biography as theology" — that is, theology based on our direct firsthand experience, as opposed to theology based merely on what others claim is true.
And, at its best, this book takes personal experience seriously as a criterion of authority. For example, Dallas' Christian college prohibits him from attending Alcoholic's Anonymous meetings because "they're not biblical" (139). But Ted and Dallas know from their firsthand experience of witnessing AA meetings change lives that a theology that denies the legitimacy of AA is a bankrupt theology.
But despite the strengths of this book, I could ultimately only recommend it to Calvinist-leaning evangelicals or fundamentalists. There is an explicit disdain for "latte-sipping types" like myself who have had many wonderful meetings in coffee shops (14), although I mostly prefer my coffee black. In general, this book is steeped in the hyper-masculinity cult of preachers such as Mark Driscoll and John Piper, whose sermons are held up as models in a few different places in the book. And predestinarianism is reflected in lines such as "the Lord plucked Dallas. In His sovereignty He chose my friend for glory" (101). I'm already on record against John Piper's theology that God controls tornados, and let me go on record as agreeing with my fellow Patheos blogger Tony Jones about "Mark Driscoll's House of Cards." Accordingly, my personal experience would make me less likely to recommend this particular book and more likely to recommend Robert Pirsig's classic Zen and the Art of Motorcycle Maintenance.
Nevertheless, as I prepare to graduate on Saturday with my Doctor of Ministry degree, I am reminded of how deeply grateful I am for the many friendships that have brought me to this point, particularly my seminary mentor and Doktorvator The Rev. Dr. Stephen Sprinkle. In that spirit, I celebrate Dallas' sobriety, and his "unlikely friendship" with his mentor Ted.
If you have a story of spiritual mentors or friendships that have changed you life, I invite you to share these stories in the comments section.
Visit the Book Club website for more free resources related to this book.
The Rev. Carl Gregg is a trained spiritual director, a D.Min. candidate at San Francisco Theological Seminary, and the pastor of Broadview Church in Chesapeake Beach, Maryland. Follow him on Facebook (facebook.com/carlgregg) and Twitter (@carlgregg).