In my previous post on "Why It Matters that Harriet Tubman Will Be on the $20 Bill," I wrote about Tubman's early years. (Both posts are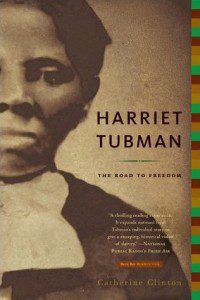 inspired by Catherine Clinton's excellent 2004 biography Harriet Tubman: The Road to Freedom.) But history remembers Tubman—and the U.S. Treasury department chose her for the $20 bill—not merely for being an enslaved women who emancipated herself, but for her courage in repeatedly risking re-enslavement in order to free hundreds of other enslaved human beings (73). Moreover, although white northern males dominated the Abolitionist Movement, Tubman — a formerly enslaved black southern female with narcolepsy — personally led more than 300 enslaved people to freedom (77). As Tubman famously said near the end of her life, "I was conductor of the Underground Railroad for eight years, and I can say what most conductors can't say — I never ran my train off the track and I never lost a passenger" (192).
The first time Tubman risked returning to slave territory was in December 1850. She was motivated to free her favorite niece and her niece's children, who were scheduled for the auction block (80). In spring 1851, she risked a second trip to free one of her brothers, and she freed two other men at the same time (82). In fall 1851, her third trip was to persuade her husband to come with her—only to discover that in less than two years, not only was he with another woman, but that woman was pregnant. Harriet and John never had children together. Initially, she "thought she would go right in and make all the trouble she could," but she changed her mind and decided "if he could do without her, she could do without him" (83).
Instead, she continued to be a conductor on the Underground Railroad:
She developed a pattern that allowed her to successfully ferry at least ten fugitives at a time at least once a year. She kept to the backroads and never traveled by day while in the "land of Egypt." One admirer notes, "She always came in the winter, when the nights are long and dark, and people who have homes stay in them." (85)
Since most enslaved people were given Sunday as a day off, Tubman would begin on a Saturday night, so that the fugitives would not be discovered until Monday morning, giving them a significant head start (90).
The accounts of her journeys make it clear that Tubman was not afraid to be authoritative when needed. She always carried a pistol, and on one occasion when someone in her group became nervous and wanted to return to the plantation, there was fear that he would endanger the whole group. The others tried to persuade him to keep going, but he refused to move forward any further. Tubman finally pulled out her gun, pointed it at his head, and said, "Move or die!" Fortunately, there's a happy ending to this story: they all made it safely to Canada (90-91)!
Along these lines, longtime readers of this blog may recall that among the Secret Six who helped fund and supply John Brown's 1859 raid on the federal armory at Harpers' Ferry, five were Unitarians, and two were Unitarian ministers. Brown was so impressed with Harriet that he called her "General Tubman" and paid her "twenty-five dollars in gold to use to locate recruits for him in Canada" (129). Unfortunately instead of being able to aid Brown's planning, Tubman fell ill in Massachusetts. In one of history's unanswered question, we'll never know how things might have gone differently if Tubman had been able to advise Brown based on the meticulous planning that led to her many successful raids—instead of Brown's ill-planned impetuousness that got too many people needlessly killed (132-133).
Nicknames of "General Tubman" aside, Tubman did serve the Union cause during the Civil War. She "assisted the army with housing and hygiene for the hundreds and eventually thousands of contrabands who fled behind Union lines." She covertly went into the Carolinas "within the theater of war to save the Union, under the auspices of the secretary of war" (193). And although it took thirty years, she succeeded in having her wartime contributions officially recognized in the Congressional Record. She was also rewarded with a long overdue government pension for her service (208-209).
I should also mention that although Tubman said that her first husband John Tubman "dropped out of [my] heart" after he chose another woman (84), Harriet never considered remarriage until John Tubman was tragically shot by a white man during an argument (198). A little more than a year after becoming (from her perspective) "a widow in the eyes of God," she married Nelson Davis, a veteran from a black regiment in the Union army. When they wed in March of 1869, Tubman was around age 47, and Davis was age twenty-five, approximately two decades her junior (198). However, "by all accounts, the difference in their ages was insignificant to them" (199). They were married for nineteen years, and despite him being significantly younger, she outlived her second husband by more than two decades (205).
Even in her later years, she continued to work for social justice as the administrator of a home for elderly people of color who otherwise would not be able to afford somewhere to stay (209). But finally in March 1913, she succumbed to pneumonia (213). She was buried with military honors, and "Booker T. Washington, the most prominent race leader of his day, traveled to upstate New York to make the keynote address" (215).
In my tradition of Unitarian Universalism, the second of our Six Sources is the "Words and deeds of prophetic women and men which challenge us to confront powers and structures of evil with justice, compassion, and the transforming power of love." So a few years from now in 2020, when you start seeing Harriet Tubman's on the face of the $20 bill, may you be reminded each time that she is one in a long line of oppressed people throughout history who risked their lives to show that an "unjust law is no law at all." In so many ways, she is one of a long line of women about whom it can be said, "She was warned. She was given an explanation. Nevertheless, she persisted."
Before concluding, however, I want to invite us to consider how prophetic activists like Harriet Tubman from history can challenge and inspire us today to "confront powers and structures of evil with justice, compassion, and the transforming power of love" In that spirit, I invite you to reflect on this excerpt from the poem "If You Could" by Danny Bryck:
If you could go back you

would walk with Jesus

You would march with King

Maybe assassinate Hitler…

But people then, just like you

were baffled, had bills

to pay and…

were so desperate for normalcy

they made anything normal
The whole poem is worth reading in full. The point is that our time is now. Harriet Tubman rose up boldly and courageously in her time and place. But our context is here and now. May we each do our part—individually and collectively—to act for resistance and resilience in the face of today's injustices.

The Rev. Dr. Carl Gregg is a certified spiritual director, a D.Min. graduate of San Francisco Theological Seminary, and the minister of the Unitarian Universalist Congregation of Frederick, Maryland. Follow him on Facebook (facebook.com/carlgregg) and Twitter (@carlgregg).
Learn more about Unitarian Universalism: http://www.uua.org/beliefs/principles