Friends, I'd like to invite you to join me at a special event called "Wisdom Camp" which takes place in western North Carolina this coming July 13 — the first day of the 2017 Wild Goose Festival.
For that matter, I'd like to invite you to the Wild Goose Festival as well. Let me tell you about both events.

Wisdom Camp asks the question "Is there a higher, deeper, or more joyful way to pursue the healing of our world?" So many of us give generously to working for healing, justice, reconciliation, peace, and other concrete expressions of our spiritual life. We work hard to fulfill the mandate of the corporal works of mercy: we feed the hungry, shelter the homeless, visit the sick and imprisoned, and so forth. In addition, we struggle through political and social advocacy to make the world a better place, not only for those who suffer but for all people.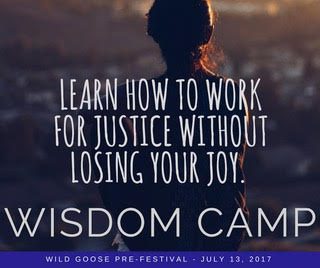 Such work is holy and God-given. But it's not easy. Efforts to bring mercy and healing into our wounded world can leave us feeling exhausted, burned out, and frustrated at how little progress is being made.
Wisdom Camp explores a more joyful way to foster healing and mercy — by drinking deep from the wells of our contemplative and mystical traditions. I am one of a team of eight speakers, storytellers, musicians and wisdomkeepers who will be leading our gathering in a day of shared reflection, rest, meditation, and contemplation.
The team includes Lerita Coleman Brown, Aline Defiglia, Mike Morrell, Lama Rod Owens, and Lynyetta Willis — each of whom brings a unique perspective to the practice of contemplation and inner nurture.
Our day will include stories, songs, insightful teachings, and spiritual exercises designed to create a "mini-retreat" in the beautiful woods of the North Carolina mountains.
My talk will draw from both Cistercian and Ignatian mysticism to lead us into an ever-deepening encounter with the love of God.
Wisdom Camp is a one-day event, on July 13, 2017 from 8 AM to 5 PM, at the Wild Goose Festival site which is located in Hot Springs, NC. Tickets are sold separately for Wisdom Camp and for the entire festival; to order tickets for either or both events, click here (scroll down the menu for Wisdom Camp Tickets). Compared to the entire Festival, Wisdom Camp will be an intimate event where you'll gather with kindred souls who share your commitment to deep spirituality anchored in creating a better world. I look forward to seeing you there!
Of course, if you come for Wisdom Camp, you may as well stay the weekend and attend the entire Wild Goose Festival.
The Wild Goose Festival runs from July 13 to 16. It is a joyous celebration of art, spirituality and justice, anchored in a beautiful ecumenical (and interfaith-friendly) Christian spirit.
The festival organizers are still in the process of finalizing who the speakers and musicians will be at this year's event, but they've already announced a truly inspiring line-up, including Sister Simone Campbell (famous as one of the "Nuns on the Bus," a tireless advocate for the poor and needy), well known Christian authors like Jim Wallis, Nadia Bolz-Weber, and Brian McLaren, along with a variety of musicians whose performances cover sacred and secular, folk and rock, world and blues.
Beyond the speakers and musicians, the festival features a variety of programs for children (of all ages), resource tents where you can learn about non-profits and other organizations dedicated to making the world a better place, and a variety of off-beat events (one of my favorites, sponsored by the Episcopalians, is "Beer and Hymns," where kegs filled with craft beer meet an old-timey hymn sing-along. Trust me, it's a lot of fun).
The Wild Goose Festival is the best event I know of where Christians of many denominations gather together to explore how faith, spirituality, art, and justice come together. This year will mark the fourth time I've had the honor to speak at the Festival. I hope you'll be there to say hello.
Learn more about the Wild Goose Festival by visiting its website here.
---
Enjoy reading this blog?
Click here to become a patron.

---