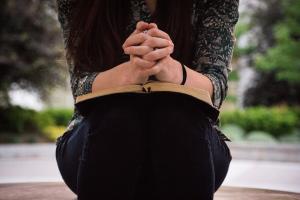 We continue our journey through Lent with a twist on Lectio Divina I'm calling  Lectio Divina Diligens. Click on the link to read about this idea, if you're not familiar with it.
We've come to the fourth Sunday of Lent. Once again let's look at the second reading: the Epistle Reading, Ephesians 2:4-10.
Lectio — reading
God, who is rich in mercy, because of the great love he had for us, even when we were dead in our transgressions, brought us to life with Christ (by grace you have been saved), raised us up with him, and seated us with him in the heavens in Christ Jesus, that in the ages to come he might show the immeasurable riches of his grace in his kindness to us in Christ Jesus. For by grace you have been saved through faith, and this is not from you; it is the gift of God; it is not from works, so no one may boast. For we are his handiwork, created in Christ Jesus for the good works that God has prepared in advance, that we should live in them.
Investigatio — research
What leaps out of this passage is the phrase "by grace you have been saved," which is repeated twice. It was one of the rallying cries of the Protestant Reformation, right up there with "justification by faith" (see Romans 5:1). Using Verbum's "Exegetical Study Guide," I can explore this passage in its original Greek, where I see that the word for grace is χάρις (charis) — yes, the same root for words like charisma and charismatic. It essentially means "gift" (One of Atlanta's independent bookstores is Charis Books — on their website they say charis is "a Greek word that means grace, gift, thankfulness").
Salvation, likewise, comes from the Greek σῴζω (sozo), which carries the sense of being healed or delivered — I love what the Anglican solitary Maggie Ross says, it carries the sense of being sprung from a trap.
So our salvation — our spiritual healing, our being set free from the traps in our lives that hold us back — is a gift, a grace, something God simply bestows on us, even while we were "dead in our transgressions." It's so easy Christians — whether Catholic or Protestant, liberal or conservative — to fall into the trap (I choose that word intentionally) of thinking that somehow we have to earn God's favor, and initiate our "salvation" by proving ourselves worthy, with enough contrition, compunction, remorse, and amendment of life. I'm all for doing those kinds of things, in a healthy way of course — but this passage is a simple reminder that the steps we take to live up to salvation are always done after the fact. God loves us first — then comes the question of how we are going to choose to respond to that love.
One more thought before we move along. I have Verbum set up so that the first commentary that opens up when I look at a Biblical passage is the Collegeville Bible Commentary. Even a cursory reading of that commentary reveals some gems of insight. The author of this text is traditionally said to be Saint Paul, but scholars question if, in fact, the author may have actually been a disciple of Paul's, and this passage features one of the red flags: the phrase "in the ages to come" reveals that the author did not expect Jesus to return soon.
Of course, that alone does not preclude that Paul wrote this Epistle, but considering that elsewhere in the New Testament Paul seems clearly to anticipate Jesus's return soon (for example, I Corinthians 7:29, where Paul insists "the time is running out"), then it's reasonable to see this passage from Ephesians as representing the view of a more mature New Testament community, one that is beginning to recognize that the faith in Christ means remaining loyal now — and "in the ages to come."
The takeaway, for me, is primarily one of humility. I read the passage several times, but this little detail did not register for me until the Commentary pointed it out. Maybe I'm just not very observant. But it makes me realize why scripture commentaries are so valuable. Even the more careful reader will miss details. Balancing our engagement of the text with the insight of a learned commentator is simply a way to move more deeply into the riches that the text holds.
Meditatio — reflection
I don't like to be "out of control." I'm uncomfortable when I'm in situations where I don't know what all is going on — when I'm in a new social situation, or am being asked to complete a task that I don't feel confident doing. I suppose I'm not that unusual. We like to be in charge — and if we're not in charge, at least we like to be well-informed and in a situation where there are likely to be no surprises!
That may be an admirable quality when it comes to work, or business, or even mastering a craft or skill. But it actually undermines our ability to truly and gratefully respond to God's lavish, unconditional, and fully unearned grace.
Perhaps this is why so many Christians (and Christian communities) keep trying to tag conditions on to grace. "You'll get saved if you're born again." "If you accept Jesus as your personal savior." "If you promptly confess each mortal sin." And so forth. We are scandalized by the idea that God just might save somebody who hasn't managed to do any of these things!
But scripture keeps reminding us that God's love, God's healing, God's grace, is simply a gift, that God bestows freely and abundantly. I would say "it's ours for the asking," but frankly it's ours even before we ask for it. Now, we can acknowledge that like any other gift, grace can be left unaccepted, un-realized in our lives. But even then, God doesn't take the gift back. It's always there, always available, just as soon as we choose to say 'Yes'!
Oratio — response
God, I have a hard time accepting your love. It feels too good to be true, and I'm not very good as trusting — in fact I'm downright cynical, most of the time — so I have a hard time just allowing you to love me as conditionally as you choose to do. Teach me to trust you. Teach me to dare to believe just how much you love me. And teach me to notice the many and abundant signs of your love that keep flowing through my life.
Contemplatio — rest
Please join with me at a time that is appropriate for you, to simply rest in the silent presence of God, knowing that God loves you and me and all creation — whether we can feel it or not.
---
This is the fifth of a series of Lenten devotional posts, written in a spirit of Lectio Divina Diligens — lectio divina (sacred, meditative reading) combined with a contemplative, "diligent" approach to scriptural interpretation. Research into the interpretation of scripture is performed using Verbum.
---
Enjoy reading this blog?
Click here to become a patron.

---