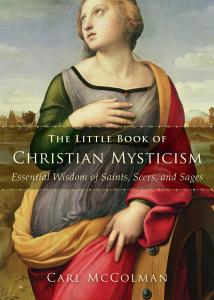 I'm pleased to announce that The Little Book of Christian Mysticism has been published. If you have pre-ordered the book through Amazon or another bookseller, you should be receiving your copy within the next few weeks (depending on how fast they are at fulfilling orders).
The Little Book of Christian Mysticism collects over 300 quotes from a variety of Christian mystics, including Julian of Norwich, Evelyn Underhill, Teresa of Ávila, John of the Cross, Bernard of Clairvaux, Francis de Sales, and many others. I've arranged these quotes in an inductive, so that the book functions as a map of the mystical life. You can read it straight through to get an overview of the landscape of mysticism, or you can use it as a daily devotional, with each quotation functioning as a prayer prompt or invitation into contemplation and silence.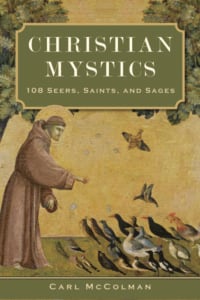 With the publication of this book, my "Mysticism Trilogy" is now complete. The previous volumes of the trilogy include The Big Book of Christian Mysticism and Christian Mystics: 108 Seers, Saints and Sages. The Big Book of Christian Mysticism is an introductory text, exploring what Christian mysticism is, and how it can make a difference in the lives of ordinary folks like you and me. Christian Mystics offers a survey of who the great mystics are, profiling over 100 of the most renowned of the poets, visionaries, saints, soul-friends, and wisdom-keepers who have contributed to our rich understanding of the mystical life.
Each of these books is a way of responding to the famous challenge issued by Karl Rahner, the twentieth century Jesuit theologian who said "The Christian of the future will be a mystic or will not exist at all." In my years of exploring Christian mysticism, I've discovered that many Christians have no idea what mysticism is, or why someone like Karl Rahner would insist that all Christians are meant to be mystics. Meanwhile, others see mysticism as something reserved only for people who are superlatively holy, or live extraordinary lives of profound meditation, superhuman self-denial, and extreme devotion to God.
In other words, many Christians have no idea what mysticism is, and many others think it's not for them.
In response, my books are meant to introduce Christians (and others who may be interested) to the centuries-old tradition of Christians who are mystics — who have beautiful and profound relationships with God, and consequently devote their lives to love and service. At the same time, following the wisdom of Karl Rahner and other twentieth-century mystics like Evelyn Underhill and Thomas Merton, I hope that my books help readers to see that mysticism is everybody — yes, even for ordinary folks like you and me.
That doesn't necessarily mean that everyone will be a visionary, or a philosopher, or in some other way manifest spiritual genius (whatever that is). On the contrary, I believe that mysticism comes in all shapes and sizes, and many of us are called to a very gentle — but beautiful — live of love in the Spirit.
The Christian mystical life is an adventure into ever-deepening insight, wisdom, and love. It challenges, but also nurtures. No one can tell you where God's call will lead you— that's for you and God to discover for yourselves. But the mystics make great companions along the way. I hope you'll explore their wisdom and see how it applies to your life, here and now, starting today. And it would be an honor if my books could be of some small usefulness to you along the path.
---
Enjoy reading this blog?
Click here to become a patron.

---