Richard Rohr — author of numerous books on the contemplative dimension of spirituality, including Everything Belongs and The Naked Now — is the guest on our latest episode of the Encountering Silence podcast.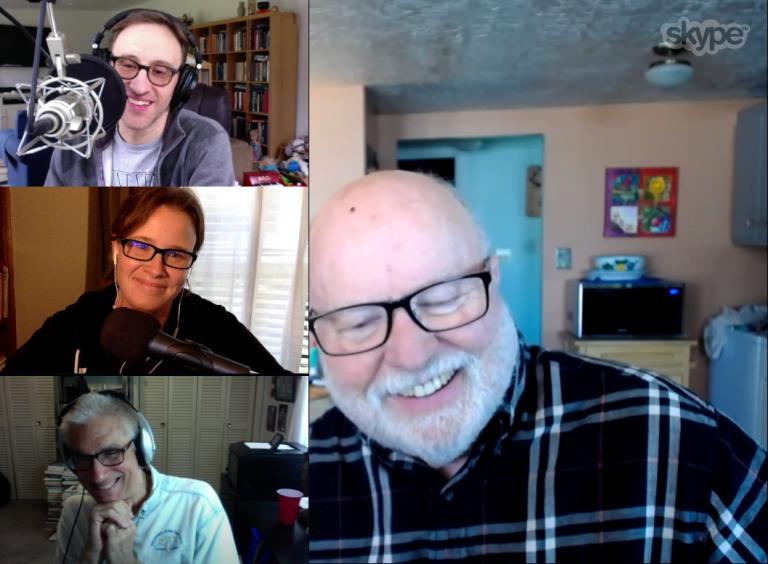 Cassidy, Kevin and I recorded a Skype conversation with Fr. Richard earlier this month, where he joined us from his hermitage in New Mexico, to reflect with us on the relationship between silence and contemplation, between contemplation and action, the importance of Thomas Merton in his own spiritual development, and the challenges and hopes facing us today as we seek not only to be contemplatives in response to the love of God, but to be true change agents in the world.
As you can expect, the conversation was rich and insightful, and Fr. Richard revealed the depth of his discernment by speaking at length about the importance of understanding the difference between "true" and "false" silence (false silence is an attempt to avoid the problems of life and the world, while "true" silence is an embracing of a space deeper than the limitations of language as we seek to receive and know the love of God in our hearts). Likewise there is a "true" and "false" approach to activism.
What truly impressed me was how warm and even intimate Fr. Richard proved to be in our time together. He spoke very candidly about both the joys and challenges of aging (we recorded this episode just a few days after his 75th birthday), and told a wonderful story about encountering two very renowned Catholics shortly after graduating from high school in 1961 (it's about nine minutes in to the podcast!).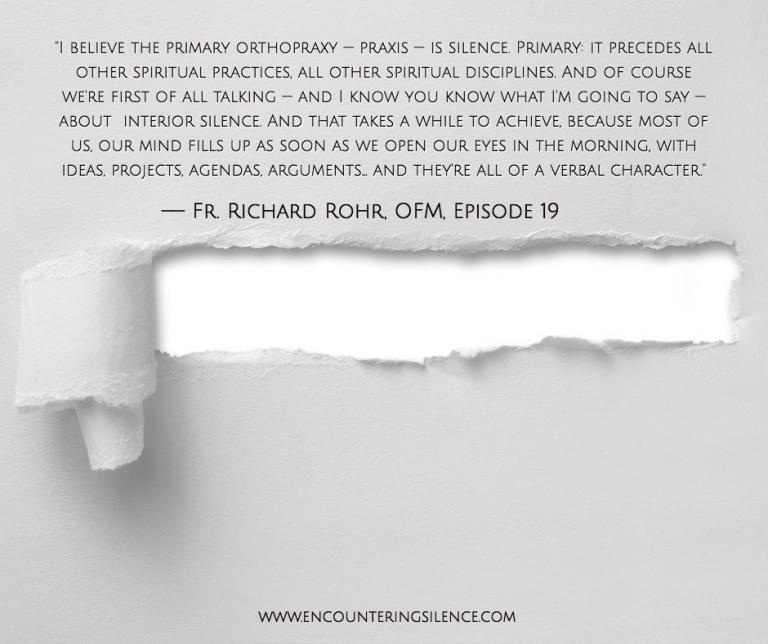 If you are not familiar with Fr. Richard's work, he is a world-renowned author, speaker, teacher, and thought leader in the areas of Catholic and general Christian spirituality, contemplation, Franciscan spirituality, men's spirituality, the Enneagram, and the mandate for Christians to work for justice. You can learn more about his ministries, including the Center for Action and Contemplation and the online Living School, by visiting www.cac.org.
To hear this episode of the Encountering Silence podcast, just visit
www.encounteringsilence.com/fr-richard-rohr-ofm-silence-action-and-contemplation-episode-19/
. From there you can simply listen to the episode, and or connect to our podcast through iTunes/Apple Podcasts, Google Play, or several other podcast subscription services. You can also subscribe to the Encountering Silence email list, to get updates every time we post a new episode. Although the podcast is not just about the contemplative/spiritual dimension of silence — we look at silence from many angles, including art, literature, storytelling, health and psychology, as well as spirituality — it is nevertheless very much a celebration of the spiritual and contemplative beauty of silence, one of our truly endangered treasures in our noisy postmodern world.
Indeed, if you are not familiar with the podcast, I hope you'll look at some of our other episodes — we've also recorded interviews with popular author Fr. James Martin, SJ and with Howard Thurman Scholar Dr. Lerita Coleman Brown, among others. We've also recorded several interviews with monks (including Br. Elias Marechal, OCSO) and — while I can't spill the beans — we've got some exciting interviews scheduled for the weeks and months to come as well!
So subscribe already! And after you've listened to an episode or two, please post a review on iTunes.  And most of all — thanks for listening!

---
Enjoy reading this blog?
Click here to become a patron.

---