My latest book, Eternal Heart, was published this past summer by Broadleaf. Broadleaf Books is an imprint of 1517 Media, the publisher that may be more familiar to you under the imprints Fortress Press and Augsburg Books. Working with Broadleaf has been a wonderful experience, and my relationship with them has just gotten a bit more "serious."
Broadleaf recently acquired the rights to take over publication of five of my older books, including my bestseller, The Big Book of Christian Mysticism. The Broadleaf editions of these books were just released in November, and I got my "new" copies of these books recently. The artwork and design are the same as before, but the new editions are still lovely: gorgeous, bright white paper and a beautiful matte finish to the cover art, making the books truly lovely to behold. Plus, one title — Invitation to Celtic Wisdom — has been republished in a slightly larger format.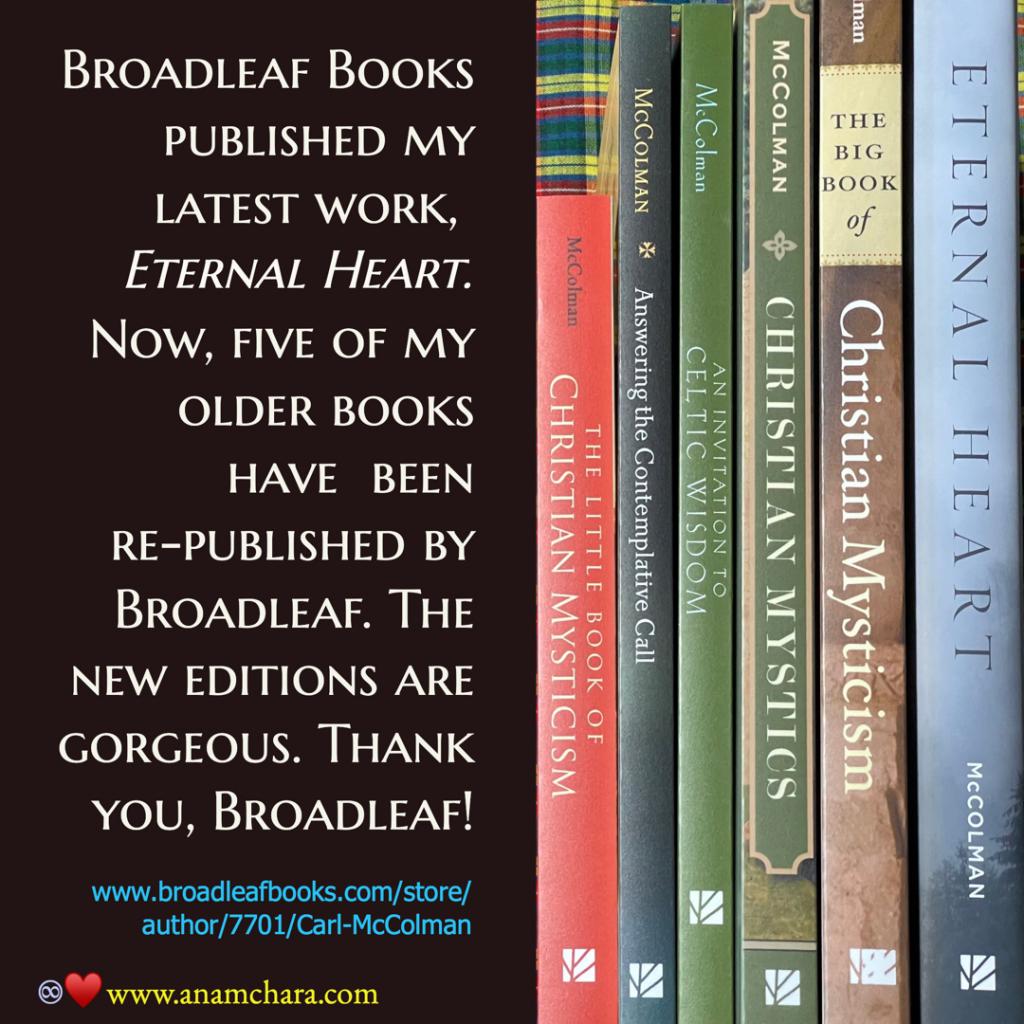 These are the books with new editions from Broadleaf:
The text of the books themselves is the same as the previous printings, so if you already own these books, no need to rush out and buy new copies. But if you don't own these books, please do buy new (not used) copies, so you can get the lovely new Broadleaf editions.
Affiliated with the Evangelical Lutheran Church in America, 1517 Media is one of the more respected Christian publishing houses. Broadleaf's mission statement is to release "books that expand minds, nourish souls, and cultivate the common good." While Augsburg and Fortress titles tend to be either more theological, academic, or church-specific, Broadleaf publishes books for the general public. Among the authors who have books with Broadleaf are Sophfronia Scott, Kaya Oakes, William Barber, Kate Rademacher, Gareth Higgins, Christine Valters Paintner, Brian D. McLaren, Julie Rodgers, Pádraig ó Tuama, and many more. I've been saying that having my book published by Broadleaf feels like getting to sit at the table with all the cool kids — although, like all truly cool kids, Broadleaf's table is the kind of place where everyone is welcome, even a shy old introverted contemplative like me.
Check out Broadleaf's website to see some of the wonderful books and authors they publish: www.broadleafbooks.com.