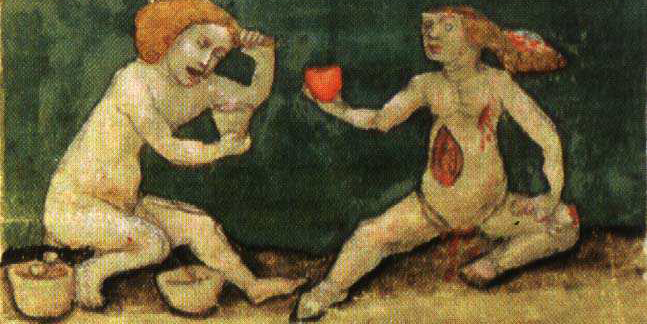 'I'm too close to it and I can't see it,' people often say when they are in love. But this is not your usual statement when your love is clear, when you know that there are no questions to ask, and you need no answers.
When your love is clear it is part of the infinite beyond. When your love is clear you are not concerned with cultural perceptions of time. You are not concerned with 'and what happened afterwards'. Clear love is always beautiful as it bypasses worry and risk-taking. Clear love is beyond questions and answers, cultural and physical laws.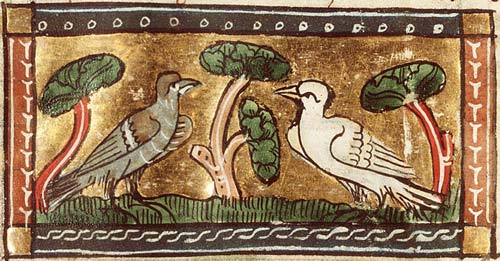 When your love is clear it places you in a state of flow and bliss. When you experience the blink of 'no consciousness', you experience magic. The magic of seeing the other without a cultural agenda, without thinking instantly, 'gosh, what a grand wedding we're going to have,' or, 'how wonderful it's going to be to populate the earth with more children,' participating also in the capitalist grand scheme of 'more production.'
When love is clear it is visionary. It is violent and hard. It is not logical and it has no meaning. When love is clear it makes you feel as if you're as clean and pure as the wild flowers in a field and the morning dew. When your love is clear it makes you say 'yes' to the freedom of it, not bondage. When your love is clear, you tremble with desire beyond its affirmation in time.
THE BUSINESS OF LOVE
A fortuneteller has no business with such love. I get to experience a lot of love that lacks the clarity of the stars.
When people feel 'involved' they worry about the other and the other's perception of them: 'What does he think of me? Will we make it together? Perhaps we can still have that moment of saying 'yes' by the altar, even though we both know that something is off. Our families will be so happy for us. The bank too. It will give us a loan for our dream house, so we can both pay for it.'
When people feel their emotions engaged in the business of love, they want to know how things stand: 'Love is love, but where do we stand?' Some, more conscious of the discursive power of love, want to know what the next step is. 'Is this relationship a good idea? Is there something that I must be aware of? What must I do? Is there something that I need to avoid?'
People think of their future when they want to take love to the 'next level'. They want to die having someone holding their hands. They want their children to say thank you. Fair enough. Most of our actions revolve around giving in to either our desires or fears, or both.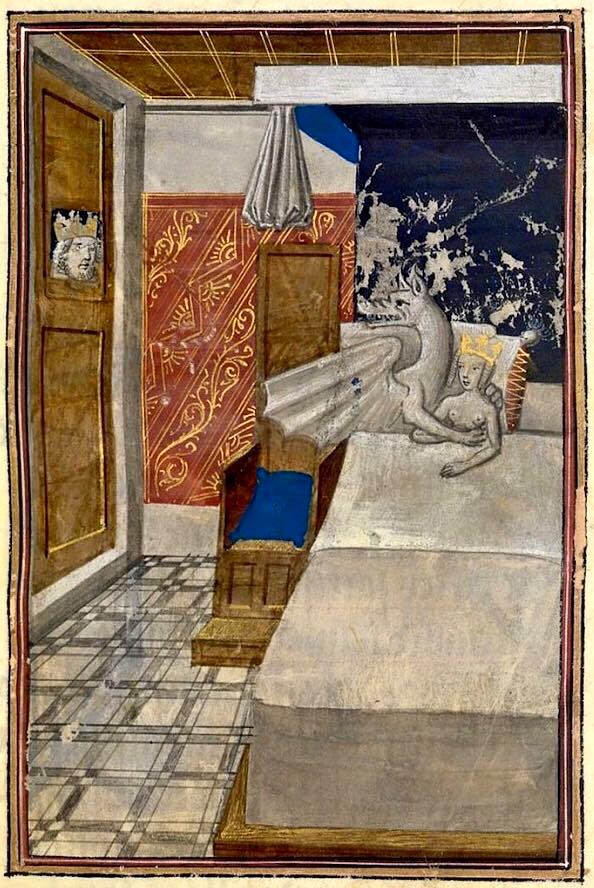 DESIRES AND FEARS
A fortuneteller operates with this: The space between the articulation of desires and fears. She operates with the production of clarity and novel ideas in relation to the construction and deconstruction of our desires and fears.
A fortuneteller is a psychoanalyst with a lightsaber in her hand. 'Keep talking,' she says, and after each sentence her weapon makes words disappear. She knows that language construes our fears and desires.
The patient is bleeding on the couch. 'I'm so in love, and it hurts so much.'
'You need a strategy,' the fortuneteller says, and she makes more words become ghosts. 'Without a strategy you're dead. The minute you will say 'yes', language will get you. Culture will get you. Saying yes to contractual love is declaring war to your freedom.'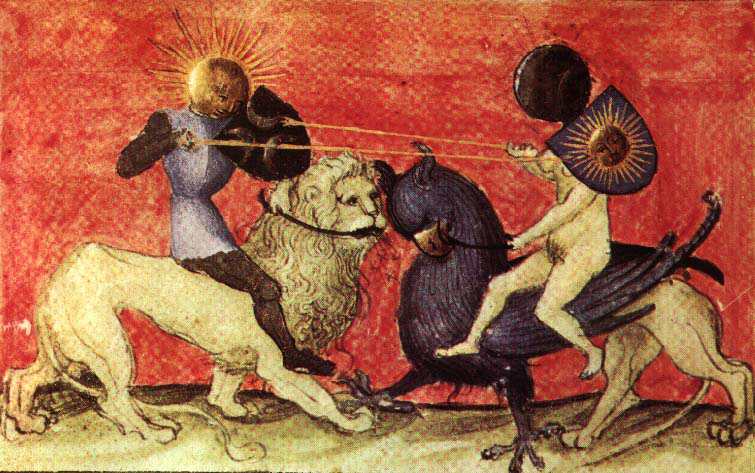 'Ok,' the other says, 'I'm ready. Where do we stand? I'm not in the infinite yet. I just want to get married and have children. I want a big house. I want my parents and the neighbors to approve of me. I want them to see my sexual prowess.'
'So, you're not in love, then, in the love that's clear?
'Fuck love, I want to know where we stand. What is at stake in this situation? What must I do and what must I avoid? Can I go ahead with this relationship, or not?'
 FIVE CARDS FALL ON THE TABLE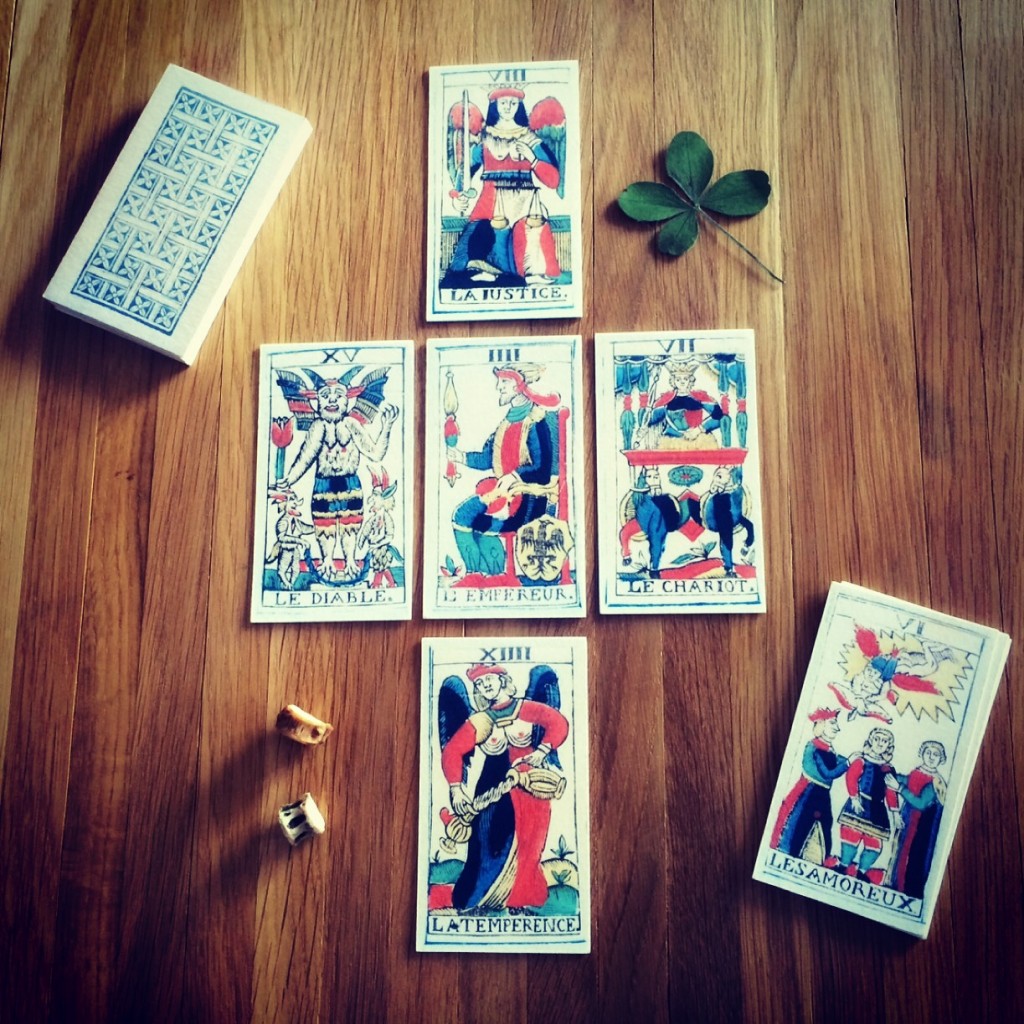 'Clear love is here', the fortuneteller says, 'ruling from the inside as a binding force. You are both possessed. Hallelujah.
But you are also the Emperor. You will not have that, the unruly love ruling from the nether regions, love that enslaves and blinds. You claim the Devil's scepter. No tulip in your hand.
The former imps – you and the other – get condensed and embossed onto your shield. Now they are one, an emblem of constrained passion.'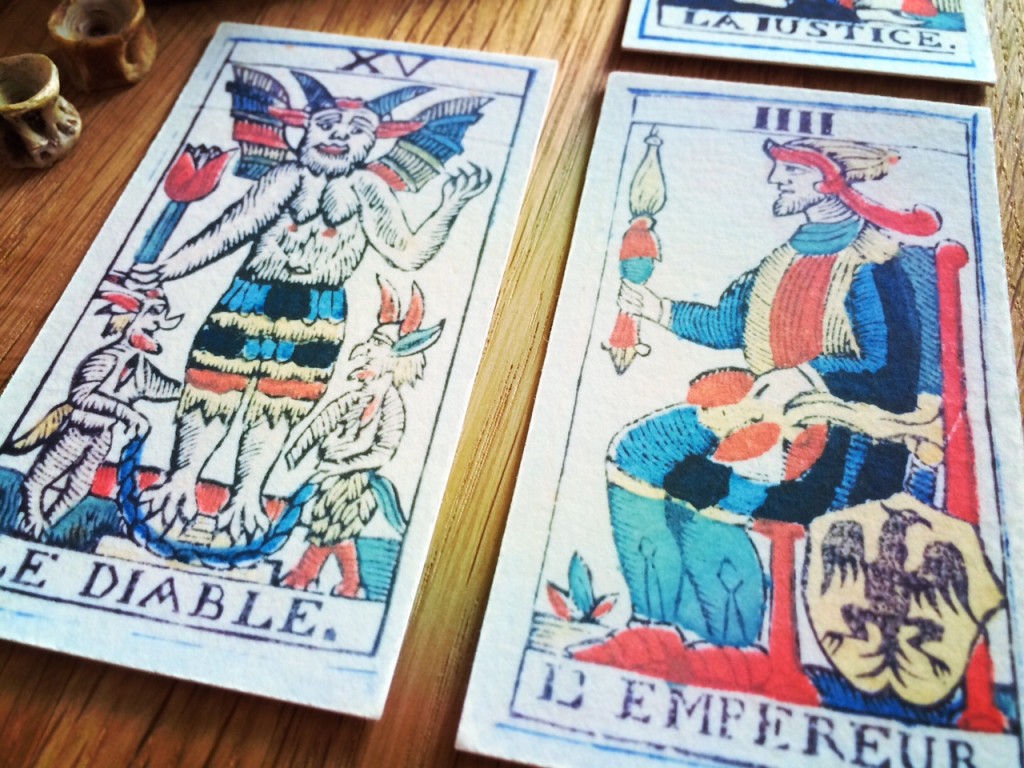 'But your partner is going places. You ask: 'Where do we stand?' 'Not in the same boat.
You want to take control over the dark love. Your lover leaves you. She hits the road, riding in her chariot. She will not witness this futile attempt. She follows the rule of symmetry.
The two imps now turn into two horses. Love is a driving force here, but it's as dehumanizing as it was to begin with. The tulip scepter turned imperial scepter is in her hand a whipping scepter.
I wonder who's hurting here more. Is this a competition in pain?'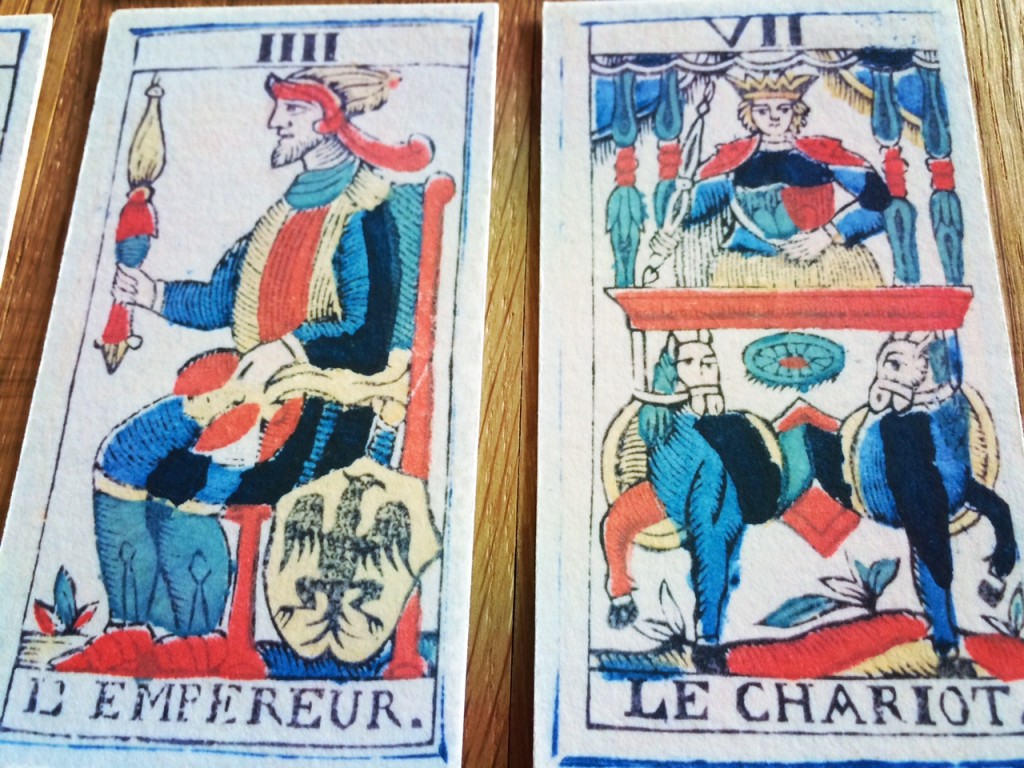 'Don't get philosophical on me', the lover man insists. 'What must I do?'
'See the truth', the fortuneteller goes.
'What we desire the most is justice. What we fear the most is justice. Wait. Deliberate. Make your cuts in accordance.'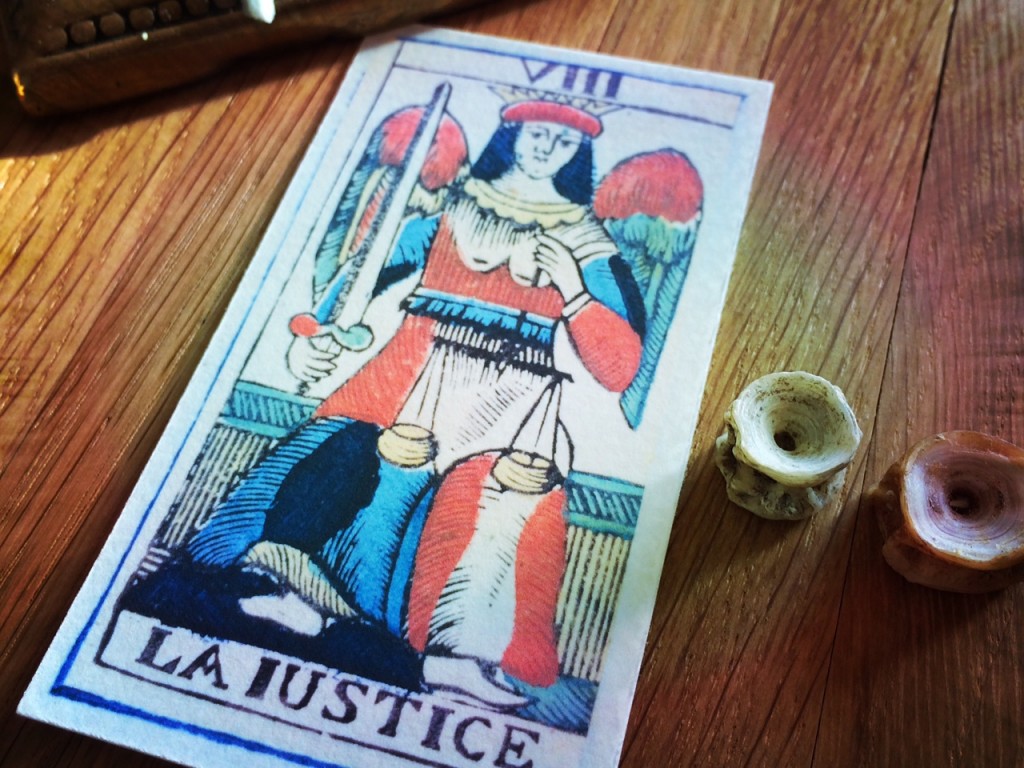 'As you're not with the clear love that places you in the infinite, stay in neutral balance. The two imps are now weighed and measured. It's not about illicit love anymore, or the love that takes place in the dark. It's about what you see. What do you clearly see that answers the part of your question about what you must not do under any circumstance?'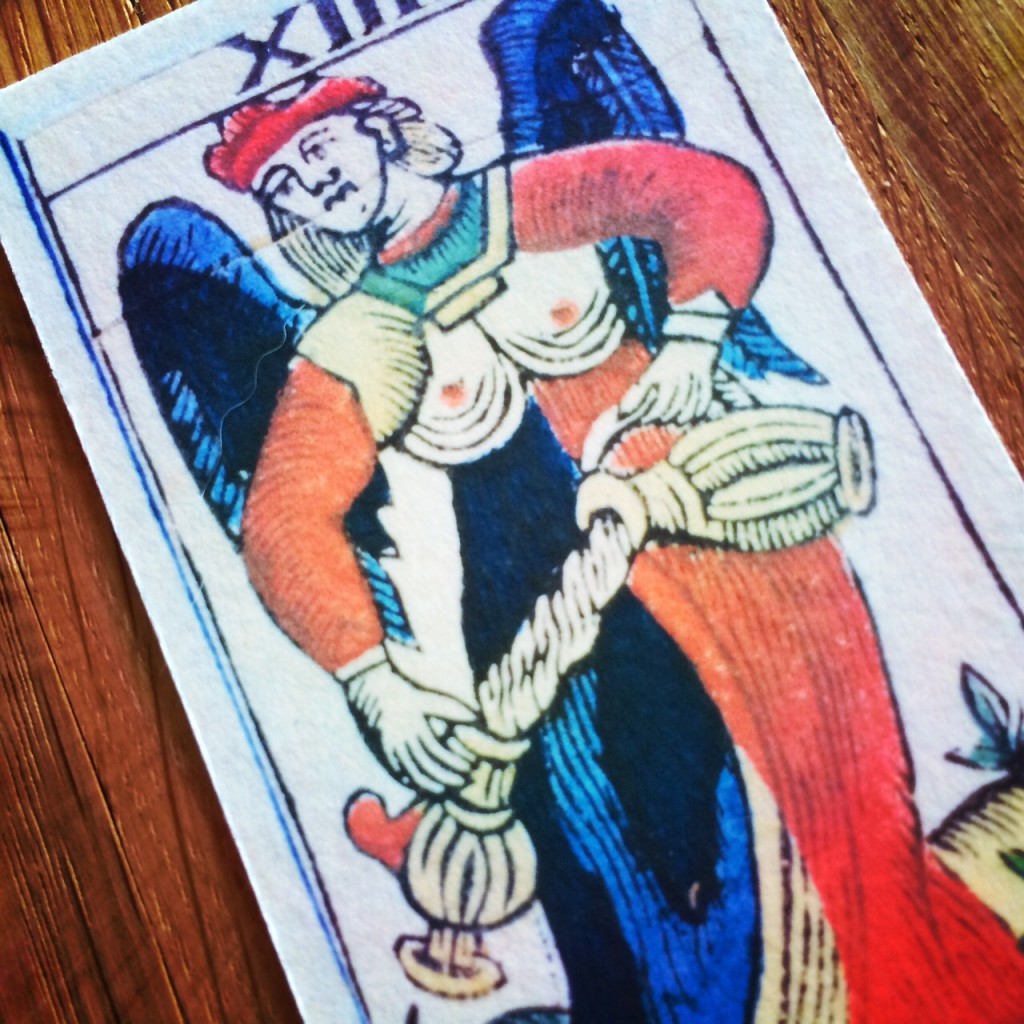 'I see that I must not blend my love with her love. I must not try the perfection that the Angel of Temperance is capable of. The magical love potion that is mixed here is not for us. But why? Why? I want it. What Justice holds in her balance is the same as what Temperance mixes in her chalices. The two imps get weighed but not mixed? Why not? This love hurts so much. Must I wait much longer? When will I be ready?'
'Do you need to ask why, or when?', the fortuneteller asks back.
Her lightsaber in her hand mirrors the sword Justice is holding upright, ready to strike. But her gaze is tender.
'You left out the last card. The surprise card. What do you see?'
'A man caught between two women.'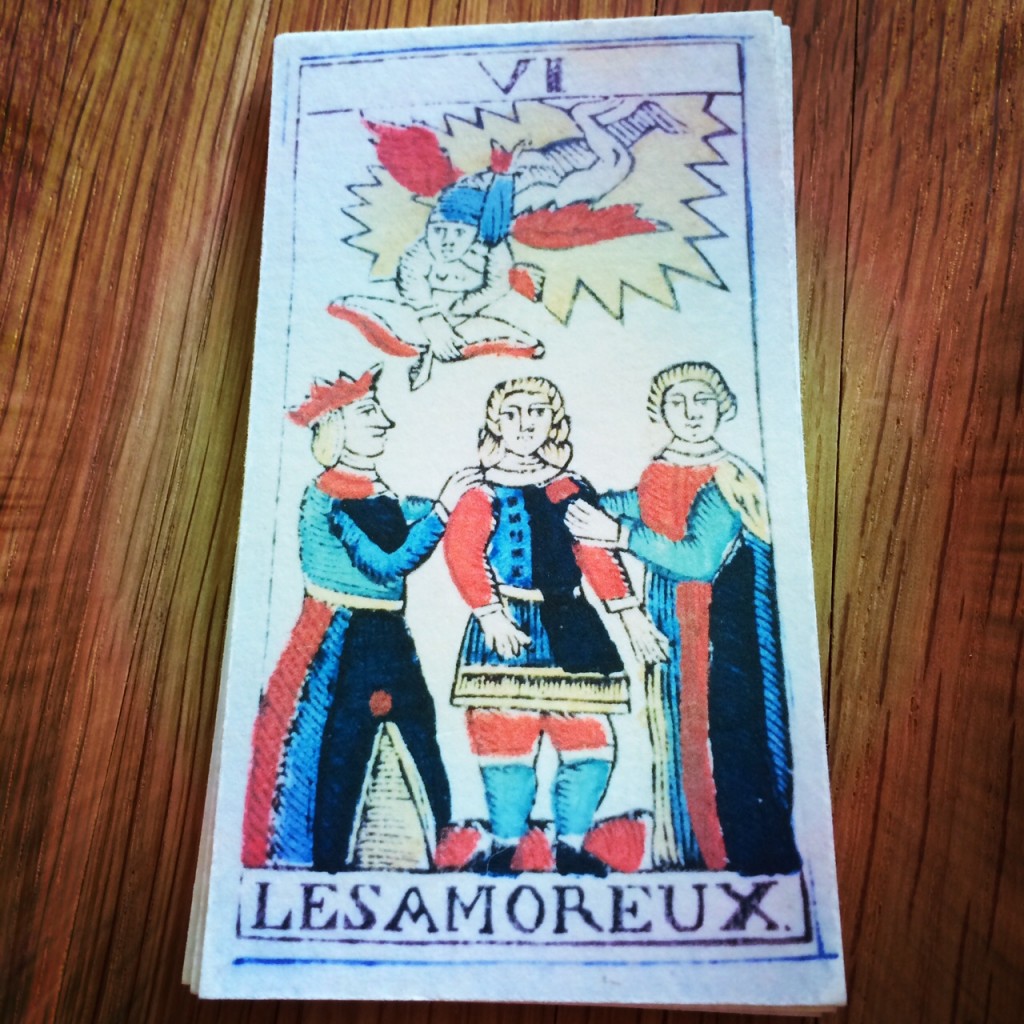 'There you have it. You are caught in your ambivalence. You calculate your love against your own desire and judgment. You don't know what love is. You think you can control the devil with your imperial achievements. Good luck with that project. You can't beat the devil with a plan. You must aim for a higher rank than that of the Emperor and that of the Devil. Your strategy must be one that matches what's going on in the underworld, and then some more. You must find a way to accommodate the world of love and passion beyond constriction to moral values. You are afraid of bondage, but this bondage is of your own creation. At least your lover has a sense for flying, for speed. She goes places, you don't. You will choose the lesser love.'
LOVE AND TIME AGAIN
Love is at war with time and what we make of it. Clear love needs no answers to questions because it knows how to wait. Love beyond consciousness and calculation goes even beyond the question: 'Am I in love?' Or, indeed, the question, 'Where do we stand?' I will let literary critic, Roland Barthes, address this, so he can punctuate for us the consequence of dualism and undecidebility. The rest of us who fancy clear love? Well, we can wait.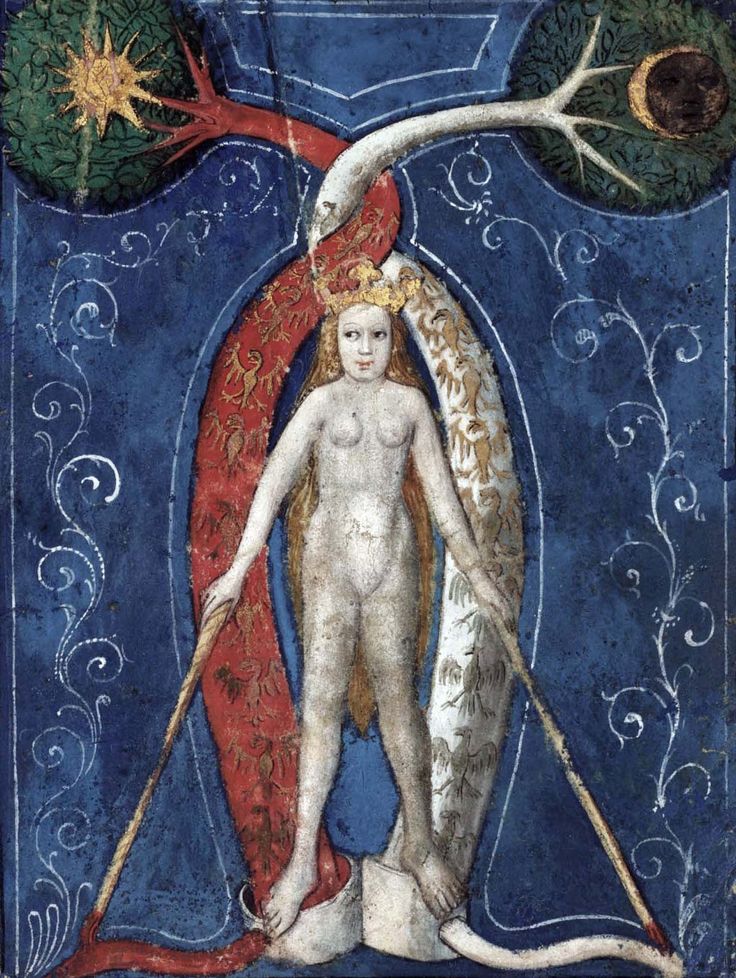 'Am I in love? – yes, since I am waiting. The other one never waits. Sometimes I want to play the part of the one who doesn't wait; I try to busy myself elsewhere, to arrive late; but I always lose at this game. Whatever I do, I find myself there, with nothing to do, punctual, even ahead of time. The lover's fatal identity is precisely this: I am the one who waits.'

― Roland Barthes, A Lover's Discourse: Fragments
---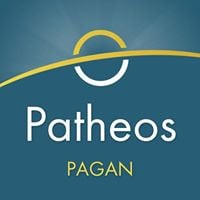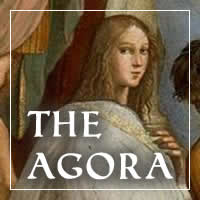 The Cartomancer is published bi-monthly on the second and fourth Wednesday here on the Agora.  Subscribe via RSS or e-mail!
Please use the links to the right to keep on top of activities here on the Agora as well as across the entire Patheos Pagan channel.