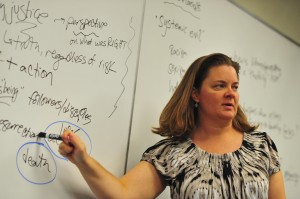 Caryn D. Riswold is a feminist theologian in the Lutheran tradition.  She is Professor of Religion and also teaches Gender and Women's Studies at Illinois College in Jacksonville, Illinois, where she has worked for over a decade teaching undergraduates to think critically and creatively about religion.  She earned her Ph.D. and Th.M. from the Lutheran School of Theology at Chicago, holds a master's degree from the Claremont School of Theology, and received her B.A. from Augustana College in her childhood hometown of Sioux Falls, South Dakota.
She is the author of three books and many articles in academic, denominational, and online journals.
Caryn served on the board of the Lilly Fellows Program National Network, an organization committed to enhancing church-related higher education across the U.S., from 2011-2015, and was a postdoctoral fellow in the program at Valparaiso University from 2000-2002.  She contributed to the Council of Independent Colleges' Network for Vocation in Undergraduate Education as part of its first Scholarly Resources Project, which produced a book on vocation in higher education. In 2012, Caryn was one of twenty participants in the Faith and Reproductive Justice Leadership Institute at The Center for American Progress in Washington, D.C.
She writes op-eds on race, gender, and religion for publications like the Jacksonville Journal-Courier and the St. Louis Post-Dispatch, and has been published at FeminismandReligion.com, Feministing.com and RhRealityCheck.