Caryn's books: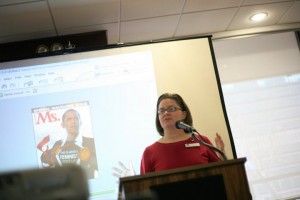 A few of Caryn's recent articles and essays:
"Vocational Discernment: A Pedagogy of Humanization," in At This Time and In This Place: Vocation and Higher Education, ed. David S. Cunningham.  (Oxford University Press, 2015).
"Teaching the College 'Nones': Christian Privilege and the Religion Professor."  Teaching Theology and Religion 18:2 (April 2015).
"Boundary-breaking, but it's Just Church."  Jacksonville Journal-Courier, July 9, 2014.
"Conversations & Intersections: A Third Wave Feminist Approach to Sex, Gender, & Christianity,"  in Sex, Gender, & Christianity, eds. Jack Levison & Priscilla Pope-Levison (Cascade Books, 2012).
"Growing Up With Roe."  RhRealityCheck.org
"The War on Women Theologians."  Patheos.com
"When the Private is Political."  Sightings, The Martin Marty Center at The University of Chicago
"Shop the Fear Away, Girls!  Man Up, Boys!"  Journal of Lutheran Ethics 12:1
"Here I Stand, Without the Goddess."  Feministing.com
Caryn has also been a contributor at TheReligiousLeft.org.