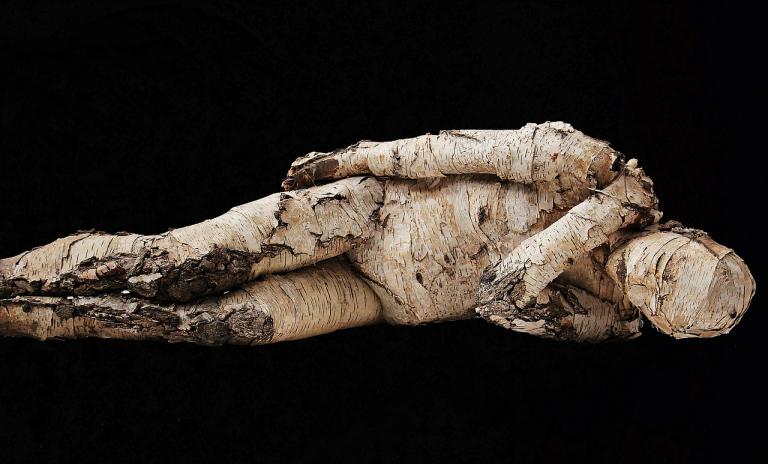 One thing that you quickly find if you're trying to do ministry on the margins is that you encounter a lot of people who are having trouble with prayer. There's the celibate gay guy who is completely exhausted with being the rope in the middle of a cultural game of tug-of-war. The person who has struggled with mental illness for decades and who is angry with a God who doesn't seem to care. The survivor for whom the familiar words of the traditional formal prayers have become triggers for past trauma. The NFP mom run off her feet by a small horde of "unexpected blessings" who just can't find the time or the energy for a rosary or an hour of adoration.
I've been in several of these places myself, and there's a kind of prayer that my spiritual director once recommended many years ago that I've found to be invaluable. It's called "resting in God." I wrote about it recently for Aleteia, mostly in relation to the everyday struggles of mothers who feel exhausted and also guilty about being exhausted. But here I wanted to talk about how it applies for people whose struggle is more with spiritual, vs. physical, exhaustion.
Wrestling with God is in itself a form of prayer: one that you can find portrayed throughout Scripture. Indeed, it is Jacob's wrestling match with either God or one of His angels that causes him to be renamed Israel, a name that literally means "He who struggles with God." In other words, the identity which is given to the chosen people incorporates this aspect of tension in our relationship with our Creator. Of course others, from David and Job to St. Peter, St. Paul and St. Thomas, also have their moments of struggle, rejection and doubt.
But in the midst of these struggles there's always an immense temptation simply to stop: to give up and go hide under a rock somewhere and maybe, finally, get some rest. I mean, isn't Jesus supposed to offer succor and comfort to those who are weary and heavy burdened? Shouldn't there be some way of praying that doesn't feel like having your hip dislocated or your body covered in ulcerous sores?
So resting in God is kind of that. Pope Francis tells us that:
"the union between the Lord and his faithful ones is expressed in terms of parental love. Here we see a delicate and tender intimacy between mother and child: the image is that of a babe sleeping in his mother's arms after being nursed. As the Hebrew word gamûl suggests, the infant is now fed and clings to his mother, who takes him to her bosom. There is a closeness that is conscious and not simply biological. Drawing on this image, the Psalmist sings: "I have calmed and quieted my soul, like a child quieted at its mother's breast" ( Ps 131:2)." (Amoris Laetitia)
To rest in God is basically to become like a nursing child resting on the breast of God. Which means that you don't try to jump through all kinds of interior hoops or engage your intellect or your imagination or recite formulas or adopt any particular prayer posture. All you do is turn to God and allow yourself to receive Him without trying to do or achieve anything. You let Him nourish you. It's a kind of prayer that makes it possible to pray when you're just too exhausted, mentally, emotionally, physically or spiritually, to do meditations, or focus on a passage of Scripture, or hold an image of Mary in your head, or whatever.
Instead of prayer being something that you do, when you rest in God prayer becomes something that God does in you.
You can read more over at Aleteia:
"Resting in God" is actually a thing! Who knew?
Image credit: pixabay
Stay in touch! Like Catholic Authenticity on Facebook: