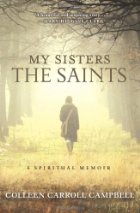 My Sisters the Saints: A Spiritual Memoir book is clearly geared towards other women as author Colleen Carroll Campbell outlines the trials of her life and how the writings of various saints helped her overcome these. In saying that, I still, as a male, found the book to be a very good read. Colleen is an excellent writer and the book flows nicely and is a relatively easy read at 212 pages long.
This book is an autobiographical story of the trials and tribulations the author has faced starting with her college days and the realization that something was missing. Born and raised Catholic, Colleen had wandered of the path of faith when she hit the college years. This is certainly something many cradle Catholic men and women can relate to. From there you follow Colleen as she deals with her fathers Alzheimer's, finding a husband, life as a Presidential speech writer and learning of infertility to name a few of her life's trials. To read about someone else's problems may seem a bit odd but it's what you learn in how she chose to deal with them that is the take away from this book. For her to put these to paper is a service to all her read this volume.
This book also serves as a very good introduction to the lives of Teresa of Avila, Therese of Lisieux, Faustina Kowalska, Edith Stein, Mother Teresa and Mary the Mother of Jesus Christ. Colleen gives brief overviews of different aspects of each these saints' lives. Colleen describes how each of their writings and example directly impacted her during her faith journey. Obviously in 212 pages it is difficult to go into many minute details on each of these great women saints but it does do a good job at painting broad brushstrokes of their lives and thoughts.
In conclusion I would recommend this book to anyone, male or female. It is an enlightening read for anyone that has any interest in a first hand account of how the saints can impact your life.
________________________________________________________________________________________________________________
I received a copy of this book from Image Books for this review.