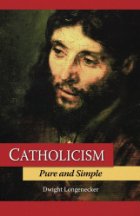 Father Dwight Longenecker is a convert to Catholicism, a former Evangelical. He is a well accomplished writer and blogger and his skills come through in this book. Catholicism Pure and Simple comes in at 264 pages and serves it purpose well. This is meant to be an introductory book to Catholicism for high school students, confirmation candidates and members of RCIA classes.
As a converted Catholic myself, this book was a decent "refresher course" on topic I was taught some 16 years ago. However that's where some may run into issue with this book. When you read it you must look through the eyes of someone just experiencing the Catholic faith. I must admit I put this book down for a while and picked it up again a few weeks later. If you are already familiar with Catholicism this book can be a bit of a slow read.
The important thing to remember is to read this book in the intent I feel the author wanted. This book best serves as an educational resource for those discerning conversion to the Catholic faith or younger readers in the capacity as a text book type read. The writing is fairly straight forward and not overly heavy. This is not a deep theological book that requires intense reading. It is what the title says it is, Pure and Simple.
One final thing I must point out. This is not a major show stopper but more of a pet peeve. I found numerous grammatical errors throughout this book. The first being on the back cover in the brief biographical write up about Father Longenecker. This is not a major deal but it does show a flawed editing process by the publisher.
In closing taken for it what it was meant to be, a Pure and Simple "Catholic Primer" this books serves its purpose well. I would recommend this to anyone looking for a basic, introductory explanation of the Catholic faith. If you are a reader further down the road in your faith journey might want to pass over this book and pick up any of Father Longenecker's other books. He is a very good author, however this book may not be the right fit for everyone.
____________________________________________________________________________________________________________
I received my review copy through the Tiber River Reviewer program.