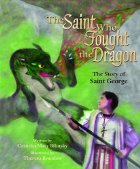 The Saint Who Fought the Dragon:  The Story of Saint George is written by Cornelia Mary Bilinsky.  First, what this book is not.  It is not the legendary tale of George killing the dragon to save the town and a princess.  Now, what this book is.  It is a simple fictional story of St. George for young primary age children showing all the wonderful reasons he is one of the great martyrs of the early Church.  It shows how this greatly honored Roman soldier was willing to give up everything for his love of Christ.  The problem – the Roman emperor expected his soldiers to destroy all the Christians and George, a Roman soldier, was a Christian.  Now that is the real tale of St. George.
Well what was George to do?  He asked for guidance from God, of course.  This is where the dragon part of the story gets a little different but interesting.  George has a sort of vision or dream of a dragon taunting and commanding him to follow through with his orders to destroy the Church.   George stands firm and retorts back he will not do it, all the while being encouraged by a beautiful lady.  This encounter with the dragon gives him the courage he needs to "fight for what is good and true."
This may be a simply written book but it packs a lot of teachable virtues into those 25 pages for your little one.  They will see St. George stand firm in his faith, suffer for that faith, spread that faith, and eventually die for that faith.  My seven year old daughter now wants to wear a cross like St. George to show she is a Christian.  You have to read the book to know why that is.  One thing I really like is how the 8 pages of the vision are written in italic print and has full page illustrations to set it off from the rest of the book.  This helped my youngster to see and understand that it was a dream.  All the illustration in the book gave a real live feel to the story.  This book is greatly suited for religious education to introduce small children to this brave saint.  It does a wonderful job of telling the real tale of St. George and his fight with the "dragon".
This review was written by my wife Laura who primarily will be reviewing children titles.
We received a copy of this book for this review from Pauline Books and Media. You can learn more about the book on their website here.