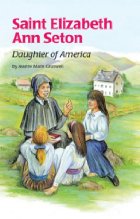 As this ministry becomes more of a family affair, we have another review today by my wife. This time on one of the Encounter with the Saints series books by Pauline Books.
Saint Elizabeth Ann Seton Daughter of America by Jeanne Marie Grunwell is part of the Encounter the Saints Series published by Pauline Books.  Our oldest two daughters read this book quite quickly and said how much they liked it.  They told me many details from her life that they had learned.   I decided to read this little book for myself one evening after our oldest four girls went to bed.  I was nursing our little baby off to his final sleep for the day, happy my mother duties were finally winding down for the evening.   I figured I'd begin the book and hoped to finish maybe the next day.   Well I completed it in 45 minutes because I just couldn't put it down. This simple book inspired me as I read about this extraordinary mother. I knew very little about this saint other than she was a wife and convert, the first American born saint, and started the first parochial school. Well this is only half the story.
Elizabeth's life was filled with struggle after struggle, death after death, hardship after hardship.  The reader follows Elizabeth from her early childhood, including the death of her mother at the young age of two, until her death from tuberculosis at the age of 45.   The story's setting is immediately and nicely clarified for the young reader giving a much greater understanding of the time period that Elizabeth lived through.  The story begins with the birth of Elizabeth in New York. The American Revolution was about to get underway.  Actual dates are included in the text for those who enjoy following the years as they follow the saint's life.  One of my daughters mentioned she really liked that.  The reader feels for Elizabeth as she loses her beloved husband leaving her alone with their young children, although it puts her in the proper place to begin learning about the Catholic faith.  She struggles to make the terribly hard decision of whether of not to convert.   Many trials followed because of her decision.  She lost many friends because of her new found love of the Catholic Church.  Remaining strong, she eventually was led to a new calling and a home in Maryland doing what she loved – teaching, yet first and foremost being a mother to her children.
This book contains 26 short chapters of about 3-4 pages each making it perfect for young readers.  It is also a simple read for young children but is packed with details of Elizabeth's life not found in your ordinary book of saints.   It would also be a great read aloud to children for those who want more information about this saint in an easy to read story.  Adults and children alike will find it a very inspiring read as you get to know Elizabeth and how she put all her trust in God and "accepted the cross[es] he offered her with love."
I received a copy of this book for this review from Pauline Media and Books. You can learn more about the book on their website here.