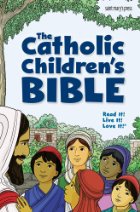 The Catholic Children's Bible published by Saint Mary's Press is a complete collection of the entire Bible for children. That's right you get every book along with every chapter and verse that is contained in your own "adult" Bible. It uses the "common language" of the Good News Translation Catholic Edition making it clear and simple to understand for children or anyone for that matter. There are some words used in this translation on sexual "intimacies" that I think The New American Bible words better for young children, however, I've found some explanations in this Good News Translation that did a better job. On that subject, it was a give and take. Of course, this is a topic that the parents need to help the child with no matter which Bible we read from. And then every family has different standards as to what words they use for the marital act and such. (You see which words I prefer to use!!) Overall this translation works great for children as it is simply worded so they can comprehend it.
So other than the translation what makes this Bible good for children? Well, it has larger, spaced text in comparison to a regular Bible, with an easy to read font. Each book's title page starts with a nice explanation of that particular book along with any featured stories for that book. (More to follow on that!) Things are nicely color coded, as well. For example, along the bottom of the pages are found different colors for different sections of the Bible. This division includes groups of books including the Pentateuch, Historical Books, Wisdom Books, Books of the Prophets, Gospels, and the Letters. The other colorful feature includes the brightly written tabs for each of the 73 books along the side and edge of the pages.
Ok, so it has a great kid appealing colorful cover, kid friendly text, and color tabs to easily find the book you're looking for. (Don't we all need those!) What else makes it appealing to children or moms and dads? Scattered nicely throughout the book contains wonderful page layouts featuring 125 Bible stories. There is a table of contents listing all these stories making it nice when searching for a particular one. On the left page contains a picture and the Bible verses containing the featured story along with bolded vocabulary with definitions. The right page contains the Understand It! and Live It! sections. These sections further explain the story for the child and have them 'Live it" by saying or writing a prayer and sometimes doing an activity that pertains to the topic of the story. Then at the bottom there are three or four pictures so the child can "Tell It!" back to you. Additionally the back of the book contains some colorful and helpful maps, a mini timeline, and Catholic prayers.
Most importantly this Bible did not intimidate my 11 year-old. She jumped right into reading it, whereas if I'd ask her to read from the "adult" Bible I would have received resistance. It has an inviting look outside and inside for young readers and the featured stories are great for younger ones who need a picture to help with the storytelling. This Bible would also make a great First Communion gift. The first page has a place to write your child's name, given by, date, along with dates of Baptism, Reconciliation, and First Eucharist. This Bible would serve the child well until their Confirmation when many teenagers receive their first "adult" Bible. The hardcover Bible may be a good investment if you plan to use this over many children. Overall this is a great book to get young children to actually read the Bible for themselves or get us parents reading the Bible to them.
I received a copy of this book for this review from Saint Mary's Press. You can learn more about the book on their website here.