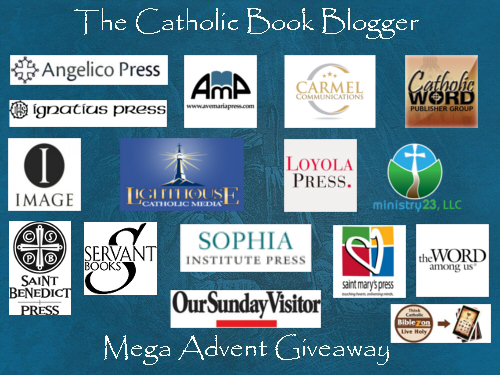 Welcome to my second MEGA Giveaway. This time we are celebrating the season of Advent. Sixteen publishers and marketers have agreed to participate in this Mega Giveaway . Be sure to visit their websites and support them by purchasing some of the great books they publish. One lucky winner is going to receive this entire 52 title, library building, package! This is packed with some truly awesome books, DVDs, CDs and a faith building tablet! The complete list is below.
This contest will work the same as my Weekly Giveaways. Feel free to enter this one and the Weekly Giveaways running at the same time. I use Rafflecopter to run my giveaways which makes it simple for you and me! Enter below. I want to give as many people as possible the opportunity to enter this one so this will run until what has become known as Cyber Monday, 11/24. Share the link to this giveaway with your family, friends, social media outlets and anywhere else you can think of! The contest starts at midnight tonight EST and will end 12AM EST 11/25 (EDIT I decided to extend the giveaway ONE more day so everyone has a chance to enter) with a winner being announced later that day. Good Luck!
A Companion to Saint Thérèse of Lisieux: Her Life and Work & The People and Places In Her Story by Joseph Kochiss
When Saint Francis Saved the Church by Jon Sweeney
The Grace of Yes by Lisa Hendey
Loved as I Am by Sr. Miriam James Heidland
Biblezon Digital Tablet for Catholics
The Hobbit Party: The Vision of Freedom That Tolkien Got and the West Forgot by Jonathan Witt and Jay Richards
Barnyard Bliss by Ruth Pendergast Sissel (Caritas Press)
7 Secrets of Confession by Vinny Flynn (Mercysong Ministries)
CDs:
Scriptural Rosary by Vinny Flynn (Mercysong Ministries)
The Glory of the Incarnation by Father Robert Barron (Word on Fire)
DVDs:
VCAT Sacraments (Outside da Box)
Priest, Prophet, King by Father Robert Barron (Word on Fire)
Could You Not Watch with Me for One Hour by Fr. Florian Racine
Following Jesus Every Day Cardinal Christoph Schoenborn
The Maid of Orleans by Sven Stolpe
Joy to the World by Scott Hahn
The Feasts by Cardinal Donald Wuerl and Mike Aquilina
Joy of the Gospel (special gift edition) by Pope Francis
The New Testament Bible, Second Edition by Scott Hahn and Curtis Mitch
Joan of Arc by Mark Twain
33 Days to Morning Glory by Father Michael Gaitley
CDs:
Switching Sides by Jennifer Fulwiler
Life is Worth Living by Fulton Sheen
Is God on Your iPod by Matt Smith
Pope Francis: Life and Revolution by Elisabetta Pique
Wholehearted Living by Jennifer Grant
An Ignatian Book of Days by Jim Manney
A Book of Advent and Christmas Prayers by William G. Storey
Seeking First the Kingdom by Father John Bartunek
Awakening a Life Giving Heart: Insights for Women Who Pray for the Church by Mary Gannon Kaufmann
Open to the Holy Spirit by Cardinal Donald Wuerl
Day by Day for the Holy Souls in Purgatory by Susan Tassone
Love is Our Mission, the World Meeting of Families catechists book
Pope Francis and the Joy of the Gospel by Edward Sri
A Eucharistic Christmas: Advent Meditations on the Presence of Christ
Meditations for Advent by Bishop Jacques-Benigne Bossuet
Meditations for Lent by Bishop Jacques-Benigne Bossuet
Meditations Before Mass by Msgr. Romano Guardini
Meditations for Everyday by Bl. John Henry Newman
Hungry Souls by Gerard J.M. van den Aardweg
Eucharistic Miracles by Joan Carroll Cruz
The Incorruptibles by Joan Carroll Cruz
Defending Marriage by Anthony Esolen, Ph.D.
The Catholic Youth Bible, Third Edition NABRE (leather bound)
The Catholic Youth Prayer Book, Second Edition (leather bound)
The Catholic Faith Handbook for Youth, Third Edition (hardcover)
Abide in my Word 2015
Prayer Journal 2015
Breaking Into Joy by Anne Costa
Prayer, Fasting and Almsgiving by Kevin Perratta
Why the Eucharist Matters by Chris Padgett
Looking to St. Francis by John D. Bohrer and Joseph M. Stoutzenberger
Author Contributions
Maura Zagrans – One signed copy of Camerado: I Give You My Hand