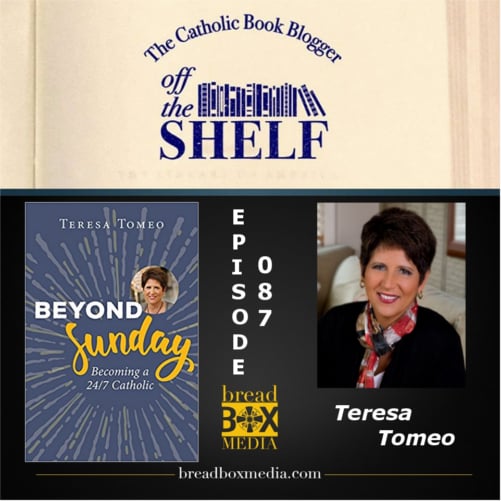 Have you ever felt stuck on your faith? You seem to go through the motions but find Mass "boring" or that you simply don't get anything out of it? Don't worry you are not alone. We all encounter these dark nights of the soul. Teresa Tomeo has and she tackles the topic in her latest book Beyond Sunday: Becoming a 24/7 Catholic
. Listen in as Teresa gives us some helpful tips on how to become an engaged Catholic not just on Sunday…..but everyday!
Listen to Off the Shelf Episode 087 exclusively on Breadbox Media below.
Bio
Teresa Tomeo has more than thirty years of experience in print and broadcast media and founded her own communications company, Teresa Tomeo Communications. She hosts a weekday radio program, Catholic Connection, which is heard daily on over 500 stations worldwide, as well as the popular television series, The Catholic View for Women. She is a bestselling author of Extreme Makeover: Women Transformed by Christ, Not Conformed to the Culture; and Noise: How Our Media Saturated Culture Dominates Lives and Dismantles Families. Teresa and her husband, Deacon Dominick Pastore, live in Michigan and speak around the world about marriage. Tomeo is a columnist and special correspondent for OSV Newsweeklyand hosts the Catholic Leaders Webinar Series: Media Matters.
---
To get your own copy of this book and study guide, click below. As an Amazon Associate, I earn from qualifying purchases.