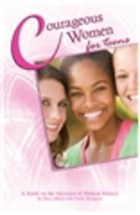 My wife steps in today to provide a review. Courageous Women for Teens: A Study on the Heroines of Biblical History by Stacy Mitch and Emily Stimpson will take your daughter on an enjoyable trip through salvation history with special focus on the women of the Bible. This 87 page book is in no way overwhelming and is broken nicely into 8 manageable lessons. This Bible study chronologically covers the women, many from Jesus' ancestral line, over the many stages of biblical history. It starts with Eve and ends with Mary Magdalene. It includes women from Genesis, Exodus, Judges, Kings, The Babylonian Exile and Restoration, and, of course, from the New Testament – The Blessed Mother.
Each lesson nicely starts with a quick backstory to recap and explain the era of history the lesson is going to cover. You could say this this is quick overview of what some of the men are doing! Then you are given Bible chapters and verses to read. Of course, these readings are all about the women! Next comes the "Respond" section where questions are asked about these biblical ladies. This includes examining their virtues or sometimes their lack of through their actions that you've just read about. Thankfully answers are provided in the back of the book. This section is followed by the "Reflect" questions in which the girls may have to look within themselves to provide an answer, or the questions may also pertain to our current culture. These "answers will differ as they reflect your own personal situation." This leads nicely into the "Resolve" section where the girls are asked to take action in some way like the women they've just learned about. For example, "Like the Hebrew midwives, stand up for life. Pray for an end to abortion, help raise money for a crisis pregnancy center, or start a pro-life group at your school." Another example – "Like Sarah, learn to do things God's way, not your way. The next time your parents say no-…accept their no without complaining…" This section covers many things such as helping those in need, curbing vanity, honoring your word, modesty, commitment to going to Confession, sacrifice, and prayer. Finally there is a "Memory Verse" followed by two or three short sections of additional info to close out the lesson. These useful sections include examples of biblical foreshadowing, more back history, reinforcing importance of Confession and Eucharist, and so much more!!
Lesson after lesson virtues are learned as you follow these women who influenced salvation history. With Eve we learn to avoid the occasions of sin and not give into temptations; Sarah, Rebekah, and Rachel teach us to put our faith in God as they each yearned and struggled to have children; with Jochabed we learn the value of life and the great love of mothers; with Ruth we learn the rewards of loyalty; Hannah teaches us to give back to God; Judith teaches sacrifice; with Esther we learn God has a plan for each of us; one of King David's wives teach us how not to act; plus many more.
I did this study together with my 14 and 11 year old daughters. We enjoyed the girl time together and the wonderful discussions. Many times we had to take two or three different days to complete one lesson just because of the long talks it brought forth. Some of the lessons would have also been a lot of Bible reading for one sitting, as well. Additionally I cannot praise this book enough on the content and ease of use. Best of all, there was absolutely no prep for me involved. I just picked up this book along with our Bible and jumped right in. This would also be a great study for a girls retreat, youth group, or girls club. The title says "for Teens", but pre-teens would be fine with it, as well. This book is a great way to review salvation history with a different twist – through the women – and through them our girls can see how God wants them to live their lives today.
I received a copy of the book for this review from Emmaus Road Publishing. You can find more information on the book at their website located here.