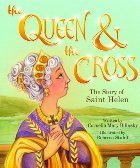 Today Laura returns with another review for the Kids Corner!
The Queen & the Cross: The Story of Saint Helen is written by Cornelia Mary Bilinsky.  This wonderful little book for primary aged children tells of the story of Emperor Constantine's mother's quest to find the True Cross of Jesus.  The story begins with the elderly queen praying before a cross and finding great comfort in seeing and kissing it.  Unable to get the idea out of her mind that the cross Jesus died on would be even more precious, she decides to set out to find it.
How would Helen possibly find a cross that was three hundred years old?   Even if she did dig up a cross among the piles of rubbish on Mount Calvary, how would she know it is the True Cross?  God guides her in miraculous ways that young children (and adults!)  will sure to get excited about.  My little ones certainly did!!
This beautifully illustrated 25 page book is sure to instill a greater reverence and respect for the cross in the young listener.  St. Helen teaches this by her very actions.  Fittingly, this would make a great read for The Feast of the Exaltation of the Holy Cross.  The book ends with church locations of where the wood from the holy cross is today and a brief biography of Saint Helen.  This story of St. Helen is certain to teach your children the life giving power of the cross.
We received a copy of this book for this review from Pauline Books and Media. You can learn more about the book on their website here.