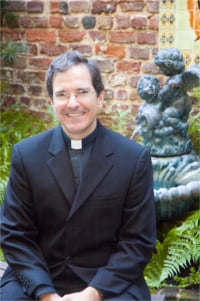 PETE: What was the inspiration behind your book When Faith Feels Fragile: Help for the Wary, Weak, and Wandering?
FATHER SCOTT HURD: Faith can be a struggle. It has been a struggle for me at times, and many friends and parishioners have shared their own struggles with me. My hope when writing When Faith Feels Fragile was to identify these struggles, encourage those who have them, and offer practical (even fun!) ways to work through them.
Doubts and faith struggles aren't necessarily bad things. In fact, wrestling with them is often necessary for us to grow in faith. They're temptations, yes, but they're also tests that God gives us in order to grow. And when we can understand them in that light, we can come to appreciate them as gifts. 
Faith itself is a gift- a point I try to stress in my book. It's not something we can set out earn or achieve or acquire by doing this, that, or the other. Instead, God invites us to receive this gift by opening ourselves more fully to it in any number of ways. We can do this through obviously "religious" activities: praying, receiving the sacraments, reading Scripture, and so forth. But we can also embrace the gift of faith through spending time with family and friends, playing sports, singing a song, even doing the dishes! God can be encountered in every relationship and circumstance in our lives. The trick is to open our eyes to his presence all around us, and open our ears to his voice whispering in the depths of our hearts.
PETE: Many people have gone through their own "Dark Nights of the Soul" including, in our own time, Mother Teresa. As a priest do you find you have the same challenges with keeping your faith from becoming dry and routine?
FATHER SCOTT HURD: We might say that our faith goes through "seasons." At times, God may seem very close to us. We may feel like we're very much in love with God, and that he's very much in love with us. We cherish those times, which is exactly what God wants us to do. However, God doesn't want us to get "hooked on a feeling." That's why he sometimes seems to withdraw himself from us, in order to teach us to trust. And the more we learn to trust, the stronger our faith will become. During these periods, the practice of our faith may seem "dry and routine," as you put it. But that's par for the course, as saints like Mother Teresa came to learn. At times like this, we shouldn't try to recapture feelings we may once have enjoyed. Instead, they key is to persevere by keeping on keeping on- putting one foot in front of the other, if you will. As Rev. Austin Farrer, a friend of C.S Lewis once wrote: "Attend the Mass well, make a good communion, pray for the grace you need, and you will know that you are not dealing with the empty air."
PETE: You and I have had sidebar discussions on each of our conversions (both occurring in 1996). I know I questioned a few things during my own conversion and this book would have come in handy. What do you think this book provides to converts, specifically those contemplating conversion?
FATHER SCOTT HURD: That's an interesting question which I'd not considered before, as the principal audience is Catholic. But as my wonderful editor taught me: write for one particular group of people, and others will want to listen in on the conversation. Perhaps this book can help dispel for potential converts some of the common misperceptions about Catholicism, such as that our faith is all about rules and prohibitions and is, at the end of the day, a rather glum affair. But as you and I have come to learn, true Catholicism is anything but that. It's centered not upon rules but a relationship with the living God who fills us with love, hope and joy. And who, I might add, is happy for us to enjoy life. As Hilaire Belloc famously observed: "Wherever a Catholic sun doth shine, there's always laughter and good red wine. At least I've always found it so. Benedicamus Domino!
PETE: If there was one thing you hope
When Faith Feels Fragile
will accomplish, what would that be?
FATHER SCOTT HURD: It's my hope that readers will find When Faith Feels Fragile to be an accessible, digestible, and easy-to-implement companion to those who struggle with faith, or wish to grow in faith. I pray that the Lord will place it in the hands of those who would be helped by it, and that it will reassure, encourage, and challenge those who wrestle with questions and doubts.
PETE: Do you have any other book projects in the works you would like to discuss?
FATHER SCOTT HURD: Just last week I submitted the last piece for my next book, The Living Gospel: Daily Devotions for Advent 2014, with Ave Maria Press. It will be published on August 4, but it's already available for pre-sale orders on Amazon. It's short and inexpensive and will be available for bulk purchase discounts.
Other projects I'm working on include a children's Christmas poem and adult titles on the Eucharist and hope.
PETE: Time for my signature ending question. This is a blog about books. What is currently on your bookshelf to read?
FATHER SCOTT HURD: Very recently I finished Evangelii Gaudium, Pope Francis' new apostolic exhortation, as well as Living the Beatitudes by Msgr. Brian Bransfield, who writes with great spiritual depth. I'm presently working through Eucharist by Stephen Binz, which is part of the Threshold Bible Study series. In the near future, I'm hoping to explore some of Fr. James Martin, SJ's works. And my bucket list includes Introduction to Christianity by Joseph Cardinal Ratzinger.