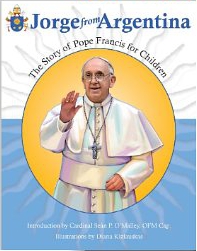 Laura drops by with another Kids Corner review.
Jorge from Argentina: The Story of Pope Francis for Children written by Marlyn Monge, FSP and Jaymie Stuart Wolfe is a wonderfully illustrated biography for children that introduce an ordinary young boy who eventually became our current Holy Father.  This book guides your young reader through the life of Jorge the boy, the young man, the humble priest, bishop, and finally the first pope from the Americas.
Beginning with Jorge's father leaving Italy in hopes of a better life in Argentina, this biography gives the reader a glimpse of his family's background and his early life.  As a young boy, we see his happiness in play and his smiling face on his First Communion day.  As the oldest of five children, we see him learn the value of hard work, first in his own family and then later on at his part-time job.  As a young man, we see his vocation blossom and then take bloom.  Finally, we see Jorge pursue God's calling for him as a Jesuit, a cardinal, and eventually our Holy Father.
This is a wonderful illustrated biography for young children that will help them get to know our beloved Holy Father better.  Each of the seventeen chapters is only about three pages long and each one contains a colorful illustration.  It is simply written and easy to follow for little ones.  This book would make a nice reader for elementary-aged children or a read-aloud to younger ones.  This splendid story will not only instill a love of Pope Francis in your young ones, but also hopefully inspire them to pray for our Pope, the shepherd of the Church.
_____________________________________________________________________________________
We received a copy of the book for this review from Pauline Books and Media.