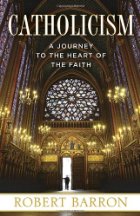 Catholicism: A Journey to the Heart of the Faith by Father Robert Barron has been a highly acclaimed book (and series originally airing on PBS) since it was first released in hardcover. Image Books is now re-releasing the book in paperback. I have read the entire book and it is a fantastic journey into some of the more prominent people, places and things that make the Catholic faith so beautiful and enriching. Image has gathered ten bloggers together each taking one of the ten chapters in the book to write about. I chose Chapter 5: The Indispensable Men.
This chapter focuses on arguably the two most predominant guiding forces in the early days of Christ's Church, Peter and Paul. Both men had unique backgrounds. Both men played unique roles. Both ultimately laid a solid foundation for the infant Church for centuries to come. Father Barron does an excellent job telling the story of both. In the case of Peter he discusses how he went from a fishermen to a follower of Christ to his martyrdom on an upside down cross. The story of Paul starts with his persecution of Christians to his conversion on the way to Damascus to his work as an evangelist. Truly this amazing beginning in the early days of the Church was led by two equally amazing men.
It becomes apparent when the story is related in a single chapter just how important the two truly were. Had Peter not assumed the leadership of the Church that was given to him by Christ, where would it be today? Further, let's ponder the man himself. Peter, a simple fisherman, called forth by for Christ for an almost inconceivable assignment. He was given the daunting task of leading the newly formed Church through a period when the Romans, in their mind, had just taken away its leader.
Had Paul not been willing to listen to the Lord during those moments after being knocked from his horse and blinded on the road to Damascus, who would have evangelized the Gentiles and others for centuries to come? How ironic that Christ called a noted persecutor of his followers to begin the largest evangelization effort up to that time.
I believe that Peter's yes to Christ through his actions of leadership and Paul's yes to Christ when he stopped his persecutions and instead turned to preaching the Good News of Christianity are along the same level of importance as Mary's yes to Gabriel. Without Mary's yes we would not have Christ. Without Peter's yes we would not have a Church office. Without Paul's yes the Word would not have been spread so effectively.
These were two improbable people, hand-picked by Christ, who would become pillars of our Church today. Two unique men, two unlikely men, two indispensable men.
If you haven't visited the other bloggers who reviewed previous chapters of would like to see the next stops on this blog tour check out the links below.
Catholicism Blog Tour
March 31 – Chapter 1: Stuart's Study
April 1 – Chapter 2: Seasons of Grace
April 2 – Chapter 3: A Good Measure
April 3 – Chapter 4: Snoring Scholar
April 4 – Chapter 5: The Catholic Book Blogger
April 5 – Chapter 6: Prints of Grace
April 6 – Chapter 7: Catholic Bibles
April 7 – Chapter 8: Team Whitaker
April 8 – Chapter 9: Single Catholic Girl
April 9 – Chapter 10: The Curt Jester
____________________________________________________________________________________________________
I received a copy of the book for this review from Image Books.