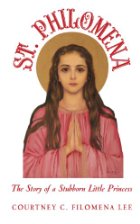 Laura is back with another review. This week a book the entire family enjoyed!
Sometimes you read a story and you just sit in awe and reflection afterwards. St. Philomena: The Story of a Stubborn Little Princess
written by Courtney C. Filomena Lee is one of those extraordinary kinds of books. The day I sat down to look over this book, I figured I'd begin it while my little fella was napping. He'd been a little more than crabby that afternoon and I was just relieved to be able to sit down for some peace. I began reading and realized – I really, really didn't want to stop reading this book! I found myself saying a little prayer, "please, don't let him wake up until I finish this book." Just as Philomena in the story had been sent grace after grace, God seemed to have sent me the grace to finish this wonderful book that afternoon in about an hour! That is a truly amazing feat in my buzzing home of seven!! It was a very inspiring and meaningful hour about a wonderful role model for young girls and all women.
Philomena's life is an extraordinary story from beginning to end. Written in the first person point of view, this biography tells the story of this saint's short life over the course of thirteen chapters – the age she was when she reached her heavenly home to live forever with her Heavenly Spouse. Her royal parents desperately want a child and finally have their greatest desire fulfilled after their conversion to Christianity. Their little princess grows to love God deeply and at the age of ten vows to give herself only to Jesus. This vow would soon be tested and the reader will find out just how stubborn this little girl can be. So stubborn, she was willing to defy Emperor Diocletian himself. Just like the Pharaoh of Egypt in the Old Testament, this ruler could not see the works of God right before his very eyes, as young Philomena bravely defies death time after time.
I wish I could put this book into the hands of every girl and young woman out there. This is the kind of story young girls need to read and embrace. A story of total faith in God. A story of total determination in spite of fears. A story of a total love of God. This chapter book is clearly written for young readers to read themselves, but would also be enjoyed by younger children as a read aloud. For a chapter book it is not a long read, but is packed full of suspense and inspiration that my own girls found very hard to put down once they got started. The young author Courtney Lee obviously has a deep respect and admiration for St. Philomena and has put together a wonderful and delightful book to pass on that love.
______________________________________________________________________________________________________________________
We received a copy of this book for this review from the author.