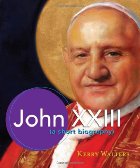 April 27, 2014 marks the date when two great men in Church history will be elevated to sainthood. Angelo Roncalli, Pope John XXIII, and Karol Wojtyla, Pope John Paul II, both made significant impacts on the Catholic Church and the world during their pontificates. Kerry Walters gives readers easy to digest but information packed sketches on each in his latest books John XXIII: A Short Biography and John Paul II: A Short Biography. You will do well by spending a little time with each.
John XXIII did not have an easy path to the papacy which you will learn in his short biography. He was often ignored and assigned to places in an attempt to keep him "out of the way". However Angelo Roncalli, though a humble and simple man, excelled. He spent years in Bulgaria helping the poor. He was then moved to Turkey and Greece where the outbreak of World War was looming. He has been credited with saving some 25,000 Jews during the war. A commendable act of itself.
On October 28, 1958 Giuseppe was elected Pope. He was seen simply as an aged pontiff that would fill a few years of time in until a more youthful candidate came along. Little did the world know the impact John XXIII would have in his four year pontificate. Responsible for covening Vatican II, it would change the church as people knew it at the time and would for decades to come. That wasn't all, he managed to right eight encyclicals as well.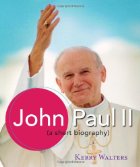 In the volume on Pope John Paul II, Kerry details the heartbreaking early years of Karol Wojtyla. The future pope declared after having lost his mother, father and brother over a span of years that "I never felt so alone." A lesser man would have wallowed in despair but not Karol. He turned to a life-long devotion to prayer which colleagues witnessed throughout his life.
The book covers many key points throughout Pope John Paul's pontificate. His opposition to the oppressive Polish government, the assassination attempt on his life, his public battle with Parkinson's which sapped him of the legendary strength that allowed him to travel the globe many times over.  Also included are some of the many encyclicals and writings throughout his 27 year pontificate.
Both books are perfect for a quick read into the lives of both of these influential men. The stories of their lives and the witness of their faith is inspiring. Both books are great overviews that give a peek into the most important events in the formation of these two great men. These short biographies are wonderful entries into studies on the lives of these two pontiffs of our own times.
______________________________________________________________________________________________
I received a copy of each of these books for this review from the publisher, Franciscan Media.