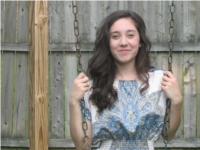 PETE: For those who have not read your book St. Philomena: The Story of a Stubborn Little Princess, you wrote it when you were 13 years old. Can you share with us the story behind the book and why you have such a great devotion to Philomena?
COURTNEY C. FILOMENA LEE: My connection to St. Philomena began before I was born. My mom had a difficult pregnancy with me and the doctors told her that I would be born with severe complications. My grandmother prayed to St. Philomena to intercede for both of us. When the time came for me to be born, the doctor thought that I would most likely be stillborn. My grandmother persevered in her prayers to St. Philomena and, to the amazement of the doctors, I was born perfectly healthy.
My relationship with St. Philomena continued to grow as I became older. I took her as my Confirmation saint when I was nine and decided (at my family's urging) to write this book when I was thirteen. I knew that, if I was going to write this book, I wanted to do it when I was thirteen, since that was the age of St. Philomena when she was martyred for Christ. I want everyone to come to know and love St. Philomena the way I do. She is a best friend, a wonderful advocate, and a great saint.
PETE: Part Two of the book is filled with explanations of different worldwide devotions to St. Philomena and includes – the Cord that is worn to protect purity, her Shrine in Italy & the Blessed Oil that has healed, and a novena & prayer. This is a wonderful addition to the book. What did you hope the reader would gain by including this section in the book?
COURTNEY C. FILOMENA LEE: I'm happy to hear you liked it! I hoped that the readers would be inspired by their newfound knowledge of St. Philomena's life and want to imitate it. When I finish reading the stories of saints' lives, I am usually moved to change my own life or pick up new habits. The second part of the book enables readers to do this without having to scour the internet to find these devotions on their own.
PETE: Why do you feel Philomena is such a good role model for both young and old today?
COURTNEY C. FILOMENA LEE: St. Philomena replied to the darkness of the world with the light of God that was within her. She understood that a promise (such as her vow of chastity to Jesus Christ) was more important than anything in the world. She was willing to die rather than break her vow. Such devotion and steadfastness is needed in our times. People of all ages experience hardships, trials, and tests. St. Philomena did too and she relied on the grace of God to carry her through. We can learn from this witness of light and faith and ask for strength, which she can obtain for us from God.
PETE: You self-published your first book at 15 years old. Is writing something you hope to continue and what else might you write about?
COURTNEY C. FILOMENA LEE:
God has definitely given me a gift and a love for reading and writing. I have a plethora of books that I would like to write, many of which I have already started. However, my focus right now is Catholic romance novels. I think that Catholic teen girls and women should have an opportunity to read books that speak to their faith specifically. I'm currently working on a series about a royal family with ten daughters. I hope to have the first book (titled
Genevieve
) out sometime this year. In the future, I would like to work on some nonfiction, focusing on purity and maybe even another saint biography.
PETE: Time for my signature ending question. This is a blog about books. What is currently on your bookshelf to read?
COURTNEY C. FILOMENA LEE: I am currently finishing up The Romance of Religion by Dwight Longenecker. I've loved reading this book, especially since it is so philosophical and at the same time entertaining. I like Sarah M. Eden's Christian romance novels because she has a wonderful sense of humor. I also love historical books such as Julia Gelardi's Born to Rule and In Triumph's Wake, both of which I own and re-read probably more than I should. The one book that I refer to almost every day for my writing is The Temperament God Gave You by Art and Laraine Bennett. It has been invaluable in helping me to shape my characters and their personalities. Most of all, I love Arms of Love and Surrender by Carmen Marcoux, because they encouraged me to write my own Catholic romances.
________________________________________________________________________________________________________
You can read a review of the book St. Philomena – The Story of a Stubborn Little Princess here.