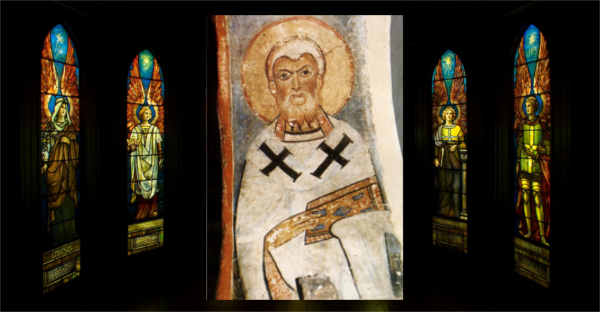 St. Athanasius, the great defender of orthodoxy, tells us that the faith of the martyrs is strong proof of the truth of Christianity. Take up the faith, he says, and you will understand what the martyrs know.
Is this such a little proof of the weakness of death? When young boys and girls who are in Christ despise this life, and practice to die, is that such a little proof of the victory won over death by the Savior?
Now, man is afraid of death by nature, afraid of the decay of the body. But here is a really startling fact: whoever has put on the faith of the Cross despises even what is naturally dreadful, and for Christ's sake is not afraid of death.
So if anyone is skeptical even now, after so many proofs, and after so many have become martyrs to Christ, and after those who are champions in Christ have shown scorn for death every day—if his mind is still doubtful about whether death has been brought to nothing and come to an end—well, he's right to wonder at such a great thing. But he should not be stubborn in his skepticism, or cynical in the face of what is so obvious.
Let him who is skeptical about the victory over death receive the faith of Christ, and come over to his teaching. Then he will see how weak death is, and the triumph over it. Many who used to be skeptics and scoffers have later believed, and despised death even enough to become martyrs for Christ himself. –St. Athanasius, On the Incarnation of the Word, 28
IN GOD'S PRESENCE, CONSIDER . . .
Am I still afraid of death?
When people outside the faith look at me, what do they learn about death?
CLOSING PRAYER
Father, I thank you for the salvation you have given me through our Lord Jesus Christ. I pray you in your mercy to grant that I may have faith that is not ashamed, love that is un­feigned, and the power to keep your commandments.
---
Remember to subscribe to my feed so you will not miss a day! This recurring feature at The Catholic Book Blogger is possible through the cooperation of author Mike Aquilina and publisher Saint Benedict Press. To get your own copy of this book, click below.